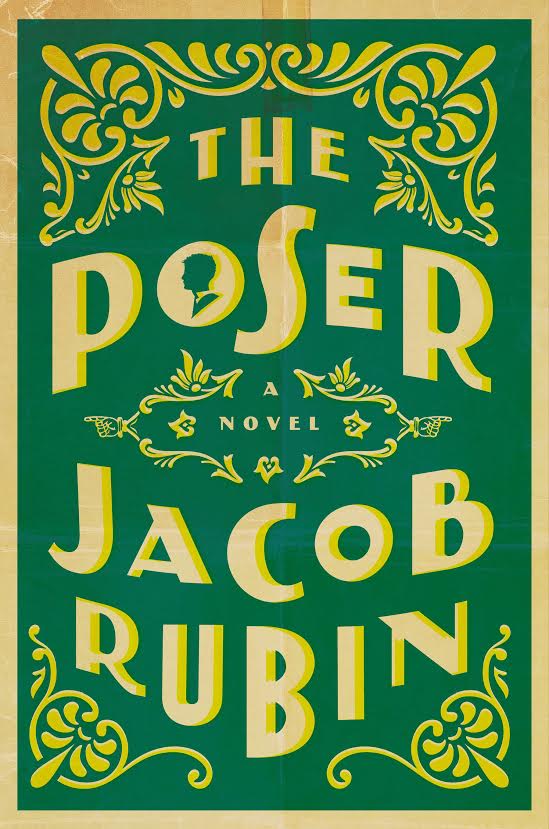 Tuesday Apr 07, 2015
7:00 pm - 9:00 pm
THE POWERHOUSE ARENA [Dumbo]
37 Main Street
Brooklyn, NY 11201
For more information, please call 718.666.3049
RSVP appreciated: RSVP@powerHouseArena.com
-or-
Please fill out the "Bookings" form at the bottom of this page.
---
In his stunning debut novel, Jacob Rubin spins a fable of Giovanni Bernini, a performer with chameleon talents who can master a host of identities, except his own.
About The Poser:
"The Poser is smart and grand and funny, a wonderful fable. Mr. Rubin is a great hope for comic fiction in the 21st century. He's got the spirit and the ear." —Sam Lipsyte, New York Times bestselling author of The Ask
In the vein of Jonathan Lethem's and Kevin Wilson's playful surrealism, Jacob Rubin's debut novel, The Poser, is a caffeinated, wildly comic, maximalist performance that chronicles the adventures of Giovanni Bernini, the World's Greatest Impressionist—a man whose bizarre talent catapults him from small-town obscurity to widespread fame. Rubin, who currently writes screenplays, was previously a standup comic, a juggler for hire, and the lead singer of the hip hop group Witness Protection Program, opening for acts like Jurassic Five and Blackalicious. In The Poser, he has blended his eccentric experiences as a performer into this deeply insightful and wholly original novel that undeniably marks the debut of a major literary voice in contemporary American fiction.
Accented with vaudevillian flair, The Poser is set in an imaginary country that resembles America of the 1950s and 1960s. A small eastern seaside town is where we meet Giovanni Bernini—a man who possesses the uncanny gift to instantly mimic anyone he meets. As he describes it, "No one disguise is perfect. There is in every person, no matter how graceful, a seam, a thread curling out of them. . . .  When pulled by the right hands, it will unravel the person entire." Honed by his theatrical mother at a young age, his talent eventually takes him from his hometown to the nightclubs of the City and eventually the sound stages of Fantasma Falls, the glamorous, west coast city similar to Hollywood. As Giovanni's fame grows, he encounters a cast of provocative characters—including an exuberant manager, a mysterious chanteuse, an enigmatic psychoanalyst, and a deaf obsessive compulsive—and becomes increasingly trapped inside many personas. When his bizarre talent comes to define him, Giovanni is forced to assume the one identity he has never been able to master: his own.
Full of heartbreak and hilarity, Rubin's high-wire debut is simultaneously a love story, a first-person confession, and a poignant bildungsroman. However, it's his vision, ebullient voice, and deeply human characters that lend The Poser's fable-like world a tangible reality. Unlike Giovanni Bernini, his wonderfully realized character, there is no impersonating here: Jacob Rubin is real and The Poser is nothing short of a revelatory feat of the imagination.
About the Author and Moderator:
Jacob Rubin's writing has appeared in Best New American Voices, New York magazine, Slate, n + 1, and The New Republic. Times Square, a screenplay he co-wrote, was recently acquired by Focus Features. He received an MFA in Creative Writing from the University of Mississippi, and graduated magna cum laude from Harvard College. He lives in New York City.
Teddy Wayne is the author of The Love Song of Jonny Valentine (Simon & Schuster) and Kapitoil (Harper Perennial) and a third novel forthcoming in 2016 from Simon & Schuster. A columnist for the New York Times and McSweeney's and a regular contributor to The New Yorker, he is the recipient of a Whiting Writers' Award and an NEA Creative Writing Fellowship.
RSVP
Bookings are closed for this event.