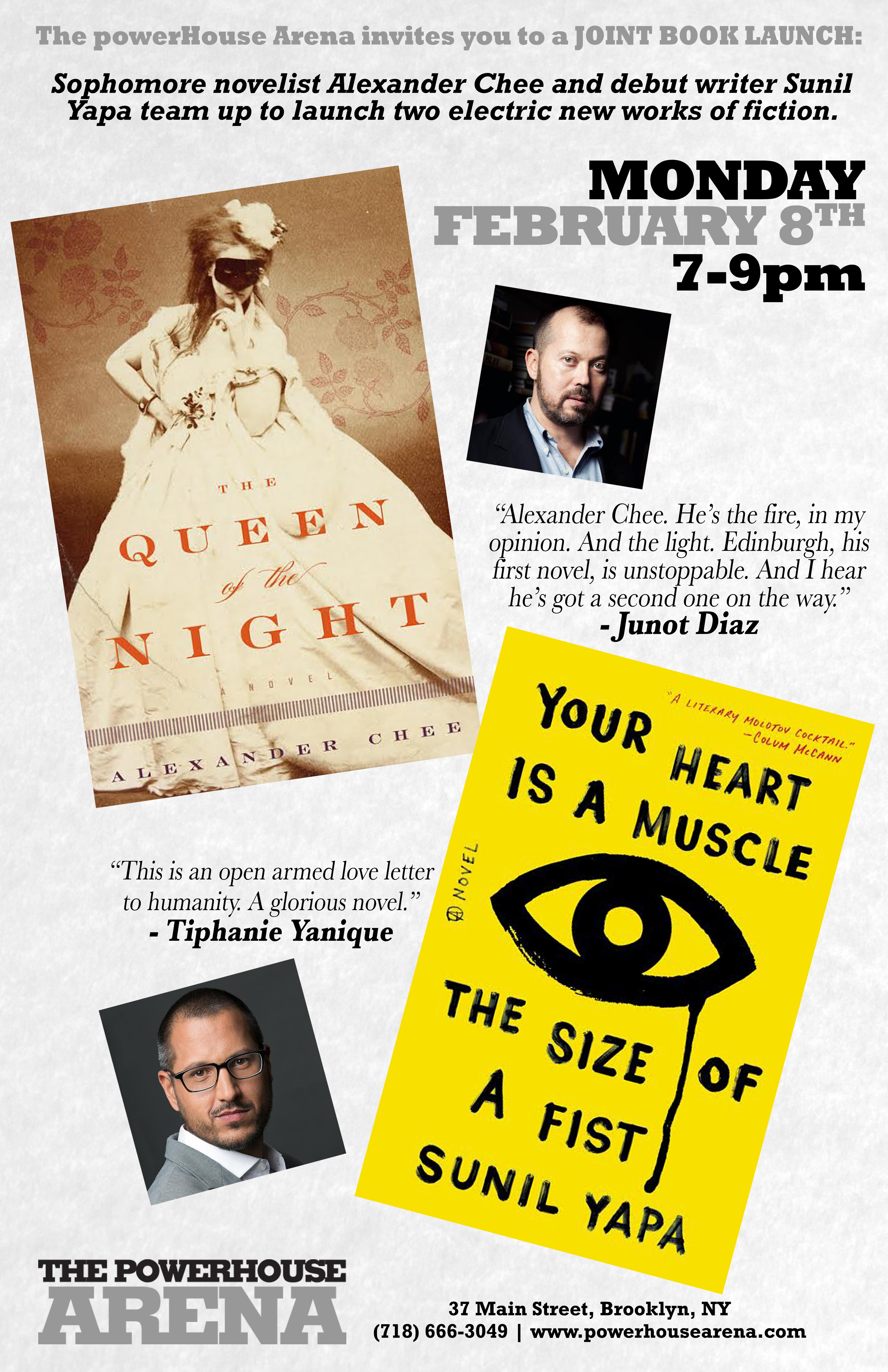 Monday Feb 08, 2016
7:00 pm - 9:00 pm
THE POWERHOUSE ARENA [Dumbo]
37 Main Street
Brooklyn, NY 11201
For more information, please call 718.666.3049
RSVP appreciated: RSVP@powerHouseArena.com
-or-
Please fill out the "Bookings" form at the bottom of this page.
---
Sophomore novelist Alexander Chee and debut writer Sunil Yapa team up to launch two electric new works of fiction.
About The Queen of the Night:
When Junot Diaz was asked by Flavorwire to name his favorite emerging writer, he didn't hesitate. "Alexander Chee. He's the fire, in my opinion. And the light. Edinburgh, his first novel, is unstoppable. And I hear he's got a second one on the way."  The Queen of the Night is that second novel, and worth the wait.
Lilliet Berne, famous soprano in the Second Empire French opera, is offered an original role (the desire of every singer) in a new opera that she immediately understands could only be based on a part of her life that she had hoped to keep secret. Only four people could be responsible, she thinks: Of them, one is dead, one loves her, one desires her, and the last, she believes, never thinks of her at all. In the process of searching for the source she must face parts of her past she had hoped to forget and sets in motion events that jeopardize her career and happiness, even as they also bring her within reach of realizing a dream she'd abandoned long ago.
Lilliet isn't even her real name. In addition to opera star, we come to know her as a bareback performer in a circus, maid to the Empress Eugenie of France, German war hero, lover to a Prussian tenor, and always, always, the little orphan from the American frontier who left for Europe and was swept up into the glitzy, gritty world of Second Empire Paris.
Lilliet's character was inspired by Jenny Lind, the hugely successful singer, and Chee has peopled her story with real characters from the era, including Verdi, Napoleon III and his glamorous Spanish wife Eugénie, Napoleon's mistress and Italian spy the Countess di Casligione, and many more. He uses the real to create the literary in the vein of Song of Achilles, The Buddha in the Attic, and Memoirs of a Geisha.
Alexander Chee has appearances in New York City, New Jersey, Boston, Washington D.C., Texas, Los Angeles, San Francisco, Seattle, and Illinois.
About the Author:
Alexander Chee won a Whiting Award for his first novel, Edinburgh, and is a recipient of the National Endowment for the Arts fellowship in fiction and residencies from the MacDowell Colony, Ledig House, and Civitella Ranieri. His writing has appeared in the New York Times Book Review, Tin House, Slate, and on NPR, among others, and he is a contributing editor at the New Republic. He lives in New York City.
---
About Your Muscle is the Size of a Fist:
"The world is large and I am small." A phrase repeated by the disillusioned Victor, the first character we meet in Sunil Yapa's electric debut, Your Heart is a Muscle the Size of a Fist.
The story is told by seven distinct and unforgettable characters—nineteen-year-old Victor, who hopes to sell antiglobalization demonstrators enough marijuana to buy a plane ticket elsewhere; his estranged father, the police chief; two police officers trying to control the crowd; the finance minister of Sri Lanka, who needs one final signature in order for his country to join the WTO; and two of the well-intentioned nonviolent protesters whose mission it is to ensure that doesn't happen. What follows is the convergence of those seven narratives on one cold and explosive November day.
Your Heart is a Muscle the Size of a Fist takes on the world. The ideas of right and wrong, winning and losing, are challenged and blurred through the tumult of perspectives. As the fog of the morning burns off into chaos, each character struggles to retain his or her humanity. They are forced to come to terms with their fear and their power (or lack thereof), but it is their compassion that is tested most of all. This is a shattering meditation on the ways in which our lives overlap with lives lived halfway across the globe, one that builds to a heartbreaking finale. As Tiphanie Yanique writes, "This is an open armed love letter to humanity. A glorious novel."
About the Author:
Sunil Yapa holds a bachelor's degree in economic geography from Penn State University and an MFA from Hunter College. The biracial son of a Sri Lankan father and a mother from Montana, Yapa has lived around the world, including time in Greece, Guatemala, Chile, Argentina, China, and India, as well as London, Montreal, and New York City.
RSVP
Bookings are closed for this event.