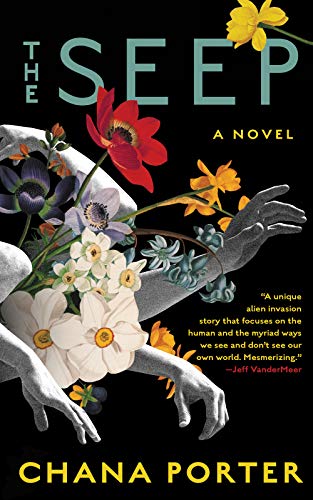 Tuesday Jan 21, 2020
7:00 pm - 9:00 pm
POWERHOUSE @ the Archway
28 Adams Street (Corner of Adams & Water Street @ the Archway)
Brooklyn , NY 11201
RSVP encouraged & appreciated.
Please fill out the form at the bottom of this page if you plan on attending. Facebook event found here.
PLEASE NOTE: Submitting an RSVP for this event DOES NOT guarantee entrance. This is a free-access event — entrance will be on a first-come, first-served basis.
---
About the Book.
It began with the end of the world—with the gentlest invasion. By the time it was all said and done, The Seep had solved all of the world's problems. Money had become obsolete. No scarcity. No war. The poisoned land, water, and air were healed. Illness could be immediately cured—cancer eradicated with the wave of a medical-grade Seep wand, cells made healthy and whole again. Death became optional, as did humans' corporeal form. With Seep modifications, people may have scales, scratchy cat tongues, retractable claws, bejeweled foreheads, or hooves. They may opt to take on the appearance of another. They may look eternally youthful. Anything is possible, but not everyone is on board with this brave new world.
Such is the case for 50-year-old Trina, a trans artist-cum-doctor who stubbornly keeps two feet rooted in the pre-Seep past, while her wife, Deeba, has decided that she wants to become a baby again. Already resistant to the drastic change of her world via cosmic intervention, the loss of her wife throws Trina into a downward spiral of grief, loneliness, and resentment toward The Seep. Driven by the suddenly unbearable unfamiliarity of a world sans Deeba, Trina takes off on a cross-country trek that begins as a means of escape and a search for her place in an irrevocably changed world, but becomes a quest to track down a misguided stranger that she hopes to protect from The Seep and those who may seek to use it for their own gain.
Chana Porter's debut novel is a beautiful, kaleidoscopically odd page-turner that examines human nature, memory, identity, freedom, mortality, grief, and the relationship between past and present, all with a sci-fi twist. The Seep comes on the heels of her critically acclaimed play, Leap and the Net Will Appear, lauded by The Houston Press as containing "strokes of brilliance, in turn incredibly funny and blatantly mournful." Spectrum South describes Porter as "a pioneer in today's experimental landscape," and boasting a similar irreverent voice and sense of absurdism, The Seep solidifies Chana Porter as one to watch for readers seeking timely social criticism and a thought experiment that warrants continued pondering after the narrative ends.
About The Author.
CHANA PORTER is a playwright, teacher, MacDowell Colony fellow, and co-founder of The Octavia Project, a STEM and fiction-writing program for girls and gender non-conforming youth from underserved communities. She lives in Brooklyn, New York, and is currently at work on her next novel.
About The Moderator.
Amy Brady is the Editor-in-Chief of the Chicago Review of Books and Deputy Publisher of Guernica Magazine. Her writing has appeared in Oprah, The Village Voice, Pacific Standard, The New Republic, McSweeney's, and elsewhere. Follow her on Twitter at @ingredient_x.
RSVP
Bookings are closed for this event.