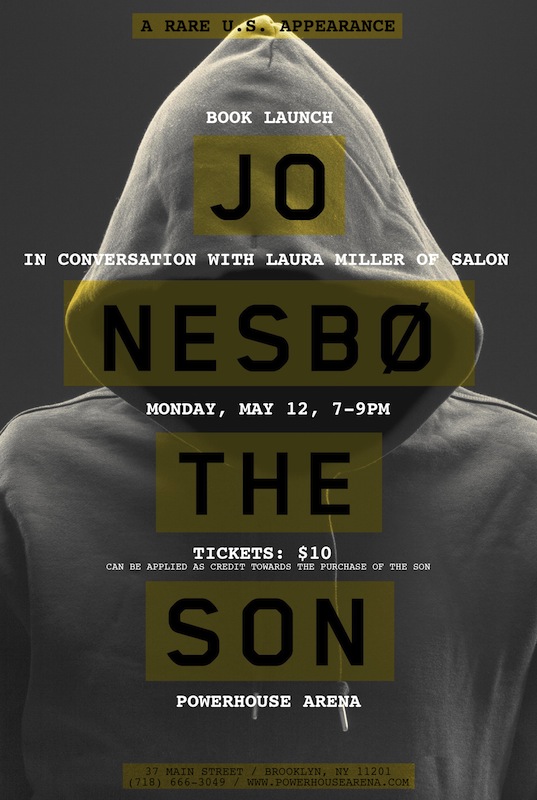 Monday May 12, 2014
7:00 pm - 9:00 pm
THE POWERHOUSE ARENA [Dumbo]
37 Main Street
Brooklyn, NY 11201
For more information, please call 718.666.3049
Tickets: $10 (can be applied as credit towards purchase of The Son)
Tickets available for purchase here.  Online ticket sales are closed, but we will sell a limited number at the door.
Doors will open at 6:30pm and seating will be available on a first-come, first-serve basis – a receipt or photo ID is required for entry.
---
The author of the best-selling Harry Hole series now gives us an electrifying stand-alone novel set inside Oslo's maze of especially venal, high-level corruption. Nesbø will be joined in conversation by Laura Miller of Salon and Sonny Mehta, Editor in Chief of Alfred A. Knopf. Tickets are $10 and can applied as credit towards the purchase of The Son.
About The Son:
Sonny Lofthus is a strangely charismatic and complacent young man. Sonny's been in prison for a dozen years, nearly half his life. The inmates who seek out his uncanny abilities to soothe leave his cell feeling absolved. They don't know or care that Sonny has a serious heroin habit—or where or how he gets his uninterrupted supply of the drug. Or that he's serving time for other peoples' crimes.
Sonny took the first steps toward addiction when his father took his own life rather than face exposure as a corrupt cop. Now Sonny is the seemingly malleable center of a whole infrastructure of corruption: prison staff, police, lawyers, a desperate priest—all of them focused on keeping him high and in jail. And all of them under the thumb of the Twin, Oslo's crime overlord. As long as Sonny gets his dope, he's happy to play the criminal and the prison's in-house savior.
But when he learns a stunning, long-hidden secret concerning his father, he makes a brilliantly executed escape from prison—and from the person he'd let himself become—and begins hunting down those responsible for the crimes against him . . . The darkly looming question is: Who will get to him first—the criminals or the cops?
About the Author and Moderator:
JO NESBØ is a musician, songwriter, and economist, as well as a writer. His Harry Hole novels include The Redeemer, The Snowman, The Leopard, and Phantom, and he is also the author of several stand-alone novels and the Doctor Proctor series of children's books. He is the recipient of numerous awards including the Glass Key for best Nordic crime novel.
In 1995, Laura Miller helped to co-found Salon.com, where she is currently a staff writer. She is a frequent contributor to the New York Times Book Review, where she wrote the Last Word column for two years. Her work has appeared in the New Yorker, the Los Angeles Times, the Wall Street Journal and many other publications. She is the author of "The Magician's Book: A Skeptic's Adventures in Narnia" (Little, Brown, 2008) and the editor of "The Salon.com Reader's Guide to Contemporary Authors" (Penguin, 2000). She lives in New York.
---
For more information, please contact
Justin Levine
email: justin@powerhousearena.com
powerHouse Arena, 37 Main Street, Brooklyn, NY 11201
tel: 212-604-9074 x109