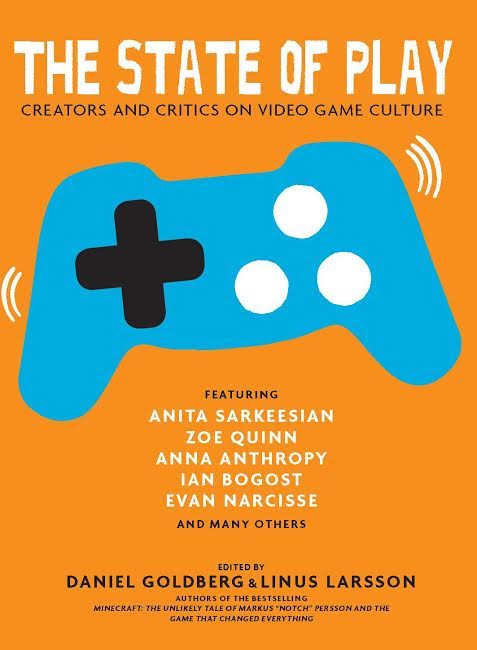 Tuesday Dec 08, 2015
7:00 pm - 9:00 pm
THE POWERHOUSE ARENA [Dumbo]
37 Main Street
Brooklyn, NY 11201
For more information, please call 718.666.3049 RSVP appreciated: RSVP@powerHouseArena.com
-or-
Please fill out the "Bookings" form at the bottom of this page.
---
This book is an invitation to witness the transition of video games from artifacts of technology into what may be the defining form of cultural expression of our time.
About The State of Play:
"A groundbreaking anthology that all video game players should read and ponder."—Library Journal, starred review
The State of Play raises the conversation about video game culture with a critical look at its origins, memes, influences, and biases.  Like all creative media, games represent a reflection of the sex, race, violence, faith and class politics of a society, and we need a serious assessment of its content and creators. The State of Play: Creators and Critics on Video Game Culture, edited by bestselling Swedish tech writers Linus Larsson and Daniel Goldberg, is that book.
The sixteen contributors to this collection include important voices in gaming politics. They are a burgeoning subculture of video game creators, media critics, and Internet celebrities, who create outside the corporate gamer culture. Tackling big subjects such as depression, racism, and misogyny, among others, these essays represent a range of voices that have been historically left out of gaming culture. Handpicked by editors Daniel Goldberg and Linus Larsson, authors of the bestselling Minecraft: The Unlikely Tale of Markus "Notch" Persson and the Game that Changed Everything, the book includes merritt kopas on 'Video Games and Sexuality," Cara Ellison and Brendan Keogh on "The Joy of Video Violence," Anna Anthropy on "Love, Twine, and the End of the World," Evan Narcisse on "The Parameters of Afro," Anita Sarkeesian and Katherine Cross on online harassment of women, and much more.
Contributors include:
Anite Sarkeesian
Katherine Cross
Zoe Quinn
Anna Anthropy
Ian Bogost
Evan Narcisse
Merritt Kopas
Leigh Alexander
Iam Shanahan
Hussein Ibrahim
Dan Golding
Cara Ellison
Brendan Keogh
David Johnston
William Knoblach
Ola Wikander
About the Editors:

Editors LINUS LARSSON and DANIEL GOLDBERG are two of Sweden's most important writers on new technology and the Internet. They have been published in the Washington Post and American Computer World, among other publications, and quoted by BBC News, the New York Times, and the Sydney Morning Herald. Their first book, Swedish Hackers, was published in 2011 in Sweden. Minecraft followed that same year (Seven Stories Press, 2013) as their bestselling English-language debut.
RSVP
Bookings are closed for this event.