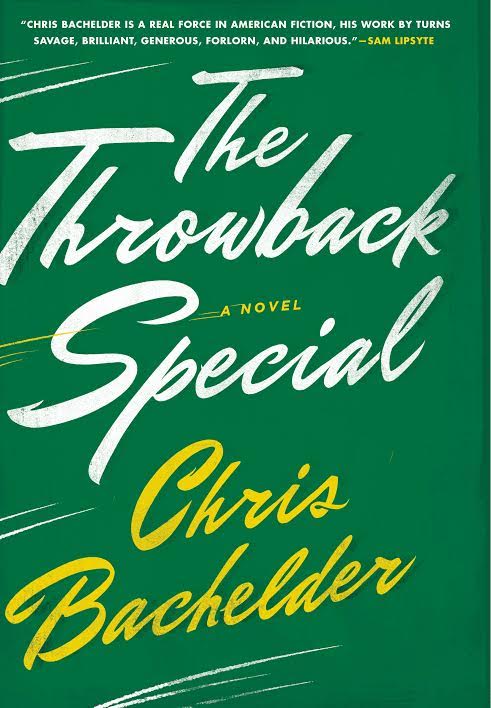 Wednesday Apr 06, 2016
7:00 pm - 9:00 pm
THE POWERHOUSE ARENA [Dumbo]
37 Main Street
Brooklyn, NY 11201
For more information, please call 718.666.3049
RSVP appreciated: RSVP@powerHouseArena.com
-or-
Please fill out the "Bookings" form at the bottom of this page.
---
Chris Bachelder's fourth novel tells the story of a yearly reunion of friends centered around an unlikely event—that of one of the most gut-wrenchingly brutal moments in sports history.   The writers Evan Hughes, Sam Lipsyte, Saïd Sayrafiezadeh, and Sean Wilsey join the author, Chris Bachelder, to read selected scenes from the book.
About The Throwback Special:
"[A] comic dissection of male bonding. . . . Sharply observed and sympathetic and funny enough to win over even those readers who abhor football and its fans."—Kirkus Reviews, starred
"Filled with subtle humor and incisive insights, Bachelder's novel will resonate with anyone who has pondered the game of life."—Publishers Weekly
"[A] very funny satire about men in our times."—Booklist
In 1985, during a Monday Night Football matchup between the Washington Redskins and the New York Giants, fans watched in horror as Lawrence Taylor of the Giants broke the leg of Redskins' star Joe Theismann in such a drastic way that he was forced to retire from the game of football. Many who watched the gruesome play never forgot it. The Throwback Special follows one such group of people: twenty-two friends and acquaintances who gather every year in the same mediocre hotel to intricately plan out and reenact the horrible, titular incident. This amateur reenactment reveals new struggles, old fears, and an often surprising intimacy that they only share with each other.
Among those gathered are men of various life circumstances and inner-turmoil; a father who struggles to overlook the extraordinary privileges of his younger daughter; a man whose infirm mother has moved in with his family, annoying him with her unrelentingly positive outlook to life; a dad who worries he's perverted because he fantasizes about the fictional women in his kids' bedtime picture books; and others, all struggling to come to grips with the reality of family life, aging and varying underlying emotional issues. Bachelder weaves expertly between the seriousness and humor of his characters' introspection, creating an unforgettable chorus of laughter and vulnerability.
Much of the weekend's work involves assigning roles for the reenactment, including the tragic figure of Joe Theismann himself, and planning out the intricate choreography of the ill-fated play. By the time things are ready to commence, each man has, in his own way, bared his soul in a life-altering way. With The Throwback Special, Chris Bachelder has compiled a reflective and insightful portrayal of marriage, ritual, parenthood, aging and the American middle-aged male psyche.
About the Author:

Chris Bachelder is the author of the novels Abbott Awaits, U.S.!, and Bear v. Shark, and teaches at the University of Cincinnati. Foreign editions of his novels have been published in the UK, Italy, France, Spain, Russia, and Germany. Bachelder's short fiction and essays have appeared in McSweeney's, The Believer, Harper's, Oxford American, American Short Fiction, The Massachusetts Review, Black Warrior Review, Subtropics, and elsewhere.   He lives in Cincinnati with his wife and two daughters.
RSVP
Bookings are closed for this event.