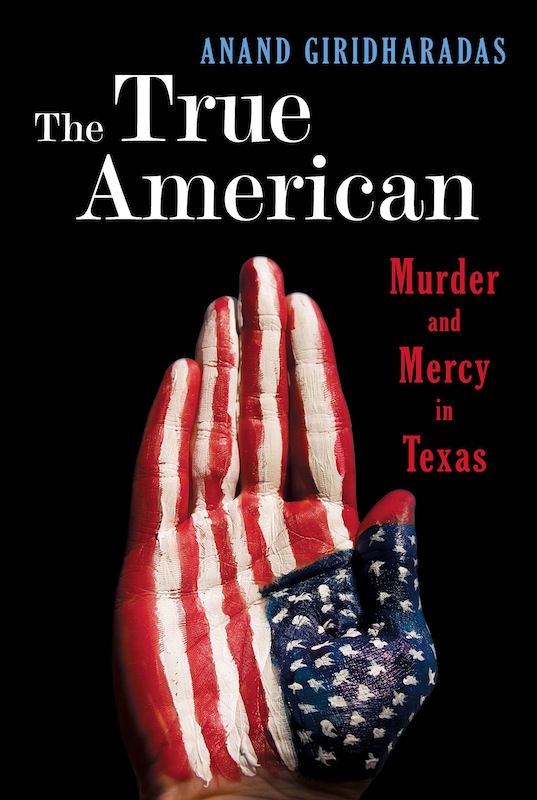 Monday May 05, 2014
7:00 pm - 9:00 pm
THE POWERHOUSE ARENA [Dumbo]
37 Main Street
Brooklyn, NY 11201
For more information, please call 718.666.3049
RSVP appreciated: RSVP@powerHouseArena.com
-or-
Please fill out the "Bookings" form at the bottom of this page.
---
In this powerful narrative, a former Bangladesh Air Force officer confronts the man who tried to kill him 10 years earlier. Baratunde Thurston (How to Be Black) joins Giridharadas in conversation.
About The True American:
Imagine a terrorist tried to kill you. If you could face him again on your terms, would you? And if so, could you forgive him?
In his new work, THE TRUE AMERICAN: Murder and Mercy in Texas,  New York Times columnist Anand Giridharadas tells the true story of two very different men whose worlds suddenly collide: Raisuddin "Rais" Bhuiyan, a Bangladesh Air Force officer who immigrates to the United States with dreams of working in technology, and Mark Stroman, a working-class, born-and-bred Texan drifter with a propensity for fighting, a criminal history, and a deep sense of pride in his country. Driven by a misguided desire to retaliate for 9/11, Stroman shoots three random men whom he believes to be Arabs; only Bhuiyan survives. As Giridharadas relates this tale of anger, hope, and mercy, he also explores several deeply troubling questions at the heart of the American dream: Do we have the freedom to choose our own way? What is our country's relationship with twenty-first-century immigrants and what does their struggle look like? How do we reverse the demise of our working class—or can we? And, perhaps most important, who is "the true American"?
Stroman's near-fatal shooting of Bhuiyan at the Dallas mini-mart where Bhuiyan worked left the young immigrant with a useless right eye, vivid nightmares, deep depression, haunting anxiety, and tens of thousands of dollars of debt from his extensive medical treatment. Despite the lawyers' defense of Stroman as a victim of fortune, repeatedly failed both by his family and the system, the jurors convict him of capital murder. Then, because of their overwhelming doubts about the possibility of his rehabilitation and redemption, they sentence Stroman to Death Row.
In the years that follow Stroman's trial, Bhuiyan slowly rebuilds his life. Despite the fact that his family remains in Bangladesh and his fiancée breaks off their engagement, Bhuiyan perseveres by carving out a life for himself in Dallas, determined to pursue the liberty and selfhood that America promised. And yet, even as he becomes financially stable—earning a livelihood through a position at the Olive Garden and then finally making a transition into information technology—Bhuiyan realizes that the freedom America offers has its limitations, that its resulting chaos, hedonism, and social corrosion could easily trample its already downtrodden. However, it is only after Bhuiyan officially becomes a U.S. citizen and completes the Hajj pilgrimage to Mecca that he connects the dots. Of all the things he could do, intervening in the cycle of mistrust and enmity between his religious community and his adopted country would be the most powerful act in bettering the vengeful world that has hurt him. To do this, Bhuiyan determines not only to forgive Stroman, in the name of Islam and its notion of forgiveness, but to wage a campaign to save his attacker's life. Bhuiyan endeavors to get Stroman off Death Row, taking on Governor Rick Perry and the Texas courts,  resulting in a courtroom cliffhanger that comes down quite literally to the last hour.
Ranging from Texas's juvenile justice system to the swirling crowd of pilgrims at the Hajj in Mecca; from a biker bar to an immigrant mosque in Dallas; from young military cadets in Bangladesh to elite paratroopers in Israel; from a wealthy household of chicken importers in Karachi, Pakistan, to the sober residences of Brownwood, Texas, THE TRUE AMERICAN is rich, colorful, and profoundly moving. Giridharadas brilliantly delves into the story of Stroman and Bhuiyan on many levels, exploring the pursuit of the American dream, the loss of that dream for the Americans left behind by the new economy, our love-hate relationship with immigrants, the meeting of Islam and the West, and how, or whether, we choose what we become.

About the Author and Moderator:
Anand Giridharadas is an author and New York Times columnist. He writes the "Admit One" column for The Times's arts pages, and the "Letter from America" for its global edition. He is the author of the new book "The True American: Murder and Mercy in Texas," about a Muslim immigrant's campaign to spare from Texas's Death Row the white supremacist who tried to kill him. In 2011 he published "India Calling: An Intimate Portrait of a Nation's Remaking," about returning to the India his parents left.
Baratunde Thurston is the CEO, co-founder, and hashtagger-in-chief of Cultivated Wit. He wrote the New York Times bestseller How To Be Black and served for five years as director of digital for the satirical news outlet, The Onion. When he's not delivering keynote talks at gatherings such as SXSW Interactive, LeWeb, and Personal Democracy Forum, he writes the monthly back page column for Fast Company and contributes to the MIT Media Lab as a director's fellow. He co-founded the black political blog, Jack and Jill Politics, has advised the Obama White House, has more than 10 years' experience in standup comedy, and more than 30 years' experience being black. He lives in Brooklyn, NY.
---
For more information, please contact
Justin Levine
email: justin@powerhousearena.com
powerHouse Arena, 37 Main Street, Brooklyn, NY 11201
tel: 212-604-9074 x109
RSVP
Bookings are closed for this event.