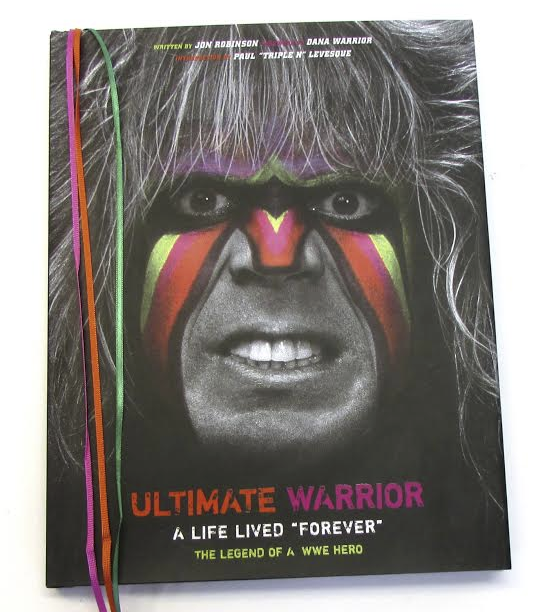 Saturday Aug 22, 2015
3:00 pm - 5:00 pm
THE POWERHOUSE ARENA [Dumbo]
37 Main Street
Brooklyn, NY 11201
For more information, please call 718.666.3049
RSVP appreciated (but Not Required): RSVP@powerHouseArena.com
-or-
Please fill out the "Bookings" form at the bottom of this page .
---
Here, for the first time, the complete legend of The Ultimate Warrior is told in full, from his humble beginnings as a self-proclaimed "small, insecure kid who wasn't into any sports" to his rise to WWE fame as the most powerful force in the universe.
About The Ultimate Warrior:
Known for his vibrant face paint, Ultimate Warrior's true colors are exposed in Ultimate Warrior: A Life Lived "Forever." Releasing on September 15, 2015, this biography showcases one of WWE's and wrestling's biggest legends through stories and photographs of his historic matches, as well as rare candid, behind-the-scenes images and personal ephemera from his family, making this the ultimate collectible for diehard Warrior fans worldwide.
This book launch will feature an autograph table, Warrior statue, museum displays, a face paint artist, and more! Ultimate Warrior Day, on August 22, 2015, begins at 3:00pm, and is open to the first 300 fans.
***Please note – in order to enter the signing line, customers must buy a copy of The Ultimate Warrior in–store.
About the Authors:
Jon Robinson is a sports and entertainment writer from San Francisco, California. His work has appeared in ESPN, Sports Illustrated, and IGN.com, and he is the author of five books, including Rumble Road, My Favorite Match,and The Attitude Era.
---
Paul "Triple H" Levesque business executive, professional wrestler, actor, author, and former bodybuilder. He is the Executive Vice President (Talent/Live Events/Creative) of professional wrestling promotion WWE and is married into the McMahon family, which maintains majority ownership of WWE. In addition to his corporate role, Levesque makes regular appearances on WWE television as an authority figure and wrestler.
---
Dana Warrior
Dana Warrior author and business executive is the current CEO of Ultimate Creations Inc managing the estate of WWE Hall of Famer, Warrior. Founded in 1997, Dana has worked as a business consultant and business secretary partnering with Warrior to license and market the Ultimate Warrior brand. Dana married Warrior, on January 31st 1999 and is mother to Indiana and Mattigan Warrior. In addition to her corporate role, Dana has made appearances for WWE, most recently at the WWE Hall of Fame 2015 where she introduced the first inaugural Warrior Award.  Dana considers her role as mother to Indiana and Mattigan her greatest accomplishment.
---
WWE is a global entertainment powerhouse, and its passionate WWE Universe spans 150 countries, 30 different languages, and several generations. Its superstars and divas have redefined sports entertainment and secured a permanent place in the fabric of Americana over WWE's more than 50 years. From early beginnings in smoke-filled arenas to today's events, including Raw and WrestleMania, which unfold in sold-out stadiums, WWE continues to grow and thrill audiences worldwide. It is headquartered in Stamford, CT.
RSVP
Bookings are closed for this event.