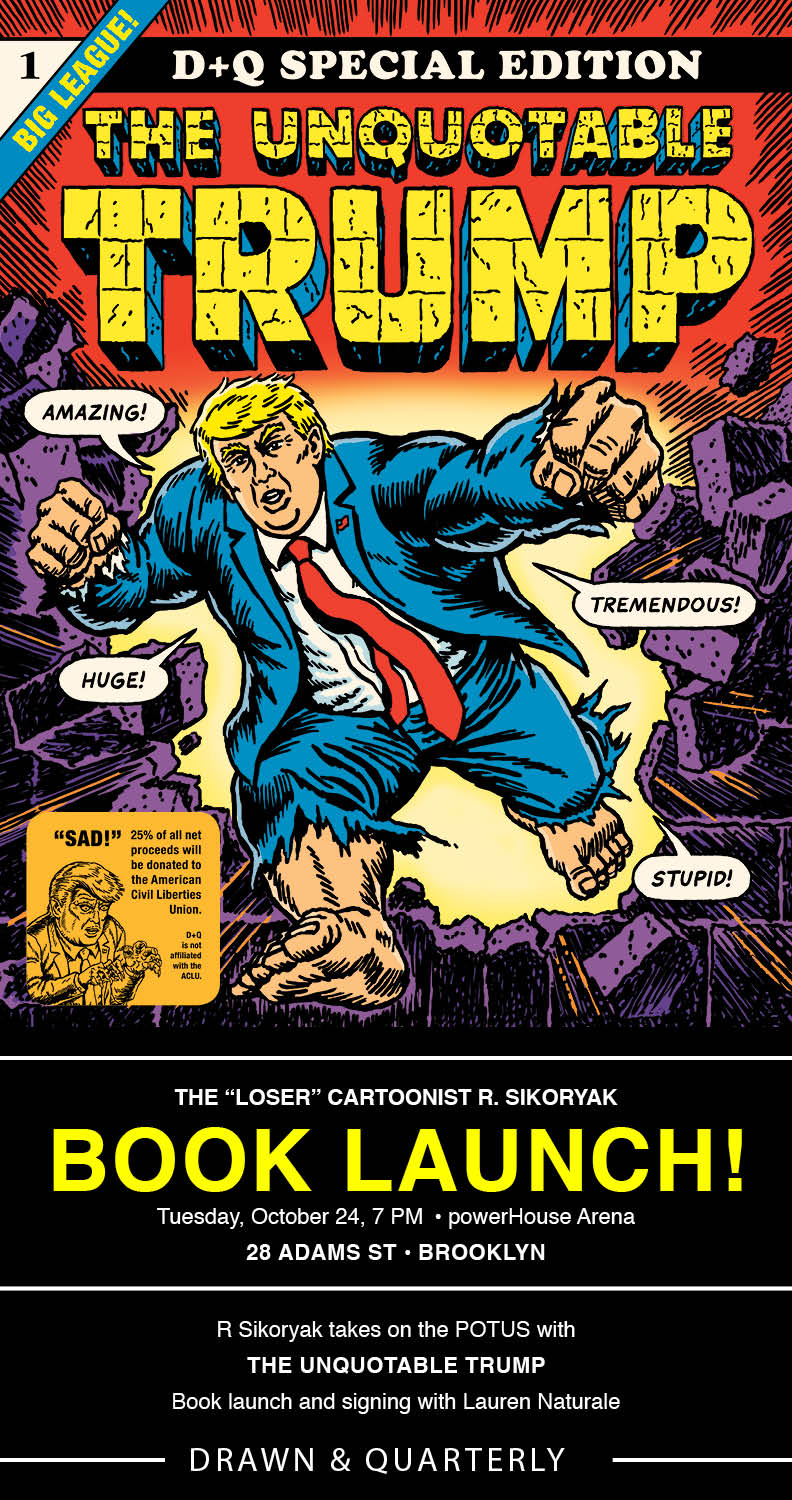 Tuesday Oct 24, 2017
7:00 pm - 9:00 pm
POWERHOUSE @ the Archway
28 Adams Street (Corner of Adams & Water Street @ the Archway)
Brooklyn , NY 11201
RSVP appreciated:
Please fill out the "Bookings" form at the bottom of this page.
-or-
Send the name of the event and number of attendees to our RSVP email.
*Disregard the notification that will appear after Booking.*
PLEASE NOTE: Submitting an RSVP for this event DOES NOT guarantee entrance. This is a free-access event — entrance will be on a first-come, first-served basis.
---
About the Book:
Cartoonist R. Sikoryak (Terms & Conditions, Masterpiece Comics) draws upon the power of comics and satire to frame President Trump and his controversial declarations as the words and actions of the most notable villains and antagonists in comic book history. Reimagining the most famous comic covers, Sikoryak transforms Wonder Woman into Nasty Woman; Uncle Scrooge into Trump withholding his tax returns; the Black Panther into the Black Voter; the Fantastic Four into the Hombres Fantasticos; and more. Word for word, page by page, Sikoryak drives home the absurdity and the breadth of claims made by the 45th President of the United States.
The Unquotable Trump is the hugest comic, truly a great comic. And this will be a big league event—not to be missed!
25% of net proceeds from The Unquotable Trump will be donated to the American Civil Liberties Union.
About the Author/Illustrator:
Cartoonist R. Sikoryak is the author of Terms & Conditions, a word-for-word adaptation of the iTunes terms and conditions agreement that was praised by the New York Times, Guardian, BBC, Hollywood Reporter, MacWorld, and more. His previous book was Masterpiece Comics (Drawn & Quarterly). Sikoryak's comics and illustrations have appeared in the New Yorker, The Onion, GQ, MAD, SpongeBob Comics, and Nickelodeon Magazine, as well as on The Daily Show with Jon Stewart. Sikoryak is in the speakers program of the New York Council of the Humanities, and he teaches in the illustration department at Parsons The New School for Design and at The Center for Cartoon Studies. Since 1997, he's presented his live cartoon slide show series, Carousel, around the United States and Canada. He lives in New York City with his wife, Kriota Willberg.
About the Moderator:
Lauren Naturale won three Webby Awards for her work on the Merriam-Webster Twitter account. She now works as the social media strategist for the New York Civil Liberties Union.
RSVP
Bookings are closed for this event.