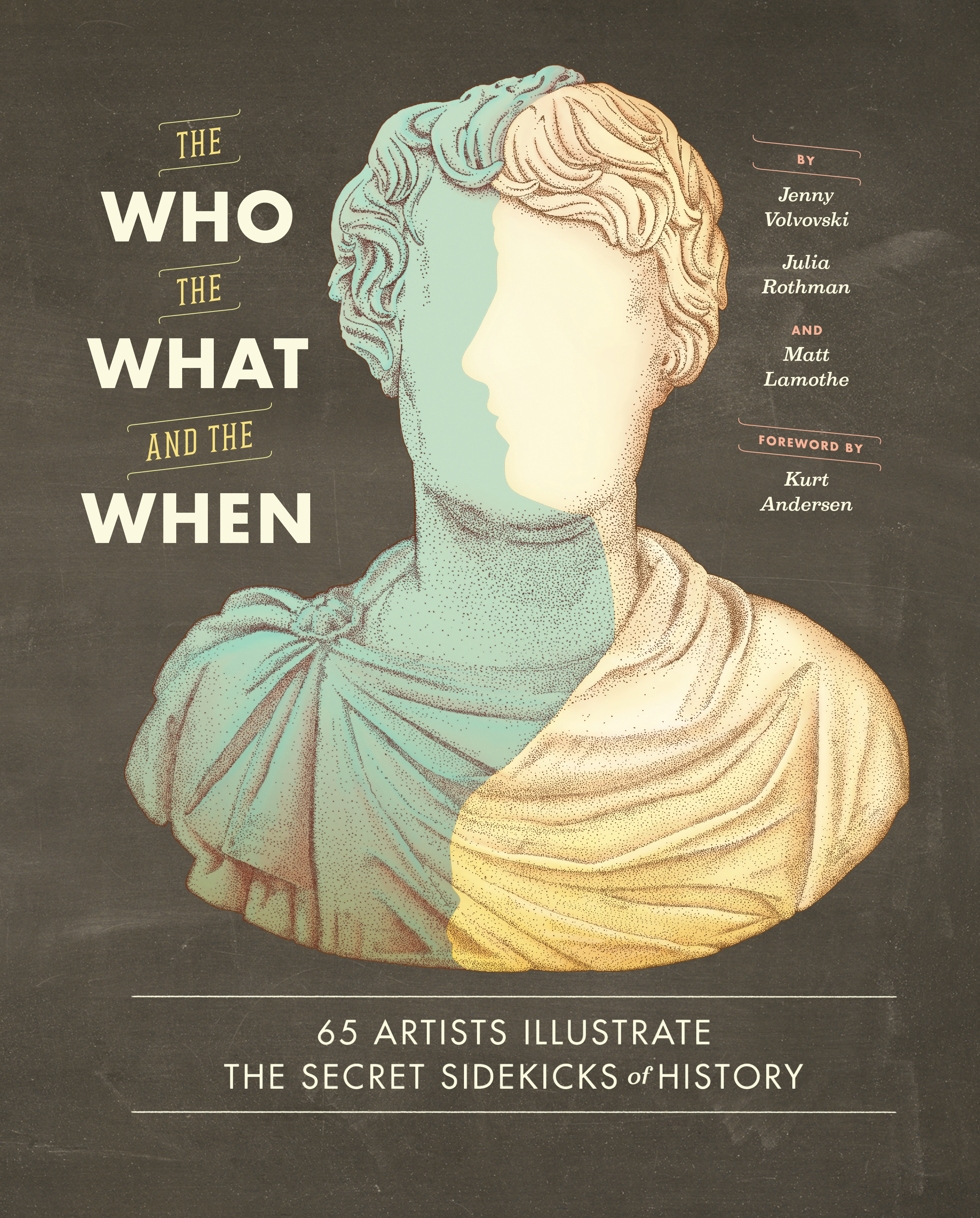 Friday Oct 24, 2014
7:00 pm - 9:00 pm
THE POWERHOUSE ARENA [Dumbo]
37 Main Street
Brooklyn, NY 11201
For more information, please call 718.666.3049
RSVP appreciated: RSVP@powerHouseArena.com
-or-
Please fill out the "Bookings" form at the bottom of this page.
---
Rothman, Volvovski, and Lamothe drop by to share their offbeat illustrated history, revealing 65 people you've probably never heard of, but who helped shape the world as we know it.
About The What, the What, and the When: 
In The Who, the What, and the When, sixty-five of the most fascinating "sidekicks of history" finally get their moment in the sun. Collected here are the stories of the less-famous names behind the celebrated explorers, activists, authors, scientists, statesmen, athletes, artists, and inventors we revere.
Profiled here are Michael and Joy
 Brown, who gifted Harper Lee a year's
 salary so she could write To Kill a 
Mockingbird; Thomas A. Watson, the 
assistant who built the telephone 
Alexander Graham Bell designed;
 Sam Shaw, whose photographs of
 Marilyn Monroe helped make her an
icon; John Ordway, who traveled
 every step of the way with Lewis and
 Clark; Rosalind Franklin, the scientist who provided the critical evidence Watson and Crick used to describe the structure of DNA; and many more.
Each individual's extraordinary story is told by a noted historian and illustrated in a sumptuous portrait by one of today's hottest artists. This captivating collection of historical fact and biographical trivia was created by Jenny Volvoski, Julia Rothman, and Matt Lamothe, the team behind the bestselling book The Where, the Why, and the How, and includes a foreword by Kurt Andersen, author and host of the public radio show Studio 360.
About the Authors: 
Jenny Volvovski, Julia Rothman, and Matt Lamothe are partners in ALSO, a design firm based in Chicago and New York that has won numerous awards, including the ADC Young Guns Award.
RSVP
Bookings are closed for this event.