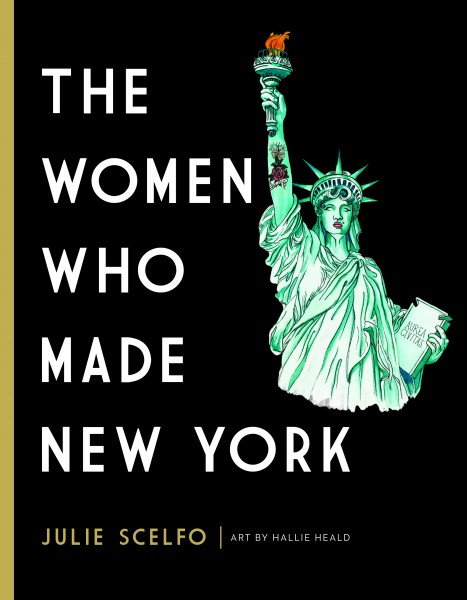 Thursday Nov 10, 2016
7:00 pm - 9:00 pm
POWERHOUSE @ the Archway
28 Adams Street (Corner of Adams & Water Street @ the Archway)
Brooklyn , NY 11201
For more information, please call 718.666.3049
RSVP appreciated: RSVP@powerHouseArena.com
-or-
Please fill out the "Bookings" form at the bottom of this page.
Read any history of New York City and you will read about men. The Women Who Made New York aims to tell the full story, of the women whose vital contributions helped make New York the cultural epicenter of the world. Julie Scelfo will be joined in conversation with the book's illustrator Hallie Heald.
About The Women Who Made New York:
As Hilary Clinton's historic candidacy cements her place in history, readers are eager to learn about other female trailblazers. Julie Scelfo's The Women Who Made New York offers a collection of short biographies of the women who helped to build New York City into a world capital, some who are recognizable and others who are completely unknown. The text is paired with exquisite original art by Hallie Heald to create a visually striking, accessible look at the women behind the city. Scelfo's introduction, a love poem to the City, crackles with energy and verve.
The book is organized into such myriad subjects as:
The Icons: Iris Apfel, Fran Lebowitz, Dorothy Parker, Barbra Streisand
The Artists: Hildreth Miere, Berenice Abbott, Louise Nevelson, Louise Bourgeois
The Wisecrackers: Gilda Radner, Nora Ephron, Fanny Brice, Tina Fey
The Politicos: Shirley Chisholm, Bella Abzug, Geraldine Ferraro
The Editrixes: Diana Vreeland, Anna Wintour
The Mythmakers: Edith Wharton, Joan Didion
After-Hours: Texas Guinan, Grace Jones, Regine Zylberberg
Each of these subjects form a short and accessible chapter, easily adaptable and paired with portraits, along with text from Scelfo, a well-established journalist and former staff writer for The New York Times.
Advanced Praise for The Women Who Made New York:
"A welcome antidote to male-centered history, The Women Who Made New York should be taught in every New York high school. I long for the day when books like this become unnecessary." —DAVID BYRNE
"Julie Scelfo's astonishing collection of fabulously fearless females reminds us that New York City has always been a magnet for taboo-busting, rule-breaking women."—SIMON DOONAN
"What would NYC be without women? In this glittering volume, Julie Scelfo provides the indisputable answer: not much. These women are my muses."—ZAC POSEN
"How can we begin to contemplate New York's history without including the women who helped build it? Julie Scelfo makes clear that without the contributions of some famous and not-so-famous women, the city would not exist as we know it. Taken together, these brief biographies reveal a dynamism and diversity as rich as New York City itself."—VALERIE PALEY
"Finally—in Julie Scelfo's brilliant collection of portraits and vignettes, the Town Mothers of NYC loom as large as the Town Fathers, often towering over them. Edith Wharton, Margaret Sanger, Billie Holiday, Diana Vreeland, Zora Neale Hurston, and so many more. This is a book that you'll want to keep on your shelf and pass along to the next generation."—TERESA CARPENTER
About the Author:
Julie Scelfo is a frequent contributor to the New York Times, where her stories about how we live routinely appear on The Times's most-emailed list. Prior to joining The Times in 2007, Scelfo was a correspondent at Newsweek, where she covered breaking news and wrote about society and human behavior. Scelfo lives with her family in New York City. For more information please visit www.juliescelfo.com.
Hallie Heald is an illustrator and stylist. Her work has been featured in FabFitFun's coloring book, Darling Magazine, Broad City Instagram, Vogue India, MODO Magazine, XXY Magazine, and Contributor Magazine, among other publications.
RSVP
Bookings are closed for this event.