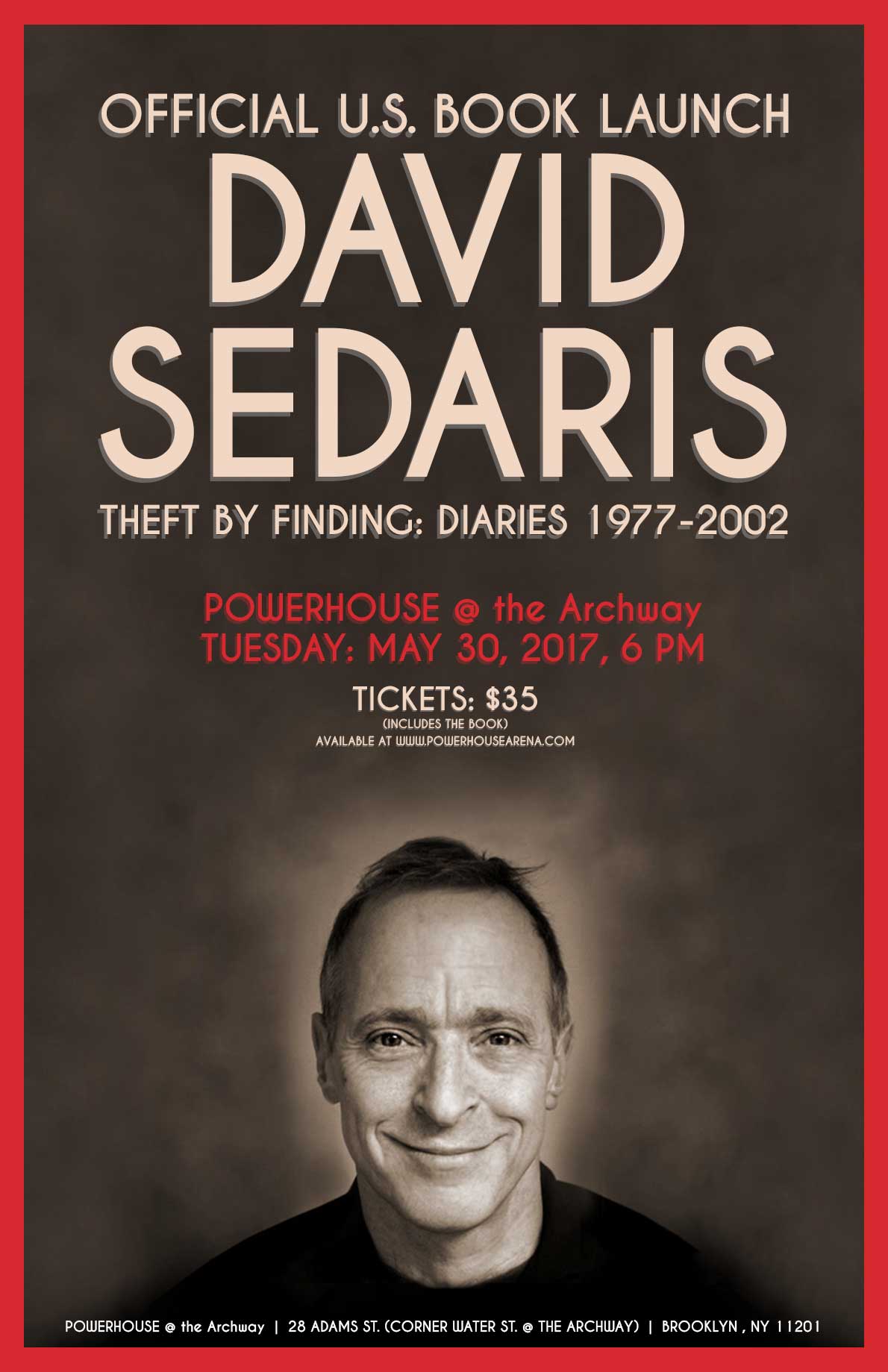 Tuesday May 30, 2017
6:00 pm
POWERHOUSE @ the Archway
28 Adams Street (Corner of Adams & Water Street @ the Archway)
Brooklyn , NY 11201
---
What a thrill, what a delight, to host the official book launch for David Sedaris's eagerly anticipated new book, THEFT BY FINDING: DIARIES 1977-2002.
Unfortunately, this event is sold out — but you can still meet David and pre-purchase your copy of his book by clicking here.
PLEASE NOTE: Ticket holders who are unable to attend the reading will have 30 days to pickup their copy of Theft by Finding at our retail location, after the date of the event. Books will be forfeited after these 30 days.
---
These pages are the closest thing to a memoir David has written, giving us a glimpse into his early life, his family, his struggles with money, and his search for an artistic point of view. Along the way we watch the development of his unique voice, timbre and cadence.
About THEFT BY FINDING: DIARIES 1977-2002:
David Sedaris tells all in a book that is, literally, a lifetime in the making.
It's no coincidence that the world's best writers tend to keep diaries. If you faithfully record your life in a journal, you're writing every day-and if you write every day, you become a better writer. David Sedaris has kept a diary for forty years. 
In his diaries, he's recorded everything that has captured his attention: overheard comments, salacious gossip, soap opera plot twists, secrets confided by total strangers. These observations are the source code for his finest work, and with them he has honed his self-deprecation and learned to craft his cunning, surprising sentences.
Now, for the first time, Sedaris shares his private writings with the world in Theft By Finding: Diaries 1977-2002. This is the first-person account of how a drug-abusing dropout with a weakness for the International House of Pancakes and a chronic inability to hold down a real job became one of the funniest people on the planet. 

Most diaries — even the diaries of great writers — are impossibly dull, because they generally write about their emotions, or their dreams, or their interior life. Sedaris's diaries are unique because they face outward. He doesn't tell us his feelings about the world, he shows us the world instead, and in so doing he shows us something deeper about himself.
Written with a sharp eye and ear for the bizarre, the beautiful, and the uncomfortable, and with a generosity of spirit that even a misanthropic sense of humor can't fully disguise, Theft By Finding proves that Sedaris is one of our great modern observers. It's a potent reminder that there's no such thing as a boring day-when you're as perceptive and curious as Sedaris, adventure waits around every corner.
About the author:
David Sedaris is the author of the books Let's Explore Diabetes with Owls, Squirrel Seeks Chipmunk, When You Are Engulfed in Flames, Dress Your Family in Corduroy and Denim, Me Talk Pretty One Day, Holidays on Ice, Naked, and Barrel Fever. He is a regular contributor to The New Yorker and BBC Radio 4. He lives in England.