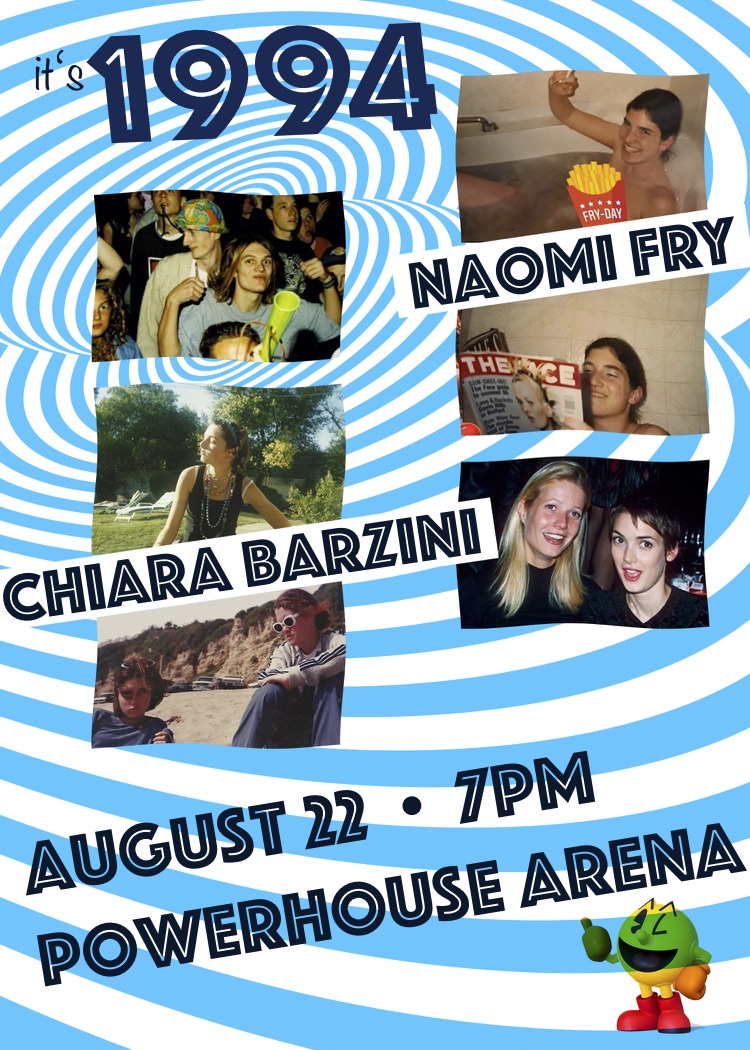 Tuesday Aug 22, 2017
7:00 pm - 9:00 pm
POWERHOUSE @ the Archway
28 Adams Street (Corner of Adams & Water Street @ the Archway)
Brooklyn , NY 11201
RSVP appreciated:
Please fill out the "Bookings" form at the bottom of this page.
-or-
Send the name of the event and number of attendees to our RSVP email.
*Disregard the notification that will appear after Booking.*
---
About the Book:
Italian screenwriter and journalist Chiara Barzini, author of the debut story collection Sister Stop Breathing, returns this summer with THINGS THAT HAPPENED BEFORE THE EARTHQUAKE: A Novel, a ruefully funny coming-of-age story about family ties, resilience, and the brutality of teenage love set against an unforgettable portrait of 1990s Los Angeles in all its sun-drenched, semi-splendor.
It's 1992, Los Angeles is recovering from brutal riots, and Eugenia sees her family's folly clearly. After starring in a successful canned meat commercial in Rome, her father has moved their entire family to the City of Angels where he plans to make it big as a Hollywood star. But instead of living in Beverly Hills, like all the other film stars, he lands them in the scorching basin of the San Fernando Valley, in Van Nuys, where gunshots, police sirens, and the distant roar of the 405 Freeway become the soundtrack of their new lives.
With the city still fuming, Eugenia's naïve father gets involved with an unlikely clique, including a Satan-worshipping enfant prodige who seduces his daughter and a shady Hollywood producer. Her mother organizes family trips to Indian Reservations, convinced that blessings from Native American tribes might improve their destiny on the West Coast. Together they treat Los Angeles as if it were a beach town off the Mediterranean Sea. They drag their children on daily visits to the shores of Malibu where they lie nude on the sand, ignoring the violent winds, ferocious waves, and tickets for indecent exposure. They attempt to squeeze their Sixties lifestyle into a city that is now far from the "peace and love" California they imagined.
Eugenia is the first to suffer the consequences of their obliviousness when she gets dropped off in front of the metal detectors of her new public school. Relying on a strong bond with the Madonna — the mother of all mothers, who she is sure is watching over her since her own mother won't — Eugenia tries to navigate a place where tense race relations, prejudice, and gang culture form the predominant backdrop. She reacts by cultivating a secretive life of her own, exploring seduction, going on extreme sexual rampages, ditching classes, and walking aimlessly for hours into the somnolent suburban landscape of the Valley. Meanwhile, Eugenia's father finally manages to shoot his first American film at the Alexandria, a haunted downtown LA Hotel, but after a moment of apparent success things take a wrong turn.
Two events — the sudden death of a close friend in a gang dispute inside a mall's parking lot and a violent encounter on a desert island in Sicily when the family returns home for a summer visit –– cast a dark shadow on Eugenia's growth. She finds solace in a confined and intimate friendship with Deva, a girl from Montana, a loner like her, whose father is an unsuccessful rock musician living in Topanga Canyon. The two friends retreat from their families' failed ambitions and broken dreams, creating a fantasy world of their own inside the canyon's hidden caves and creeks. But this haven from the city's violent cries and blaring freeways proves impermanent — like everything in Los Angeles. The 1994 Northridge earthquake, whose epicenter is just blocks away from Eugenia's house, quite literally rocks the foundation of her life, altering her family's, her lover's, and her own destiny once and for all.
About the Author:
CHIARA BARZINI is an Italian screen and fiction writer. She has lived and studied in the United States where she collaborated with Italian Vanity Fair, GQ, XL Repubblica, Rolling Stone Italy, Flair, and Marie Claire while publishing essays in American magazines such as the Village Voice, Harper's, Vogue, Interview Magazine, Vice, and Rolling Stone. Her fiction has appeared in BOMB Magazine, The Coffin Factory, Noon, The NY Tyrant, Vice, and Dazed & Confused. She is the author of the story collection Sister Stop Breathing (Calamari Press, 2012) and has written a variety screenplays for both television and film. Her most recent film work, Arianna, the coming of age story of an intersex adolescent, won numerous awards at the Venice Film Festival and was nominated for Best Screenplay at the Italian Golden Globes, 2016.
About the Moderator:
Naomi Fry has written for a variety of publications, including The New York Times Magazine, The New York Times Book Review, Artforum and newyorker.com. She is also the copy chief at T: The New York Times Style Magazine. She lives in Brooklyn.
RSVP
Bookings are closed for this event.