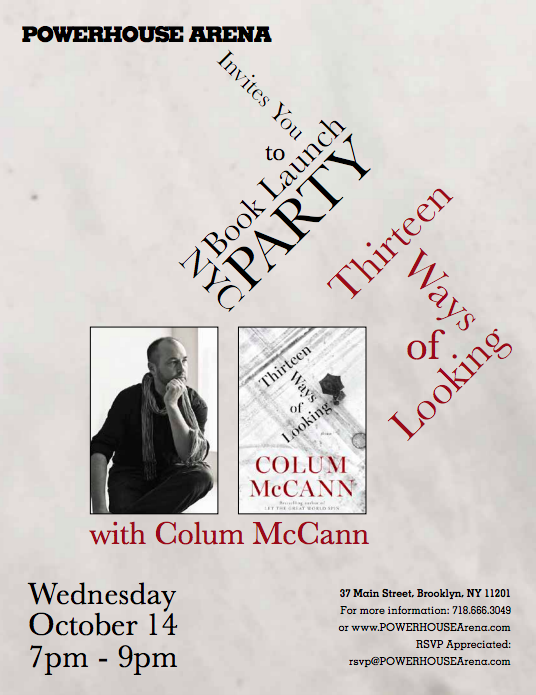 Wednesday Oct 14, 2015
7:00 pm - 9:00 pm
THE POWERHOUSE ARENA [Dumbo]
37 Main Street
Brooklyn, NY 11201
For more information, please call 718.666.3049 RSVP appreciated: RSVP@powerHouseArena.com -or- Please fill out the "Bookings" form at the bottom of this page.
---
National Book Award-winning author Colum McCann presents his first collection of short fiction in more than a decade in which he charts the territory of chance, and the profound and intimate consequences of even our smallest moments.
About Thirteen Ways of Looking:
In such acclaimed novels as Let the Great World Spin and TransAtlantic, National Book Award–winning author Colum McCann has transfixed readers with his precision, tenderness, and authority. Now, in his first collection of short fiction in more than a decade, McCann charts the territory of chance, and the profound and intimate consequences of even our smallest moments.
In the exuberant title novella, a retired judge reflects on his life's work, unaware as he goes about his daily routines that this particular morning will be his last. In "Sh'khol," a mother spending Christmas alone with her son confronts the unthinkable when he disappears while swimming off the coast near their home in Ireland. In "Treaty," an elderly nun catches a snippet of a news report in which it is revealed that the man who once kidnapped and brutalized her is alive, masquerading as an agent of peace. And in "What Time Is It Now, Where You Are?" a writer constructs a story about a Marine in Afghanistan calling home on New Year's Eve.
Deeply personal, subtly subversive, at times harrowing, and indeed funny, yet also full of comfort, Thirteen Ways of Looking is a striking achievement. With unsurpassed empathy for his characters and their inner lives, Colum McCann forges from their stories a profound tribute to our search for meaning and grace. The collection is a rumination on the power of storytelling in a world where language and memory can sometimes falter, but in the end do not fail us, and a contemplation of the healing power of literature.
About the Author and Moderator:
Colum McCann is the award-winning, internationally bestselling author of Let the Great World Spin, Zoli, Dancer, This Side of Brightness, and Songdogs, as well as two story collections. He has received many international honors, including the National Book Award, International Dublin Impac Prize, a Chevalier des Arts et Lettres from the French government, 2010 Best Foreign Novel Award in China, election to the Irish arts academy, and an Oscar nomination, in addition to several European awards. His work has been published in more than 30 languages. He currently teaches at the MFA program in Hunter College and lives in New York with his wife and three children.
Rob Spillman is Editor and co-founder of Tin House.  He is the 2015 recipient of the PEN/Nora Magid Award for Editing as well as the 2015 VIDO Award from VIDA. Tin House is the recipient of the 2015 Firecracker Award for General Excellence and has been honored in Best American Stories, Best American Essays, Best American Poetry, O'Henry Prize Stories, the Pushcart Prize Anthology and numerous other anthologies. He is also the Executive Editor of Tin House Books and co-founder of the Tin House Summer Workshop, now in its thirteenth year. His writing has appeared in BookForum, the Boston Review, Connoisseur, Details, GQ, Guernica, Nerve, the New York Times Book Review, Rolling Stone, Salon, Spin, Sports Illustrated, Time, Vanity Fair, Vogue, among other magazines, newspapers, and essay collections. He is also the editor of Gods and Soldiers: the Penguin Anthology of Contemporary African Writing, which was published in 2009. His memoir, All Tomorrow's Parties, will be published by Grove Press in April, 2016.
RSVP
Bookings are closed for this event.