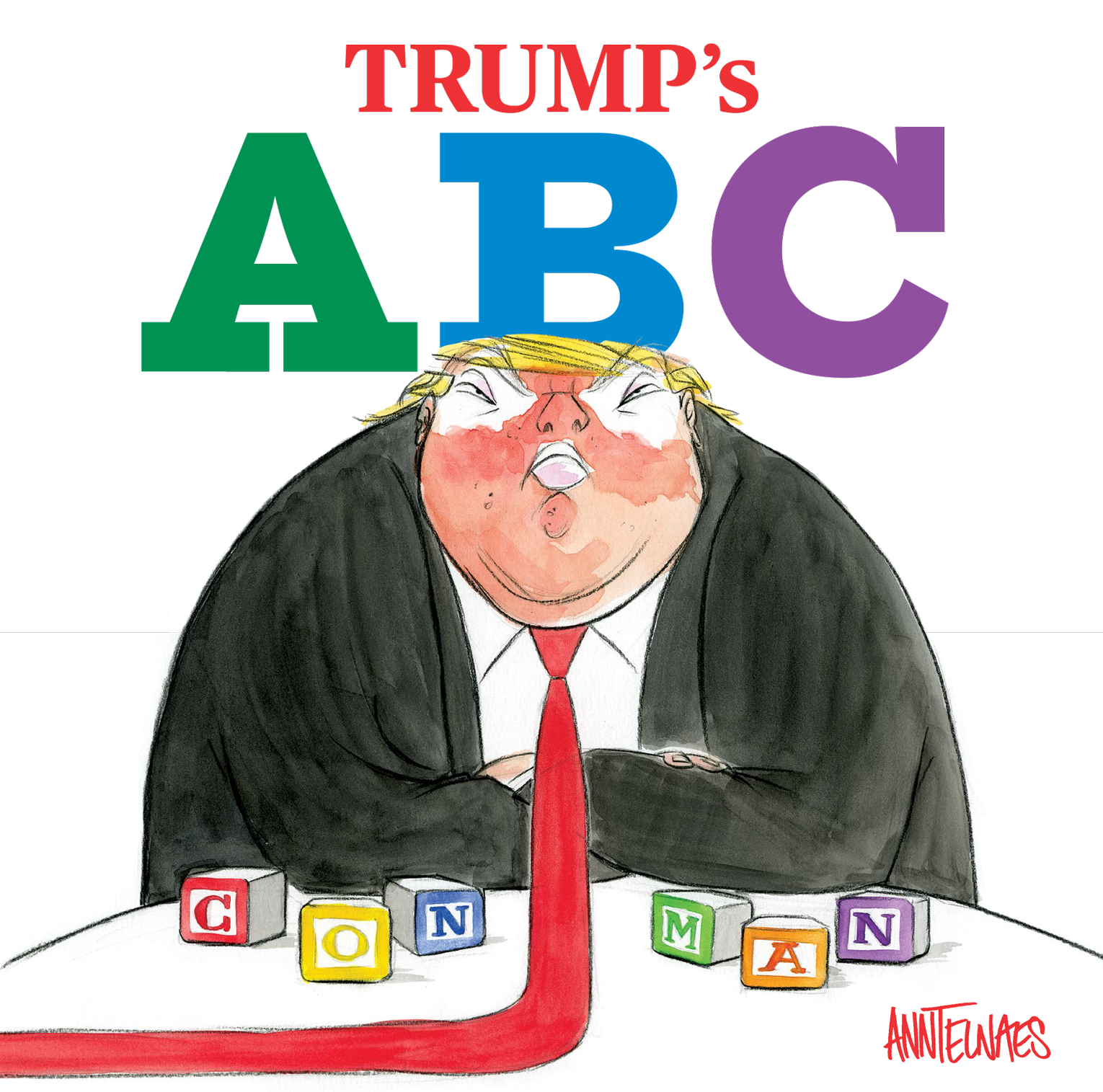 Friday May 11, 2018
7:00 pm - 9:00 pm
POWERHOUSE @ the Archway
28 Adams Street (Corner of Adams & Water Street @ the Archway)
Brooklyn , NY 11201
RSVP encouraged & appreciated.
Please fill out the form at the bottom of this page if you plan on attending. RSVP on Facebook here.
PLEASE NOTE: Submitting an RSVP for this event DOES NOT guarantee entrance. This is a free-access event — entrance will be on a first-come, first-served basis.
---
About the Book.
The Pulitzer Prize-winning political cartoonist Ann Telnaes has over the last 20 years skewered injustice, inequality and corruption with her incendiary combination of elegance, wit, and moral suasion. The election of Donald Trump has inspired Telnaes to create a fitting response, her first original book — Trump's ABC, a children's board book for adults that chronicles the high points (or low points, if there's a difference) of Donald Trump's first six months in office in a format that is cleverly designed to reflect the commander-in-chief's attention span and mental level.
Featuring sing-songy rhymes and beguiling watercolor drawings, Trump's ABC is a miniature critique and exposé of Donald Trump — illustrating his public policies, his personal defects, his ethical dysfunction, and the consequences of his Presidency on the lives of Americans.
About the Author.
Ann Telnaes creates editorial cartoons in various mediums- animation, visual essays, live sketches, and traditional print- for The Washington Post. She won the Pulitzer Prize in 2001 for her print cartoons and the National Cartoonists Society's Reuben for Outstanding Cartoonist of the Year for 2016. Her first original book, Trump's ABC, was published this year by Fantagraphics.
About the Moderator.
Steve Brodner is an illustrator, caricaturist and political commentator working for publications in the US since the 1970s. He is accepted in the fields of journalism and the graphic arts as a master of the editorial idiom. After getting his BFA at Cooper Union in 1976 Brodner became editorial cartoonist at The Hudson Dispatch, in Union City, New Jersey. In 1977 he began a freelance illustration career that would span over four decades. He has contributed to the National Lampoon, Sports Illustrated, Playboy, Spy, and most major publications in the US and Canada.
RSVP
Bookings are closed for this event.