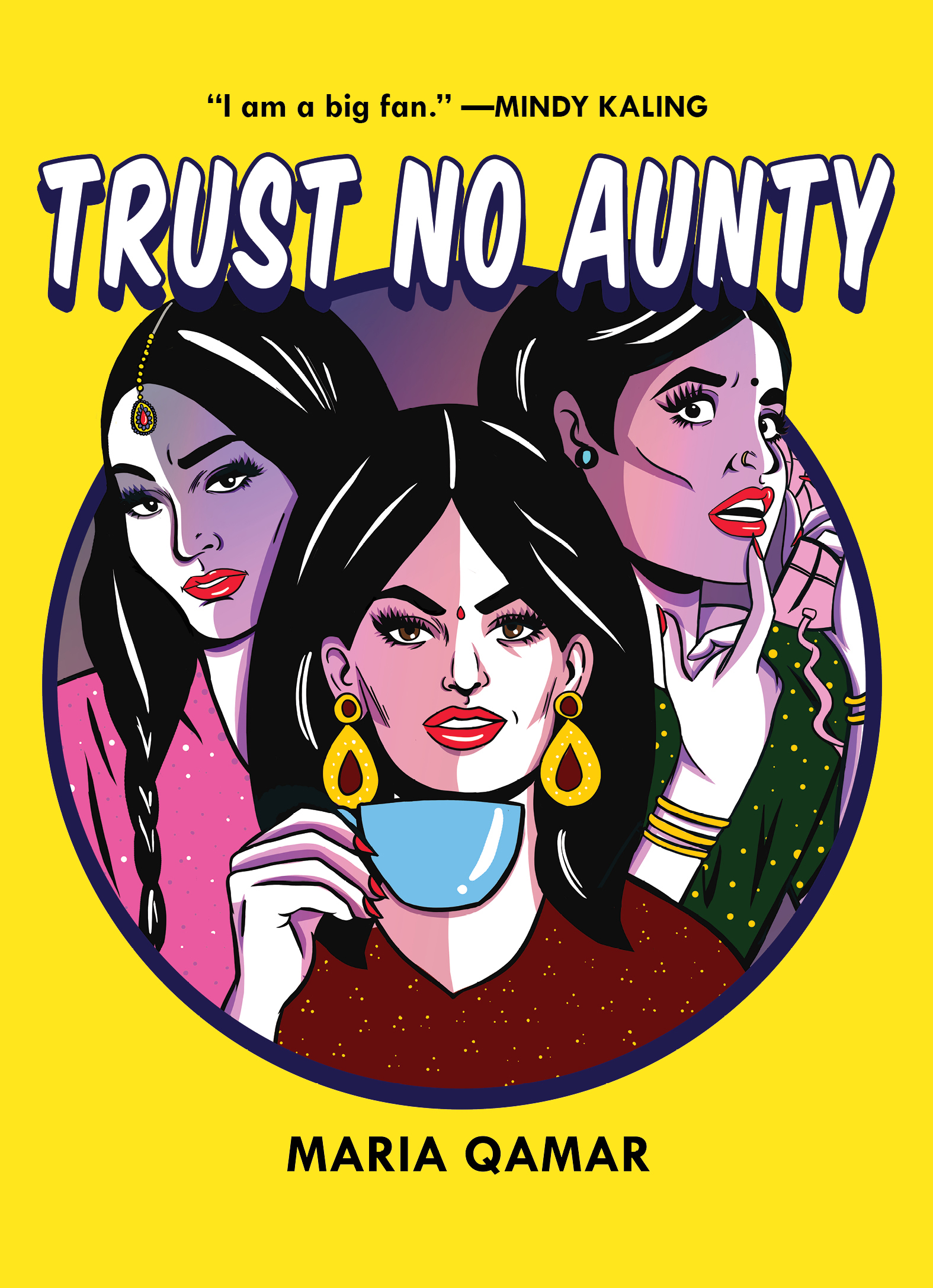 Wednesday Aug 09, 2017
7:00 pm - 9:00 pm
POWERHOUSE @ the Archway
28 Adams Street (Corner of Adams & Water Street @ the Archway)
Brooklyn , NY 11201
THIS EVENT HAS BEEN CANCELLED.
Due to an unforeseen scheduling conflict, Maria Qamar's 8/9 book launch at POWERHOUSE will be cancelled. We apologize for any inconvenience.
---
"Maria Qamar's art is gorgeous and witty, with defiance seeping through the edges.
Everything I want to be! I am a big fan."
—MINDY KALING
About the Book:
TRUST NO AUNTY by Maria Qamar, best known for the art she posts to her popular Instagram @Hatecopy, is an incisive, irreverent deep dive into the strange world of meddling, critical, yet oddly comforting aunties—whether they're family members, annoying neighbors, or just some ladies throwing black magic your way.
We've all experienced aunty interference. They are at family parties and friendly get- togethers, trying to set you up on blind dates with their son because you're "getting too old," inquiring about your financial status because they "thought you would have been driving a Lexus by now," and telling you to lose weight while simultaneously feeding you a second dinner. Aunties have stunted our social growth and embarrassed us in front of our cool cousins for years!
TRUST NO AUNTY dispenses tongue-in-cheek advice on how to endure every type of aunty encounter, cultivate individuality, and believe in your own strengths and decision-making skills. Whether it's throwing sweatpants over miniskirts to sneak out to a party, hiding boyfriends in closets, or resisting the endless pressure to become a doctor, lawyer, or engineer in order to pursue a true passion, Qamar has been there and done that.
This striking, full-color book is also an honest, hilarious look at navigating life as a Desi girl in a western world. Qamar grew up juggling two identities—a traditional Desi (a person of Indian, Pakistani, or Bangladeshi birth who lives abroad) and a Western punk girl turned pop artist. Now, in this hilarious, full-color survival guide, she shows readers how to deal with overbearing, panic-prone "aunties," while navigating the many cultural differences Desis face (from marriage expectations to curfews and crop tops).
She offers this book as a way to laugh through negative vibes and day-to-day drama, but also gets serious about the persistence of Western—read: "white"—beauty ideals in Desi culture and fights against the notion that women must lighten their skin to be considered beautiful. Qamar proves that the patriarchal aunty mindset can indeed be overthrown, and she is ready to share her defiant journey with others.
About the Author:
MARIA QAMAR, otherwise known as @Hatecopy, is a first generation Canadian of Bihari/Bengali and Gujarati descent who emigrated from Pakistan at the age of nine. The Toronto-based artist draws upon her passion for American comics and Bollywood to shape her style. Qamar worked in advertising before she started illustrating and posting her hilarious insights into diaspora culture and the significance of aunties to her Instagram account in 2015. Her art has been commissioned for The Mindy Project and has been featured by Buzzfeed, Vice, the Toronto Star, Vogue India, the BBC, and more. Qamar recently appeared on the cover of ELLE Canada's "Meet the New Wave" issue.
RSVP
Bookings are closed for this event.