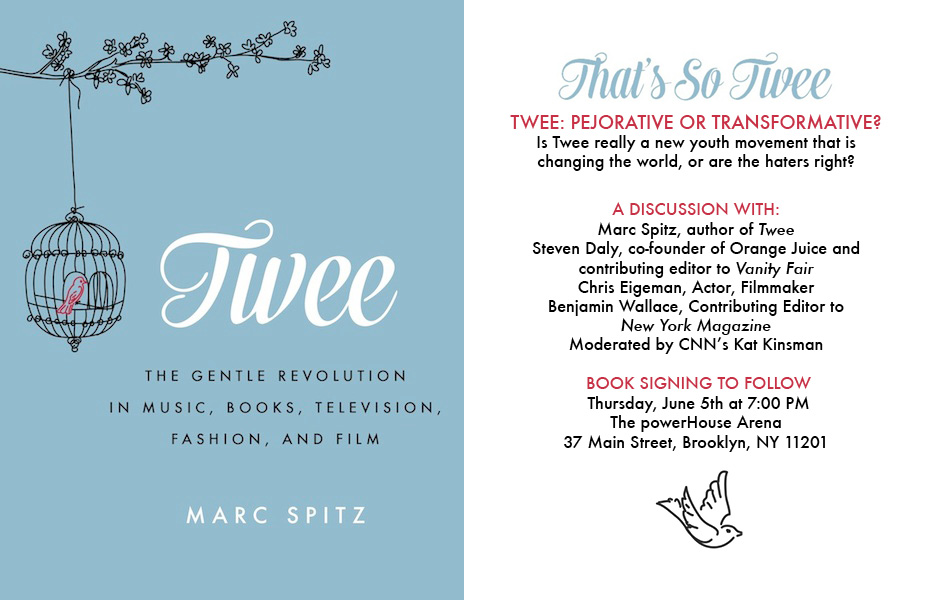 Thursday Jun 05, 2014
7:00 pm - 9:00 pm
THE POWERHOUSE ARENA [Dumbo]
37 Main Street
Brooklyn, NY 11201
For more information, please call 718.666.3049
RSVP appreciated: RSVP@powerHouseArena.com
-or-
Please fill out the "Bookings" form at the bottom of this page.
---
TWEE: PEJORATIVE OR TRANSFORMATIVE?
Is Twee really a new youth movement that is changing the world, or are the haters right? Journalist Marc Spitz, author of Twee, joins a discussion with Steven Daly, Chris Eigeman and Benjamin Wallace, moderated by CNN's Kat Kinsman.
About Twee:
In Twee: The Gentle Revolution in Music, Books, Television, Fashion, and Film journalist and cultural observer Marc Spitz surveys the rising Twee movement in music, art, film, fashion, food and politics and examines the cross­pollinated generation that embodies it—from aging hipsters to nerd girls, indie snobs to idealistic industrialists. Spitz outlines the history of twee—the first strong, diverse, and wildly influential youth movement since Punk in the 70s and Hip Hop in the 80s—showing how awkward glamour and fierce independence has become part of the zeitgeist. Focusing on its origins and hallmarks, he charts the rise of this trend from its forefathers like Disney, Salinger, Plath, Seuss, Sendak, Blume and Jonathan Richman to its underground roots in the post­punk United Kingdom, through the late 80s and early 90s of K Records, Whit Stillman, Nirvana, Wes Anderson, Pitchfork, This American Life, and Belle and Sebastian, to the current (and sometimes polarizing) appeal of Girls, Arcade Fire, Rookie magazine, and hellogiggles.com.
Revealing a movement defined by passionate fandom, bespoke tastes, a rebellious lack of irony or swagger, the championing of the underdog, and the vanquishing of bullies, Spitz uncovers the secrets of modern youth culture: how Twee became pervasive, why it has so many haters and where, in a post-­Portlandia world, can it go from here?
About the Author:
Marc Spitz is an author, playwright and journalist. His books include Bowie: A Biography; and Jagger: Rebel, Rock Star, Rambler, Rogue; as well as two novels: the cult classic How Soon Is Never and Too Much, Too Late. He has also published a memoir: Poseur: A Memoir of Downtown New York City in the 90s. A former Senior Writer at Spin magazine, and his work has also appeared in Rolling Stone, Maxim, Vanity Fair, New York, Uncut, and the New York Times. He lives in New York City.
---
For more information, please contact
Justin Levine
email: justin@powerhousearena.com
powerHouse Arena, 37 Main Street, Brooklyn, NY 11201
tel: 212-604-9074 x109
RSVP
Bookings are closed for this event.