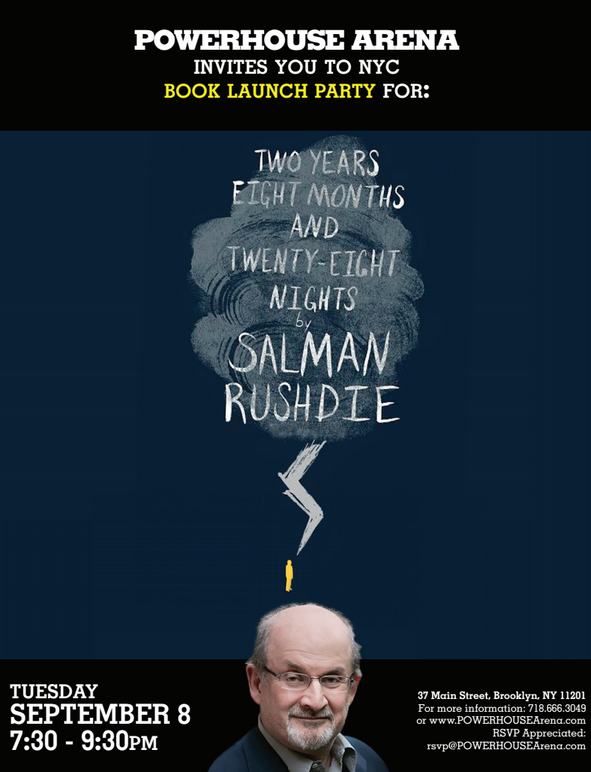 Tuesday Sep 08, 2015
7:30 pm - 9:30 pm
THE POWERHOUSE ARENA [Dumbo]
37 Main Street
Brooklyn, NY 11201
For more information, please call 718.666.3049
RSVP appreciated: RSVP@powerHouseArena.com
-or-
Please fill out the "Bookings" form at the bottom of this page.
---
Famed author Salman Rushdie's new novel is a rich and multifaceted work that blends history, mythology, and a timeless love story to bring alive a world that has been plunged into an age of unreason.
About Two Years Eight Months and Twenty-Eight Nights:
Inspired by 2,000 years of storytelling tradition yet rooted in the concerns of our present moment, it is an enduring testament to the power of the imagination.
In the near future, after a storm strikes New York City, the strangenesses begin. A down-to-earth gardener finds that his feet no longer touch the ground. A graphic novelist awakens in his bedroom to a mysterious entity that resembles his own sub–Stan Lee creation. Abandoned at the mayor's office, a baby identifies corruption with her mere presence, marking the guilty with blemishes and boils. A seductive gold digger is soon tapped to combat forces beyond imagining.
Unbeknownst to them, they are all descended from the whimsical, capricious, wanton creatures known as the jinn, who live in a world separated from ours by a veil. Centuries ago, Dunia, a princess of the jinn, fell in love with a mortal man of reason. Together they produced an astonishing number of children, unaware of their fantastical powers, who spread across generations in the human world.
Once the line between worlds is breached on a grand scale, Dunia's children and others will play a role in an epic war between light and dark spanning a thousand and one nights—or two years, eight months, and twenty-eight nights. It is a time of enormous upheaval, where beliefs are challenged, words act like poison, silence is a disease, and a noise may contain a hidden curse.
Inspired by the traditional "wonder tales" of the East, Salman Rushdie's new novel is satirical and bawdy, full of cunning and folly, rivalries and betrayals, kismet and karma, rapture and redemption.
About the Author:
Salman Rushdie is the author of twelve novels—Grimus, Midnight's Children (for which he won the Booker Prize and the Best of the Booker), Shame, The Satanic Verses, Haroun and the Sea of Stories, The Moor's Last Sigh, The Ground Beneath Her Feet, Fury, Shalimar the Clown, The Enchantress of Florence, Luka and the Fire of Life, and Two Years Eight Months and Twenty-Eight Nights—and one collection of short stories: East, West. He has also published four works of nonfiction: Joseph Anton, The Jaguar Smile, Imaginary Homelands, and Step Across This Line, and co-edited two anthologies, Mirrorwork and Best American Short Stories 2008. He is a member of the American Academy of Arts and Letters and a Distinguished Writer in Residence at New York University. A former president of American PEN, Rushdie was knighted in 2007 for services to literature.
RSVP
Bookings are closed for this event.