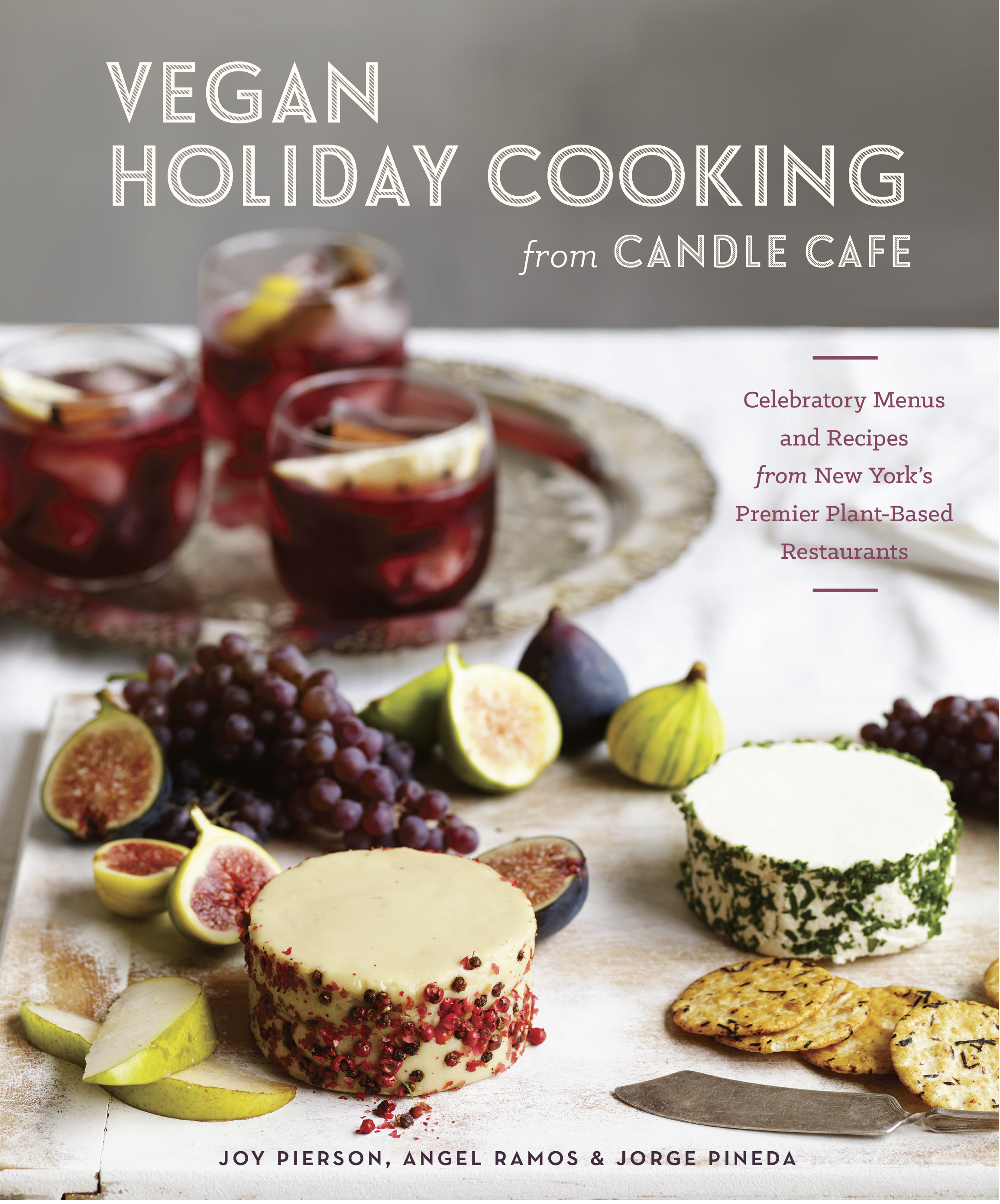 Wednesday Oct 01, 2014
7:00 pm - 9:00 pm
THE POWERHOUSE ARENA [Dumbo]
37 Main Street
Brooklyn, NY 11201
For more information, please call 718.666.3049
RSVP appreciated: RSVP@powerHouseArena.com
-or-
Please fill out the "Bookings" form at the bottom of this page.
---
The visionaries behind one of NYC's favorite vegan restaurants, Joy Pierson, Angel Ramos, and Jorge Pineda celebrate the release of their new holiday cookbook with a tasting event.
About Vegan Holiday Cooking from Candle Cafe:
With a trio of acclaimed restaurants (Candle Cafe, Candle 79, and Candle Cafe West) serving 400,000 meals a year, a thriving catering business, multiple cookbooks, and two national food lines, the Candle brand is widely recognized as one of the country's leading purveyors of world-class vegan cuisine. Now its full-flavored dishes and innovative cocktails can be the highlight of any special occasion with Vegan Holiday Cooking from Candle Cafe. The first vegan-themed holiday cookbook from professional chefs, this gorgeous book elevates plant- based fare to new heights with fresh, inventive recipes that are sure to please vegans, vegetarians, and omnivores alike.
Candle founders Joy Pierson and Bart Potenza's thirty years of experience coupled with innovative creations from Candle's talented cooks, led by executive chef Angel Ramos and pastry chef Jorge Pineda, have culminated in this striking collection of creative menus and recipes to compliment a full year of celebrations from informal gatherings to elegant dining experiences. Most of the recipes are designed to feed ten guests, and can be scaled back or doubled for smaller or larger groups; many are also easily prepared in advance for effortless entertaining.
Vegan Holiday Cooking from Candle Cafe features more than 100 extraordinary recipes that use each season's best and freshest ingredients to become the centerpiece of any celebration—from a spicy Super Bowl party, to a "veganized" Passover Seder, to a savory summer barbecue, to sumptuous Thanksgiving and Christmas dinners. Be it hearty and filling or light and tasty, these recipes deliver luscious fare, full of scrumptious flavor. But that's not all. Festive cocktails, elegant wine and champagne drinks, and party punches round out each menu—and pair beautifully with the crowd-pleasing appetizers, finger foods, main courses, and desserts.
Sample Recipes: 
Warm roasted tofu, ruby red cranberries, and oranges pop with the delicious flavors of the season in this beautiful dish. We make this holiday favorite for both Thanksgiving and Christmas and have shared the recipe with many friends over the years.
serves 8 to 10
2 tablespoons extra-virgin olive oil
2 shallots, thinly sliced
1 cup water
1 cup fresh or frozen cranberries
2 oranges, juiced
2 tablespoons agave nectar, plus more if needed
1 cup white wine
1 teaspoon sea salt
1/2 teaspoon freshly ground black pepper
1/2 teaspoon arrowroot powder dissolved in 2 tablespoons water
Finely grated zest of two oranges
2 (14-ounce) blocks extra-firm tofu
1 sprig fresh rosemary
Heat the oil in a small sauté pan over medium heat. Add the shallots and cook until softened, about 5 minutes. Transfer the shallots to a saucepan; add the water, cranberries, orange juice, agave, wine, salt, and pepper and bring to a boil. Decrease the heat, add the arrowroot, and simmer until the cranberries burst and the sauce has slightly thickened, about 7 minutes. If the sauce seems too tart, add a bit more agave. Remove from the heat, stir in the zest, and let cool.
Preheat the oven to 350°F. Oil a large baking dish.
Cut the tofu into ¾-inch-thick slices and put them in the prepared baking dish. Pour the cranberry-orange mixture over the tofu. Turn to coat each side. Top with the rosemary and bake for about 25 minutes, until the sauce starts to caramelize. Serve immediately.

PUMPKIN CHEESECAKE with APPLE CIDER REDUCTION
Be sure to save room for this fantastic cheesecake, a creative dessert that uses classic Thanksgiving ingredients—pumpkin, apple cider, cinnamon, and nutmeg. The pie and frosting can be made up to 2 days ahead of time.
serves 8 to 10
4 cups vegan cream cheese
2 cups agave nectar or maple syrup
2 cups plain unsweetened soy milk
1 cup pumpkin puree
1 ½  cups (12 ounces) silken tofu
1 cup arrowroot powder
1 tablespoon agar powder
1 teaspoon ground cinnamon
½  teaspoon freshly grated nutmeg
apple cider reduction
4 cups apple cider
1 cup unrefined sugar
¼  teaspoon freshly grated nutmeg
½  recipe Vanilla–Cream Cheese Frosting (page 73), (optional)
Preheat the oven to 350°F. Wrap aluminum foil around the bottom and halfway up the sides of a 9-inch springform pan to prevent any leaking.
Combine the cream cheese, agave, soy milk, pumpkin, tofu, arrowroot, agar, cinnamon, and nutmeg in a large mixing bowl and stir together. Transfer to a blender and blend until smooth and ingredients are fully integrated. This may have to be done in batches. Pour the mixture into the prepared springform pan.
Put the cheesecake in a large baking pan and fill the pan halfway with hot water. Bake for about 2 hours, until lightly browned. Remove, let cool, cover, and refrigerate. The cheesecake can be made up to 2 days ahead of time.
To make the cider reduction, combine the cider, sugar, and nutmeg in a pot and bring to a simmer over medium heat. Simmer, stirring occasionally, until the mixture is reduced by half and is syrupy, 1 to 1½ hours. The reduction can be made and refrigerated up to 2 hours ahead of time. Bring to room temperature before serving.
To serve, remove the foil from the pan. Run a knife around the outer edge of the cheesecake and release the springform pan clamp. Put the cake on a plate or cake stand. Pipe or spread the top of the cheesecake with the frosting. Drizzle the reduction over the cheesecake. Cut into wedges and serve.
vanilla–cream cheese frosting

2 cups confectioners' sugar
1 cup Earth Balance Natural Buttery Spread, softened
½ cup baby Thai coconut meat or creamed coconut
1 teaspoon vanilla extract 1 cup vegan cream cheese
To make the frosting, mix together the confectioners' sugar and buttery spread in a large bowl. Set aside.
Combine the coconut meat and vanilla extract in a blender and blend for 2 minutes. Transfer to a stand mixer or to a bowl and use a hand mixer. Add the confectioners' sugar mixture and cream cheese and mix thoroughly until a smooth frosting is formed.
About the Author and Moderator:
Joy Pierson is co-owner of the Candle Cafe, Candle Cafe West, and Candle 79, and coauthor of The Candle Cafe Cookbook and Candle 79 Cookbook. Certified in nutritional counseling, Joy has appeared on the TODAY show, Good Day New York, CBS News This Morning, The Food Network's TV Food Diners, and NPR.
Angel Ramos is executive chef at Candle 79 and Candle Cafe West. His recipes have been featured in the New York Times and Vegetarian Times, and he helped develop the nationally distributed Candle Cafe Frozen Entrees line. In 2010, Angel was named the VegNews Chef of the Year.
Jorge Pineda is pastry chef and kitchen manager. He developed the nationally distributed Candle Cafe Desserts and Candle Chef's Cuisine for Whole Foods Markets, and his pastries have been deemed the "Best Vegan Desserts in America" by the Los Angeles Times.
Recipes reprinted with permission from Vegan Holiday Cooking from Candle Cafe by Joy Pierson, Angel Ramos & Jorge Pineda (Ten Speed Press, © 2014). Photo Credit: Jim Franco.
RSVP
Bookings are closed for this event.