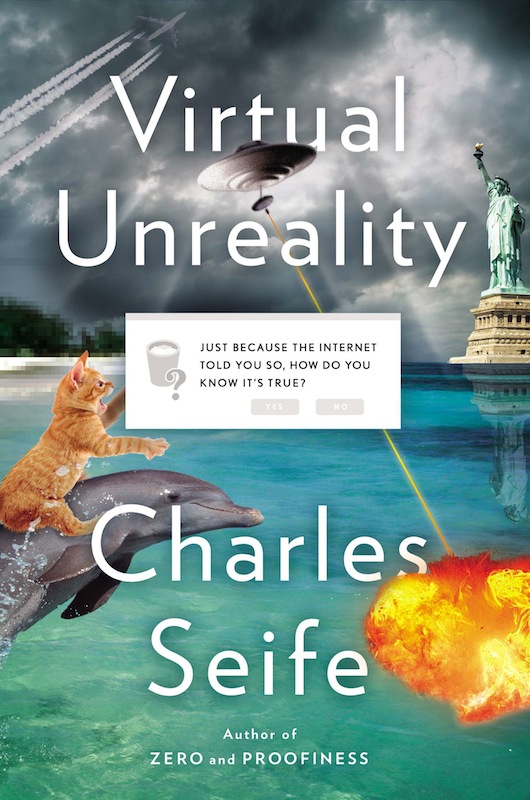 Monday Jun 30, 2014
7:00 pm - 9:00 pm
THE POWERHOUSE ARENA [Dumbo]
37 Main Street
Brooklyn, NY 11201
For more information, please call 718.666.3049
RSVP appreciated: RSVP@powerHouseArena.com
-or-
Please fill out the "Bookings" form at the bottom of this page.
---
The bestselling author of Proofiness and Zero explains how to separate fact from fantasy in the digital world.
About Virtual Unreality:
Digital information is a powerful tool that spreads unbelievably rapidly, infects all corners of society, and is all but impossible to control—even when that information is actually a lie.  In his new book, VIRTUAL UNREALITY: Just Because the Internet Told You, How Do You Know it's True? (Viking; $26.95; ISBN: 978-0-670-02608-1; on-sale: June 30, 2014), Charles Seife uses the skepticism, wit, and sharp facility for analysis that captivated readers in Proofiness and Zero, to take us deep into the Internet information jungle and cuts a path through the trickery, fakery, and cyber skullduggery that the online world enables.
Seife warns that: Wikipedia is like an old and eccentric uncle . . . you can learn quite a bit from him, but take everything he says with a grain of salt; everybody on line is a fake, at least, that's what you should assume; a social media site's purpose is to serve its users, in the same sense as a zoo's purpose is to serve its animals; and the Internet doesn't represent a revolution for free speech as much as it is a revolution in free audiences.
Digital information can move around the world at the speed of light. It can be stored in virtually no space at all, without fear of decay or degradation. It can be copied with perfect fidelity at almost no cost. All media, be it print, visual, audio, or something else, can be processed by the same equipment and stored in the same devices.  And once unleashed into the world, it is out there . . . forever.
The digital medium is altering our behavior in palpable ways. It's changing our perception of identity and reshaping our social bonds. It's changing the nature of public discourse—driving us to ever more extreme beliefs. It has dramatically changed how we gather information about the world, and how we can tamper with the information that others are gathering. Indeed, the digital revolution has not only made it possible to lie more efficiently, it has also allowed us to innovate new methods of deception and new ways of manipulating people into doing our bidding. Charles Seife tackles everything, from breaking news coverage and online dating, to program trading and self-publishing, arming us with actual tools (or weapons) for discerning truth from fiction online.
About the Author:
Charles Seife is the author of Proofiness, Decoding the Universe, Alpha & Omega and Zero, which won the PEN/ Martha Albrand Award for first nonfiction book and was named a New York Times Notable Book. A professor of journalism at New York University, he has written for The New York Times, The Washington Post, Science, New Scientist, Scientific American, Wired, The Economist, and many other publications. He lives in New York City.
---
For more information, please contact
Hal Hlavinka
email: hal@powerhousearena.com
powerHouse Arena, 37 Main Street, Brooklyn, NY 11201
tel: 212-604-9074 x109
RSVP
Bookings are closed for this event.