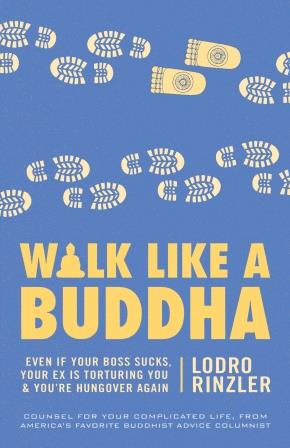 Wednesday Oct 30, 2013
7:00 pm - 9:00 pm
THE POWERHOUSE ARENA [Dumbo]
37 Main Street
Brooklyn, NY 11201
For more information, please call 718.666.3049
RSVP appreciated: RSVP@powerHouseArena.com
-or-
Please fill out the "Bookings" form at the bottom of this page.
---
The author of the bestselling The Buddha Walks into a Bar provides tips for living with integrity, compassion, and happiness. The event is being co-sponsored by the Shambhala Center of New York. Find out more at: https://ny.shambhala.org/
About WALK LIKE A BUDDHA:
Since the summer of 2010, young Buddhist teacher Lodro Rinzler has been writing a popular advice column for the Huffington Post and the Interdependence Project called "What Would Sid Do?" ("Sid" being Lodro's nickname for Siddhartha Gautama-the prince who became the Buddha). Lodro's insightful and often funny answers to questions-ranging from how to forgive, to how to deal with a boss who's a bully, to whether or not it's OK to join Match.com-have made him the Dear Abby of the spiritual-but-not-religious crowd. This book gathers all of Lodro's Huffington Post columns, along with much as-yet-unpublished material, to provide a guide to life in a Q&A format that allows you to easily access wisdom for dealing with the myriad challenges of life-traditional challenges as well as uniquely modern ones related to things like social justice and social media.
About the Author:
LODRO RINZLER's advice and relationship columns appears regularly in the Huffington Post and Marie Claire online, and he has been featured in numerous publications, including Tricycle and the Shambhala Sun, and most recently in Bloomberg Businessweek and Real Simple. He is the founder of the Institute for Compassionate Leadership, and was also a member of Barack Obama's senatorial and presidential campaign team. The former executive director of the Boston Shambhala Center, Rinzler currently teaches at the New York Shambhala Meditation Center and lectures throughout North America. He is the author of the bestselling book, The Buddha Walks into a Bar . . . . He lives in Brooklyn.
---
For more information, please contact
Justin Levine
email: justin@powerhousearena.com
powerHouse Arena, 37 Main Street, Brooklyn, NY 11201
tel: 212-604-9074 x109
RSVP
Bookings are closed for this event.