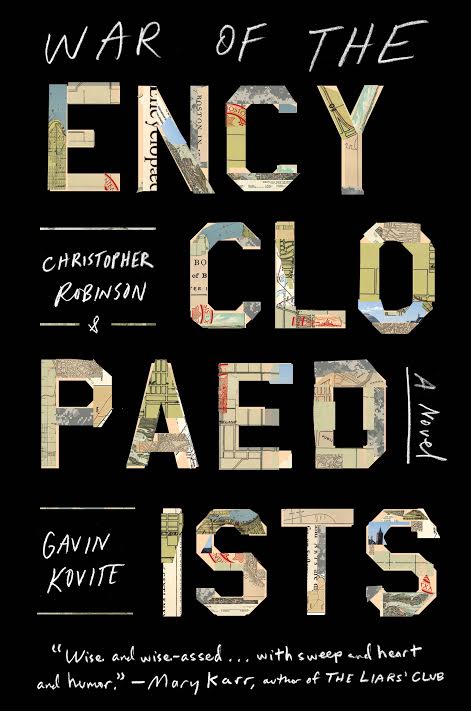 Thursday Jun 04, 2015
7:00 pm - 9:00 pm
THE POWERHOUSE ARENA [Dumbo]
37 Main Street
Brooklyn, NY 11201
For more information, please call 718.666.3049 RSVP appreciated: RSVP@powerHouseArena.com -or- Please fill out the "Bookings" form at the bottom of this page.
---
War of the Encyclopaedists is an exhilarating debut novel written by a poet and a soldier chronicling a generation struggling towards adulthood in an era of economic uncertainty, terror, and war.
About War of the Encyclopaedists:
"As bizarre, hilarious and devastating as the past decade . . . Simultaneously a coming-of-age story, a war story, and a story of the disaffected millennial generation for whom the war hardly happened at all" –Phil Klay, author of Redeployment
Set in the recent past, War of the Encyclopaedists chronicles the lives of two young men and the different ways they experience America's recent wars. It's the summer of 2004. Mickey Montauk and Halifax Corderoy are best friends living in Seattle's Capitol Hill. Just out of college, they spend their days throwing elaborate and ironically themed parties in Mickey's shared house, the Encyclopad. Their plan is to continue the party in the fall, when they move to Boston for grad school. But plans change when Mickey learns that his National Guard unit has been called up to deploy. That same night, Hal makes a difficult decision to abandon his semi-homeless girlfriend, Mani, with consequences that will affect all three of their lives for the next year. Mickey and Hal part on uneasy terms. The two friends must grapple with their new lives on their own, and they do so with mixed success. Hal finds himself at a loss in the intellectual circles in Boston, and in Baghdad, Mickey struggles to makes sense of his purpose in an increasingly amorphous and nonsensical war. The friends keep in touch with one another by editing an absurd Wikipedia article about themselves. Excerpts from this article appear throughout the novel, morphing and deepening as their lives move further away from their shared dream, culminating in a document that is both hilarious and tragic.
How can a person grow up and find meaning in our deeply uneasy times? Is optimism in the face of real world events a catastrophic choice? These are the urgent questions at the heart of this novel, and the intelligence, vigor, exuberance and insight with which War of the Encyclopaedists approaches these questions is electrifying.  War of the Encyclopaedists is a collaboration from two of the most promising new voices in literary fiction.
About the Authors and Moderator:
Christopher Robinson is the author of Brain vs. Heart, and is currently a MacDowell Colony fellow.  His writing has appeared in many publications, including the Kenyon Review, McSweeney's, and the New England Review.  He is a recipient of fellowships from the MacDowell Colony, the Millay Colony, and Bread Loaf, among others.  He has been a finalist for numerous prizes, including the Ruth Lilly Fellowship, the Colorado Prize for Poetry, and the Yale Younger Poets Prize. Gavin Kovite was an infantry platoon leader in Baghdad from 2004-2005. He attended NYU Law and is now an Army prosecutor. His writing has appeared in literary magazines and in Fire and Forget, an anthology of war fiction.
Phil Klay is a  writer and former United States Marine officer.  He is also the recipient of the National Book Award for Fiction in 2014 for his first book-length publication, a collection of short stories, Redeployment.
RSVP
Bookings are closed for this event.