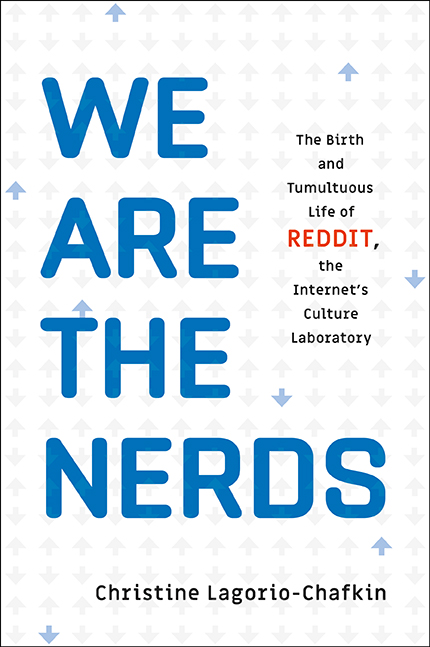 Tuesday Oct 09, 2018
7:00 pm - 9:00 pm
POWERHOUSE @ the Archway
28 Adams Street (Corner of Adams & Water Street @ the Archway)
Brooklyn , NY 11201
RSVP encouraged & appreciated.
Please fill out the form at the bottom of this page if you plan on attending. Facebook event found here.
PLEASE NOTE: Submitting an RSVP for this event DOES NOT guarantee entrance. This is a free-access event — entrance will be on a first-come, first-served basis.
---
About the Book.
Reddit began in 2005 as an after-thought to a seemingly failed bid to join a start-up incubator. Today, Reddit is the fourth most visited internet sit in the United States. Reddit's founders, Steve Huffman and Alexis Ohanian, met as video-game-loving undergrads at the University of Virginia. As so many other start-ups fizzled in the 2000s, how did this unlikely pair turn Reddit into the Internet's dominant force—a laboratory of culture known for everything from cat memes to its role in Donald Trump's political ascendance?
In the tradition of riveting start-up narratives like The Accidental Billionaires and Bad Blood, We Are the Nerds: The Birth and Tumultuous Life of Reddit, the Internet's Culture Laboratory is the gripping story of how Reddit's founders Huffman and Ohanian rose up from average suburban childhoods and became millionaires, creating an icon of the digital age, before they almost lost Reddit for good amid a series of turbulent controversies.
We Are the Nerds is a captivating look deep inside this maddening enterprise–whose army of three hundred million obsessed users have been credited with everything from solving cold case crimes and spurring on tens of millions of dollars in charitable donations to seeding alt-right fury.
As a veteran tech reporter and senior writer at Inc., Lagorio-Chafkin, has had unprecedented access to founders Ohanian and Huffman for over five years, sitting with them for dozens of hours of interviews, along with her hundreds of interviews with other key figures connected to the Reddit story.
We Are the Nerds is the definitive account of Reddit's early years and growing pains. Packed with revelatory details about its biggest triumphs and controversies, this inside look at Reddit includes fresh insights on the relationship between Huffman and Ohanian, AMAgeddon, staff turmoil, the tragic life of Aaron Swartz, and Reddit's struggle to become profitable.
We Are the Nerds is a compelling exploration of the way we all communicate today–and how we got here. Reddit and its users have become a mirror of the Internet: it has dingy corners, shiny memes, malicious trolls, and a sometimes heart-melting ability to connect people across cultures, oceans, and ideological divides. It is essential reading for Redditors—and anyone who wants to understand our culture today.
About the Author.
Christine Lagorio-Chafkin is an award-winning journalist who has covered culture, emerging technologies, and entrepreneurship for the past 15 years. She is senior writer at Inc. magazine and her work has appeared in many other publications, including The New York Times, The San Francisco Chronicle, and the Washington Post. She was raised on a sheep farm in rural Wisconsin and now lives in New York City with her husband, cats, and toddlers. Her favorite subreddits are r/blep and r/ShowerThoughts.
About the Moderator.
Justin Peters is a correspondent for Slate and the author of The Idealist: Aaron Swartz and the Rise of Free Culture on the Internet. He has written for a wide range of publications, including Wired, The Atavist Magazine, the Washington City Paper, and the Columbia Journalism Review, where he worked as an editor from 2008-2013. He divides his time between Brooklyn and Washington, D.C
RSVP
Bookings are closed for this event.