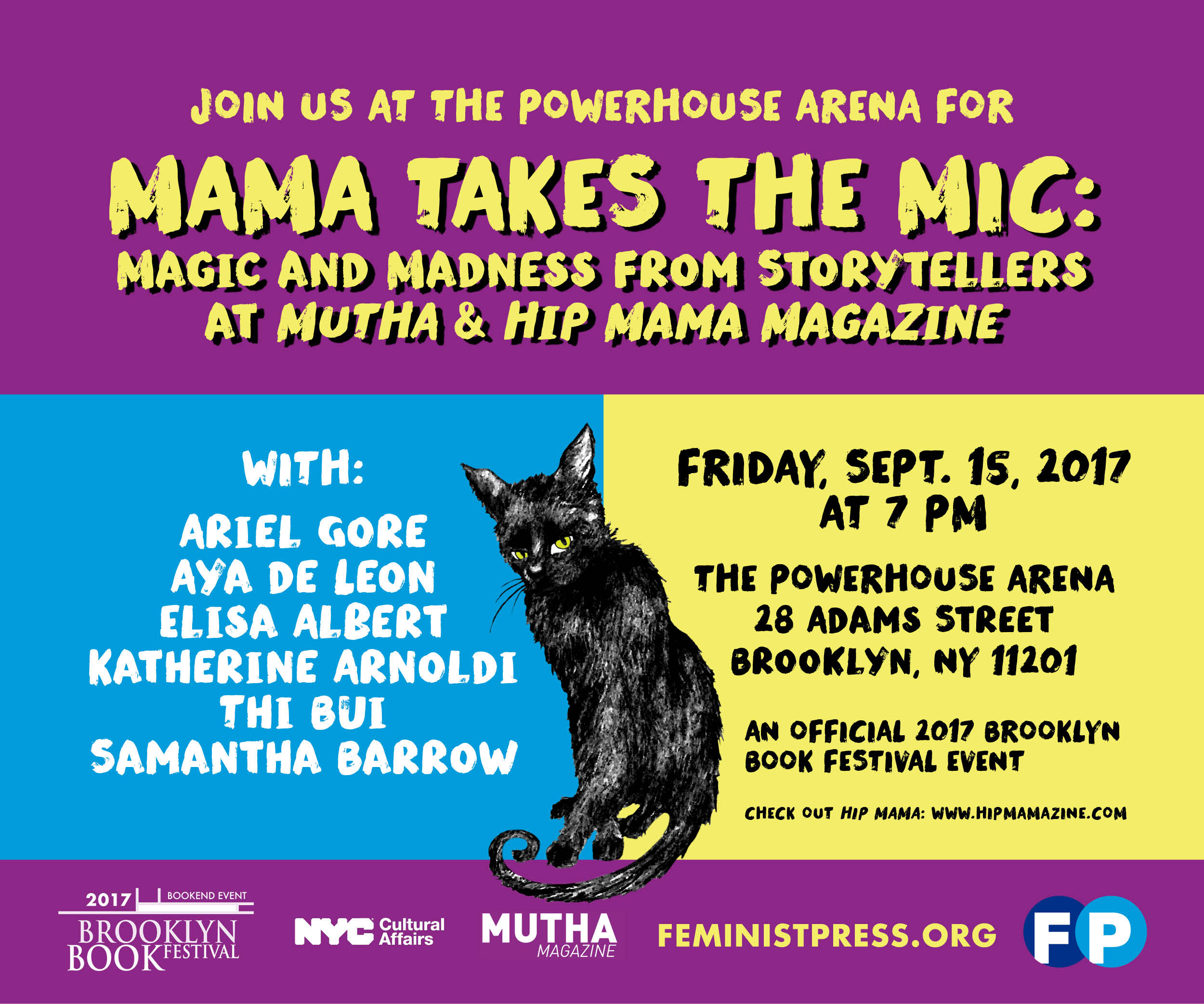 Friday Sep 15, 2017
7:00 pm - 9:00 pm
POWERHOUSE @ the Archway
28 Adams Street (Corner of Adams & Water Street @ the Archway)
Brooklyn , NY 11201
RSVP appreciated:
Please fill out the "Bookings" form at the bottom of this page.
-or-
Send the name of the event and number of attendees to our RSVP email.
*Disregard the notification that will appear after Booking.*
---
Mama Takes the Mic — Magic and Madness from Storytellers at MUTHA and Hip Mama Magazine
Alternative Parenting Mags Hip Mama and MUTHA, and the Feminist Press, team up to bring you a radical night of readings from mothers who speak their mind. Join them for a night of fiction, poetry, memoir, and live-reading of projected comics from new graphic novels, headlined by Hip Mama founder Ariel Gore (We Were Witches). With Aya de Leon (The Boss), Elisa Albert (After Birth), Katherine Arnoldi (The Amazing True Story of a Teenage Single Mom), Thi Bui (The Best We Could Do), and Samantha Barrow (Jelly), emcee'd by MUTHA's editor-in-chief, Meg Lemke. Mixing up genre, format, and feminist voices for an unforgettable event. An official Brooklyn Book Festival Bookend Event.
THIS IS AN OFFICIAL 2017 BROOKLYN BOOK FESTIVAL EVENT.
About We Were Witches:
Wryly riffing on feminist literary tropes, We Were Witches documents the survival of a demonized single mother. She's beset by custody disputes, homophobia, and America's ever-present obsession with shaming strange women into passive citizenship. But even as the narrator struggles to graduate―often the triumphant climax of a dramatic plot―a question uncomfortably lingers. If you're dealing with precarious parenthood, queer identity, and debt, what is the true narrative shape of your experience?
About Ariel Gore:
Ariel Gore is a journalist, memoirist, novelist, nonfiction author, and teacher. She is a graduate of Mills College and the University of California at Berkeley Graduate School of Journalism. She is the founding editor/publisher of Hip Mama, an Alternative Press Award-winning publication covering the culture and politics of motherhood.
Her memoir, Atlas of the Human Heart, was a 2004 finalist for the Oregon Book Award. Her anthology Portland Queer: Tales of the Rose City won a LAMBDA Literary Award in 2010. She has taught at The Attic Institute in Portland, Oregon, at the University of New Mexico in Albuquerque, and at the Institute for American Indian Arts in Santa Fe.
RSVP
Bookings are closed for this event.