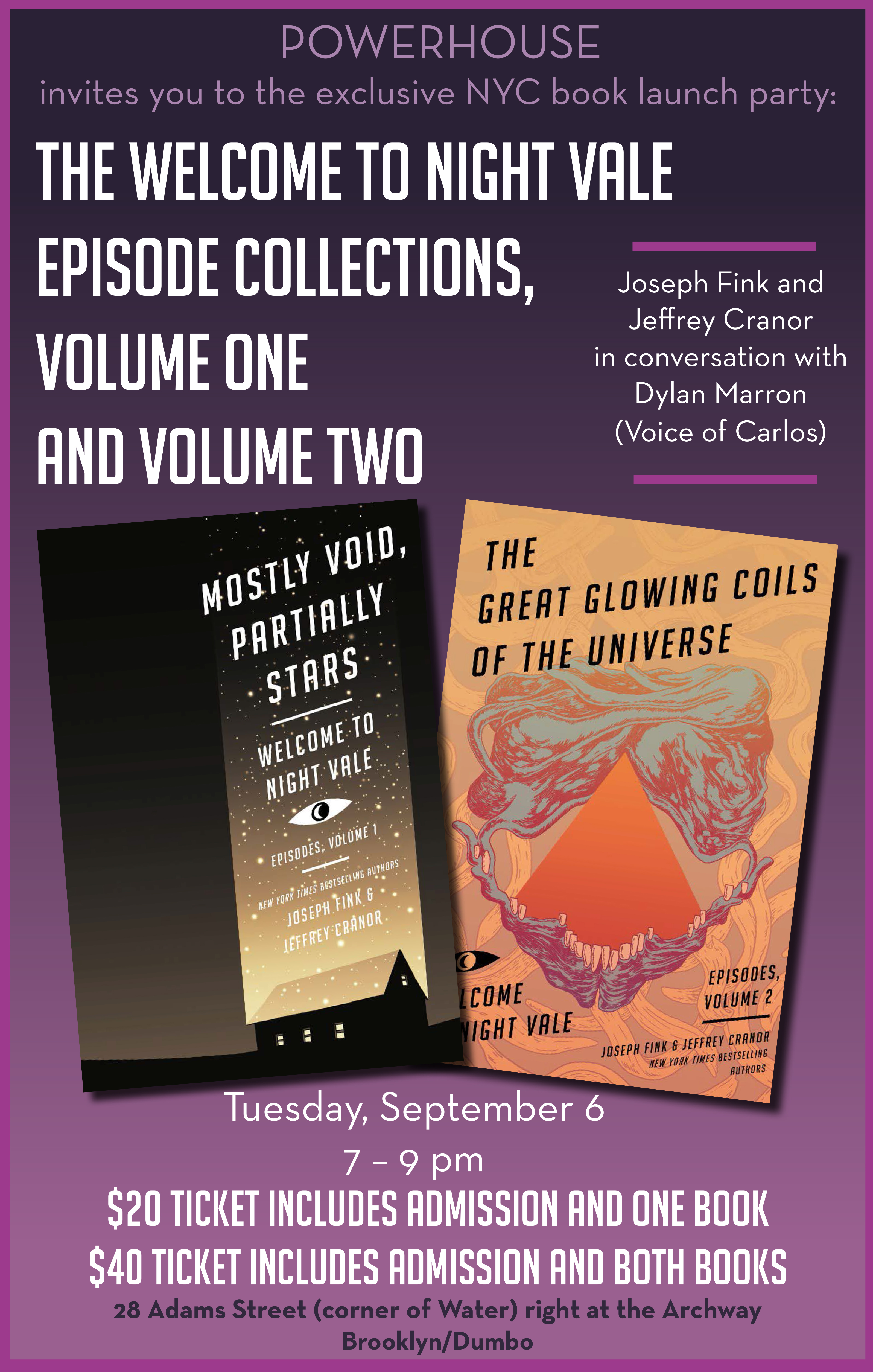 Tuesday Sep 06, 2016
7:00 pm - 9:00 pm
POWERHOUSE @ the Archway
28 Adams Street (Corner of Adams & Water Street @ the Archway)
Brooklyn , NY 11201
Please note that this is a ticketed event:
$20 ticket entitles the buyer to admission to the event, plus one copy of
EITHER
Volume 1
OR
Volume 2,
not both
. Click
here
to purchase a $20 ticket.
OR
$40 ticket entitles the buyer to admission to the event, plus one copy of
BOTH
Volume 1
AND
Volume 2. Click
here
to purchase a $40 ticket.
For more information, please call 718.666.3049
---
From the creators of the #1 international podcast Welcome to Night Vale and the authors of the New York Times bestselling novel of the same name comes a collection of episodes from Season One and Season Two of their hit podcast, featuring behind-the-scenes commentary, original illustrations, and more. $20 tickets include admission and one book, and a $40 ticket includes admission as well as both books.  ** PLEASE NOTE THAT THIS EVENT WILL BE HELD AT 28 ADAMS STREET CORNER OF WATER IN DUMBO**
About Welcome to Night Vale Seasons One (Mostly Void, Partially Stars) and Two (The Great Glowing Coils of the Universe):
In June of 2012, the creators of Welcome to Night Vale began airing twice-monthly podcasts, hoping to be heard by anyone outside their close circles. By the anniversary show a year later, the fanbase had exploded, vaulting the podcast into the #1 spot on iTunes. Since then, its popularity has grown by epic proportions, hitting more than 100 million downloads, and Night Vale has expanded to a successful live multi-cast international touring stage show and a New York Times bestselling novel and a new podcast network Night Vale Presents. Now the first two seasons are available as books, offering a valuable reference guide to past episodes. 

The Great Glowing Coils of the Universe features a foreword by creator and writer Joseph Fink and co-writer Jeffrey Cranor, behind-the-scenes commentary and guest introductions by performers from the podcast and notable fans, including Cecil Baldwin (Cecil), Dylan Marron (Carlos), Kevin R. Free (Kevin), Mara Wilson (The Faceless Old Woman), and Hal Lublin (Steve Carlsberg) among others among others. Also included is the full script from the first Welcome to Night Vale live show, Condos, as well as The Debate. Beautiful illustrations by series artist Jessica Hayworth accompany each episode and Jon Bernstein (Disparition) provides commentary on the music.
About the Authors:

Joseph Fink created and co-writes the Welcome to Night Vale podcast and touring live show. In his mid-twenties he started Commonplace Books, a very small publishing company, producing two collections of short works which he edited and laid out at his office job when his boss wasn't looking. Later Jeffrey approached Joseph with the idea of writing a play about time travel. They co-wrote and performed the play What the Time Traveler Will Tell Us in the East Village in August of 2011. Soon afterwards, Joseph started brainstorming a new project he and Jeffrey could co-write and this led to the pilot episode of Welcome to Night Vale. He is from California but doesn't live there anymore. 
Jeffrey Cranor co-writes—along with Joseph Fink—the hit podcast and touring live show Welcome to Night Vale. He also makes theater and dance. He has written more than 100 short plays with the New York Neo-Futurists, co-wrote and co-performed a two-man show with Joseph, and collaborated with choreographer (also wife) Jillian Sweeney to create three full-length dance pieces: Imaginary Lines, This could be it, and Vulture-Wally. Jeffrey lives in New York State. 
Their first novel Welcome to Night Vale was a New York Times bestseller.  For more on Welcome to Night Vale, visit:  https://www.commonplacebooks.com/
Dylan Marron is a Drama Desk-nominated writer, performer, and video maker. He is the voice of Carlos on Welcome to Night Vale and he plays Ari on the critically acclaimed web series Whatever this is. He is an alum of the New York Neo Futurists where he wrote and performed for the signature weekly show Too Much Light Makes The Baby Go Blind. Dylan wrote and directed The Human Symphony, a play entirely performed by randomly-selected audience members via instructional mp3 tracks. He also created Every Single Word, a video series that edits down popular films to only feature the words spoken by people of color.