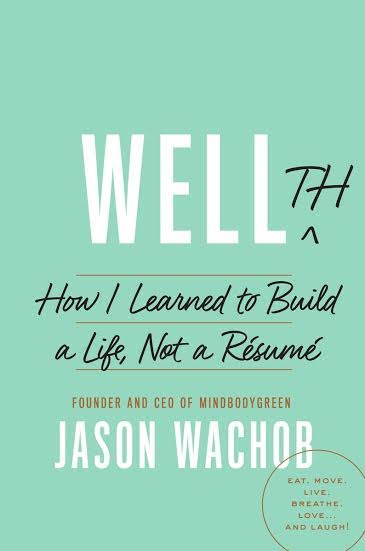 Tuesday Mar 01, 2016
7:00 pm - 9:00 pm
THE POWERHOUSE ARENA [Dumbo]
37 Main Street
Brooklyn, NY 11201
For more information, please call 718.666.3049
RSVP appreciated: https://wellthnyc.eventbrite.com
---
In this blend of memoir and prescriptive advice, Jason Wachob shows us all how to enjoy truly "wellthy" lives—lives that are deeply rich in every conceivable way.
About WELLTH:
"Health begins with what's on your plate. But "wellness" is alchemy—an elusive and delicate ballet of body, mind, and spirit ever striving for perfect harmony.  Deftly leveraging the wisdom and experience of the world's greatest wellness experts, Wellth is a brilliantly composed, highly engaging memoir and easy-to-digest primer on exactly how you, too, can be healthy and happy, live your best life, and thrive. A must-read!" —Rich Roll, wellness advocate and bestselling author of Finding Ultra and The Plantpower Way
In his first book, WELLTH: How I Learned to Build a Life, Not a Résumé, mindbodygreen founder Jason Wachob redefines successful living and offers readers a new life currency to build on, one that is steeped in wellbeing—Wellth.
"Many of us aren't satisfied with just trying to accumulate the most money and toys. The good life is no longer just about the material—instead, it can be found in a lifestyle that is devoted to mental, physical, and emotional health. A wellthy existence is one in which happiness is attainable, health is paramount, and daily living is about abundance. It's a life in which work is purposeful; friendships are deep and plentiful; and there's a daily sense of richness or overflowing joy. But since there's no one-size-fits-all definition for a wellthy existence, I hope this book will serve as a guide to help you embark on your own personal journey that is both unique and meaningful."
Eat. Move. Work. Believe. Explore. Breathe. Connect. Love. Heal. Thank. Ground. Live. Laugh.
These are the building blocks of Wellth. In this blend of memoir and prescriptive advice, Jason Wachob shows us all how to enjoy truly "wellthy" lives—lives that are deeply rich in every conceivable way.  Through his experience and personal story, as well as in exclusive material from popular expert contributors (including Dr. Frank Lipman, Dr. Lissa Rankin, Joe Cross, Charlie Knoles, Kathryn Budig, Dr. Aviva Romm, and Dr. Sue Johnson), we learn how we, too, can embrace this new movement, while exploring what we can do to make frequent deposits into our own "wellth" accounts. What's your life worth to you?  Come and explore it.
About the Author:
Jason Wachob is the founder and CEO of mindbodygreen, the leading independent media brand dedicated to health and happiness, with 15 million monthly unique visitors.  He has been featured in the New York Times, Entrepreneur, Fast Company, and Vogue. Jason has a BA in history from Columbia University, where he played varsity basketball for four years. He lives in Brooklyn with his wife and loves German shepherds, Chuck Taylors, and guacamole.
Charlie Knoles is a Vedic Meditation teacher and the director of The Veda Center. He was taught Vedic Meditation at age 4 by his father, Maharishi Vyasananda Thom Knoles. Following in the footsteps of his father, Charlie's life has been devoted to innovative teaching. He studied at the Australian institute of Music, The Sydney Conservatorium of music and attained his degree in Biology at Maharishi University of Management where he was pivotal in developing their multidisciplinary degree in Sustainable Living, now one of their most popular programs. After completing his training as a meditation teacher he recognized that all teachers need to be trained at an elite level. He developed a new curriculum for Initiator Training and ran a course of deep immersion in Vedic culture in the Himalayan mountains of India. Also check out Charlie's MBG Video Course, The Essential Guide To Meditation.