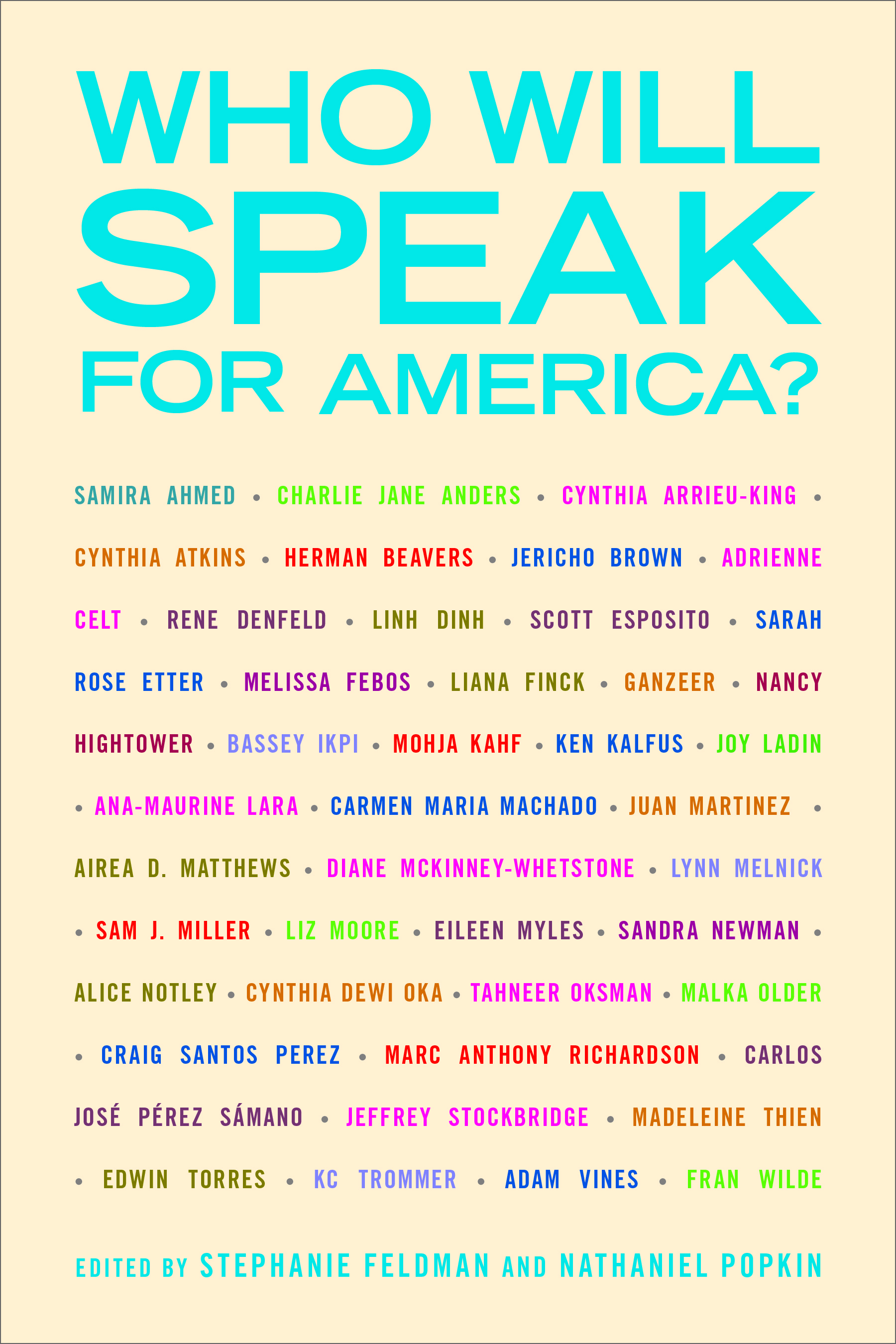 Thursday Sep 27, 2018
7:00 pm - 9:00 pm
POWERHOUSE @ the Archway
28 Adams Street (Corner of Adams & Water Street @ the Archway)
Brooklyn , NY 11201
RSVP encouraged & appreciated.
Please fill out the form at the bottom of this page if you plan on attending. Facebook event found here.
PLEASE NOTE: Submitting an RSVP for this event DOES NOT guarantee entrance. This is a free-access event — entrance will be on a first-come, first-served basis.
---
About the Book.
Forty American writers and artists mark a vital new age of protest and possibility
The editors and contributors to Who Will Speak for America? are passionate and justifiably angry voices providing a literary response to today's political crisis. Inspired by and drawing from the work of writers who participated in nationwide Writers Resist events in January 2017, this volume provides a collection of poems, stories, essays, and cartoons that wrestle with the meaning of America and American identity.
The contributions—from established figures including Eileen Myles, Melissa Febos, Jericho Brown, and Madeleine Thien, as well as rising new voices, such as Carmen Maria Machado, Ganzeer, and Linda Finck—confront a country beset by racial injustice, poverty, misogyny, and violence. Contributions reflect on the terror of the first days after the 2016 Presidential election, but range well beyond it to interrogate the past and imagine possible American futures.
Who Will Speak for America? inspires readers by emphasizing the power of patience, organizing, resilience and community. These moving works advance the conversation the American colonists began, and that generations of activists, in their efforts to perfect our union, have elevated and amplified.
All royalties will benefit the Southern Poverty Law Center.
About the Readers.
Herman Beavers is Professor of English and Africana Studies at the University of Pennsylvania, where he teaches courses in African American Literature and creative writing.  His scholarly monograph, Geography and the Political Imaginary in the Novels of Toni Morrison is forthcoming from Palgrave McMillan in March of 2018 and his chapbook, Obsidian Blues was  published by Agape Editions, as part of the Morning House Chapbook Series last May.
Sam J. Miller is a writer and a community organizer. His stories have been nominated for the Nebula, World Fantasy, and Theodore Sturgeon Awards, and have appeared in over a dozen "year's best" anthologies. He's a graduate of the Clarion Science Fiction & Fantasy Writers Workshop, and a winner of the Shirley Jackson Award. His debut novel The Art of Starving (HarperTeen) was one of NPR's Best Books of 2017, and was followed by Blackfish City (Ecco Press- US; Orbit – UK) in 2018. He lives in New York City, and at www.samjmiller.com
Nancy Hightower has published fiction and creative nonfiction in Sundog Lit, Word Riot, The Huffington Post, Entropy, Vol. 1 Brooklyn, and elsewhere. She is the author of The Acolyte and Elementari Rising, and from 2014-2016 was the science fiction and fantasy reviewer for The Washington Post. She is now working on a book about digital narratives with Paul D. Miller (aka DJ Spooky) and a memoir about growing up in the evangelical South.
KC Trommer is the author of the chapbook The Hasp Tongue (dancing girl press, 2014). A graduate of the MFA program at The University of Michigan, Ann Arbor, KC has been the recipient of an Academy of American Poets Prize. Her poem "Fear Not, Mary" won the 2015 Fugue Poetry Prize and was nominated for a Pushcart Prize. In 2017, the Grammy Award-winning composer Herschel Garfein created the song cycle "Three Rides" for soprano, cello, and piano from her work. She lives in Jackson Heights, Queens, with her son.
Edwin Torres came to poetry through performance art in New York City's East Village in the early 90s. His books include Xoeteox: the infinite word object (Wave Books),  Ameriscopia (University of Arizona Press), Yes Thing No Thing (Roof Books), and The PoPedology Of An Ambient Language (Atelos Books). Anthologies include: American Poets in the 21st Century: The New Poetics Vol. 2, Angels of the Americlypse: New Latin@ Writing, Post-Modern American Poetry Vol. 2, and Aloud; Voices From The Nuyorican Poets Café.
About the Editors.
Stephanie Feldman is the author of the novel The Angel of Losses (Ecco), a Barnes & Noble Discover Great New Writers selection, winner of the Crawford Award, and finalist for the Mythopoeic Award. Her short stories and essays have appeared in or are forthcoming from Asimov's, Electric Literature, The Magazine of Fantasy & Science Fiction, The Maine Review, The Rumpus, and Vol. 1 Brooklyn. She lives outside Philadelphia with her family.
Nathaniel Popkin is the author of three books of nonfiction, including Philadelphia: Finding the Hidden City (Temple University Press), and two novels, Lion and Leopard (The Head and The Hand Press) and Everything is Borrowed (New Door Books, 2018).
RSVP
Bookings are closed for this event.