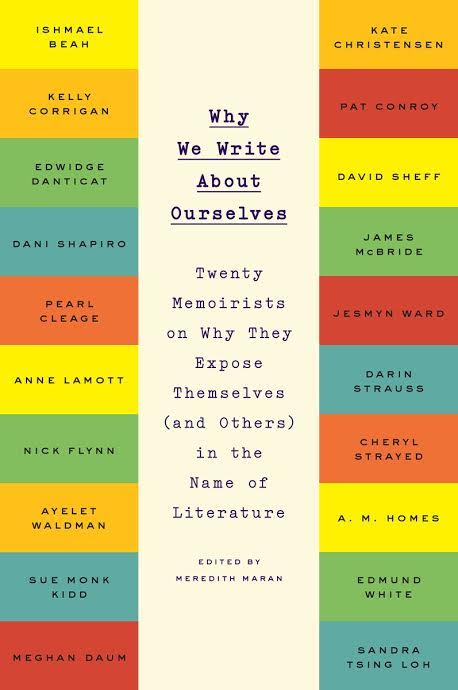 Tuesday Feb 02, 2016
7:00 pm - 9:00 pm
THE POWERHOUSE ARENA [Dumbo]
37 Main Street
Brooklyn, NY 11201
For more information, please call 718.666.3049
RSVP appreciated: RSVP@powerHouseArena.com
-or-
Please fill out the "Bookings" form at the bottom of this page.
---
In this follow-up to the acclaimed writers' handbook Why We Write, successful memoirists disclose the joys and tribulations of writing about oneself.  Contributors Meghan Daum, AM Homes and Darin Strauss join for a panel discussion.
About Why We Write About Ourselves:
For the many amateurs and professionals who write about themselves—bloggers, journal-keepers, aspiring essayists, and memoirists—this book offers inspiration, encouragement, and pithy, practical advice. Twenty of America's bestselling memoirists share their innermost thoughts and hard-earned tips with veteran author Meredith Maran, revealing what drives them to tell their personal stories, and the nuts and bolts of how they do it. Speaking frankly about issues ranging from turning oneself into an authentic, compelling character to exposing hard truths, these successful authors disclose what keeps them going, what gets in their way, and what they love most—and least—about writing about themselves.
Contributors:
Ishmael Beah, Kate Christensen, Kelly Corrigan, Edwidge Danticat, Meghan Daum, Dani Shapiro, Pearl Cleage, Anne Lamott, Nick Flynn, Ayelet Waldman, Sue Monk Kid, Pat Conroy, David Sheff, James McBride, Jesmyn Ward, Darin Strauss, Cheryl Strayed, A.M. Homes, Edmund White, and Sandra Tsing Loh
About the Editor and Contributors:
Meredith Maran, a passionate reader and writer of memoirs, is the author of thirteen nonfiction books and the acclaimed 2012 novel, A Theory Of Small Earthquakes. Meredith also writes book reviews, essays, and features for newspapers and magazines including People, The Los Angeles Times, The Boston Globe, The Chicago Tribune, Salon.com, and More. A member of the National Book Critics Circle, Meredith lives in a restored historic bungalow in Los Angeles, and on Twitter at @meredithmaran. Her next memoir, about starting over in Los Angeles, will be out from Blue Rider Press in 2017. 
Meghan Daum is the author of four books, most recently the collection of original essays The Unspeakable: And Other Subjects of Discussion, which won the 2015 PEN Center USA Award for creative nonfiction. She is also the editor of the New York Times bestseller Selfish, Shallow & Self-Absorbed: Sixteen Writers on the Decision Not To Have Kids. Her other books include the essay collection My Misspent Youth, the novel The Quality of Life Report, and Life Would Be Perfect If I Lived In That House, a memoir. Since 2005, Meghan has been an opinion columnist atThe Los Angeles Times, covering cultural and political topics. Meghan has written for numerous magazines, including The New Yorker, The New York Times Magazine, The Atlantic, andVogue. She is the recipient of a 2015 Guggenheim Fellowship and is an adjunct associate professor in the M.F.A. Writing Program at Columbia University's School of the Arts. 
A.M. Homes is the author of five novels, most recently May We Be Forgiven; two collections of stories; and the memoir The Mistress's Daughter. Her fiction and essays have been published in the New Yorker, the New York Times, Vanity Fair,Harper's, Granta, and One Story. She lives in New York City.
Darin Strauss is the author of the international bestseller Chang and Eng, and the New York Times Notable Book The Real McCoy, one of the New York Public Library's "25 Books to Remember of 2002," the novel More Than it Hurts You and most recently a memoir Half a Life, winner of the National Book Critics Circle Award.  Darin was awarded a 2006 Guggenheim Fellowship in fiction writing.
RSVP
Bookings are closed for this event.