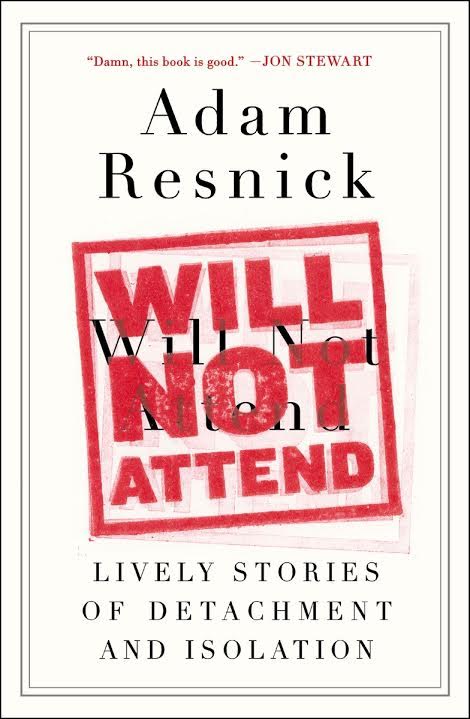 Tuesday Aug 18, 2015
7:00 pm - 9:00 pm
THE POWERHOUSE ARENA [Dumbo]
37 Main Street
Brooklyn, NY 11201
For more information, please call 718.666.3049
RSVP appreciated (but Not Required): RSVP@powerHouseArena.com
-or-
Please fill out the "Bookings" form at the bottom of this page .
Or just feel free to show up and don't forget to bring your friends for a great event!
---
In fifteen tragically funny autobiographical essays, Emmy-winning writer Adam Resnick explores his life long distaste for social situations.  Join us for the paperback launch for what Rolling Stone deems is "an anti-social work of art."
About Will Not Attend:
Adam Resnick's first book, Will Not Attend: Lively Stories of Detachment and Isolation, is a collection of hilarious, soul-searching essays that paint a portrait of a man whose head—even as a child—has often felt like it was filled with hundreds of tiny super-balls, bouncing indiscriminately from one negative thought to another. His committed indifference to social interaction, he claims, can be traced back to the first time his mother forced him to hang out with another two-year-old.
"Inevitably, when I try to diagnose my particular craziness or neurosis, I arrive at the same blurry crossroads: an unstable household environment and the wobbly neural architecture I was born with—two undeniable factors I offer up to my wife as an excuse for not going out to dinner with people."
The journey to writing Will Not Attend was "long and muddy," according to Resnick. After leaving the "the greatest job I ever had," writing for Late Night with David Letterman in the late eighties, he found himself sucked into the Hollywood vacuum cleaner where he wrote movies and television shows that never quite fulfilled him. After years of sporadic successes, bad choices, and humiliating failures, he suddenly came to realize that, as a writer, he'd never really been read. This led to an extended period of depression and rumination about his past and who he'd become. Scenes and memories began seeping back to him, collecting in his head like dirty water in a basement until one of the tiny super-balls (now soaking wet) suggested he write a book.
"A lot of the stuff I wrote about are those things that live right on the surface of the subconscious. I'm always surprised by how certain memories are triggered and the ongoing impact they have on my life. Even the more recent stories in the book seem connected to those early, awful days of youth."
The stories Resnick recounts include such criterion events as getting verbally eviscerated by a sideshow performer, a botched attempt at poisoning the mind of his fifth-grade English teacher, the inexplicable malice he developed for a female neighbor who sold him a piano, and narrowly avoiding a gruesome death at the hands of a chocolate milkshake. Add to this an assortment of horror stories about growing up in a crazy house with five brothers, and it's easy to see why he considers himself damaged goods. While he admits that revisiting these events was painful at times, he found the experience of writing about them cathartic.
"It was a great feeling to write something that didn't have to be turned into another product; and it was all personal stuff, which I'd never attempted before." But being Adam Resnick, there's always something to lament: "Just when I found the thing that makes me creatively happy, I'm hit by the realization that writing books won't cover my nut. I live in New York, I have a kid in college, and neither my wife nor I come from money—something I point out to her on a daily basis." He adds, "So essentially, I'm fucked."
Resnick is currently working on a screenplay and a TV pilot, which he hopes will subsidize his next book.
About the Author and Moderator:
Adam Resnick is an Emmy Award– winning writer who began his career at Late Night with David Letterman. He went on to cocreate Fox's Get a Life, starring Chris Elliott, and has written several screenplays, including cult favorites Cabin Boy and Death to Smoochy. Resnick has written for Saturday Night Live, was coexecutive producer and writer for HBO's The Larry Sanders Show, and created the HBO series The High Life, which was produced by David Letterman's company, Worldwide Pants. Will Not Attend is his first book. Resnick lives in New York City.
---
Chris Elliott is an actor and writer known for his work on Late Night with David Letterman and his starring role in Fox's classic, Get a Life.  He has appeared in numerous films and television shows such as Groundhog Day, There's Something About Mary and Eagleheart.
RSVP
Bookings are closed for this event.