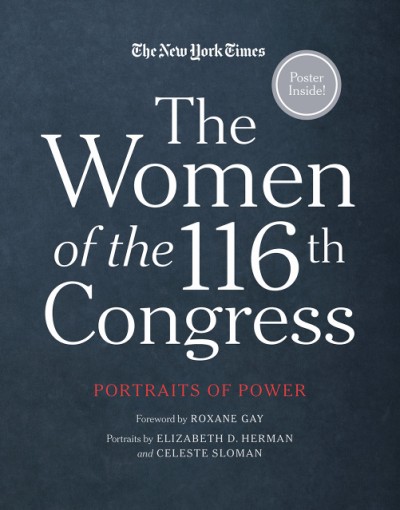 Saturday Oct 26, 2019
6:00 pm - 8:00 pm
POWERHOUSE @ the Archway
28 Adams Street (Corner of Adams & Water Street @ the Archway)
Brooklyn , NY 11201
RSVP encouraged & appreciated.
Please fill out the form at the bottom of this page if you plan on attending. Facebook event found here.
PLEASE NOTE: Submitting an RSVP for this event DOES NOT guarantee entrance. This is a free-access event — entrance will be on a first-come, first-served basis.
---
About the Book.
The first woman speaker of the House. The first female combat veteran. The first Native American women. The first Muslim women. The first openly gay member of the Senate. These are just some of the remarkable firsts represented by the women of the 116th Congress, the most diverse and inclusive in American history.
Just over a century ago, Jeannette Rankin of Montana won a seat in the House of Representatives, becoming the first woman ever elected to federal office. In 1917, 128 years after the first United States Congress convened, she was sworn into its 65th session.
One hundred and two years later, one has become 131—the number of women serving in both chambers of the 116th Congress as of 2019. For most of recorded American history, political power has looked a certain way. But the 2018 midterm elections brought a seismic change.
The Women of the 116th Congress features an illustrated timeline and list of firsts for women in Congress as well as "Her Voice, Her Vote" sections throughout that highlight historic moments for women in U.S. politics. To provide more context around the origin of the portraits, there is also a piece written by the authors about how this project came about and turned into a book.
The Women of the 116th Congress is a testament to what representation in the United States looks and sounds like in 2019—and the possibilities of what it may look like in the years to come.
About The Project.
This book, a collaboration between New York Times photo editors Beth Flynn and Marisa Schwartz Taylor and photographers Elizabeth D. Herman and Celeste Sloman, documents the women of the 116th Congress in their totality, photographed in the style of historical portrait paintings commonly seen in the halls of power to highlight the stark difference between how we've historically viewed governance and how it has evolved.
Opening with an extended introduction, as well as a foreword by writer Roxane Gay, and concluding with a removable poster featuring the congresswomen's portraits, this book profoundly captures the importance of this moment in history and will be a keepsake for years to come.
RSVP
Bookings are closed for this event.