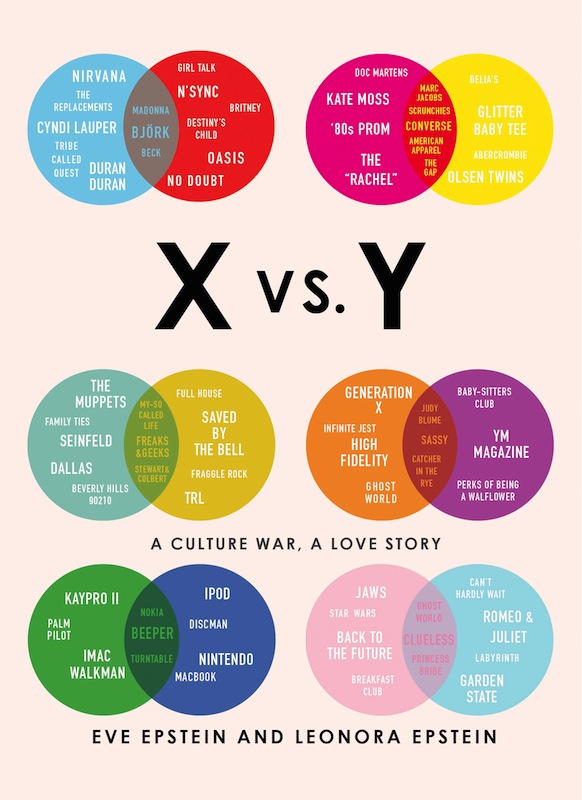 Thursday Mar 20, 2014
7:00 pm - 9:00 pm
THE POWERHOUSE ARENA [Dumbo]
37 Main Street
Brooklyn, NY 11201
For more information, please call 718.666.3049
RSVP appreciated: RSVP@powerHouseArena.com
-or-
Please fill out the "Bookings" form at the bottom of this page.
---
Two sisters – one from Generation X, the other from Generation Y – compare their lives through the lens of TV, music, technology, and pop culture.
About X vs. Y:
Dr. Pepper Lip Smackers or Bubble Gum Kissing Potion? De La Soul or Sixpence None the Richer? Cavaricci's or miniskirts? This is X vs. Y: A Culture War, a Love Story by Eve and Leonora Epstein.
Seen through the eyes of siblings fourteen years apart in age, X vs. Y is a smart, funny, stylish, and visually driven anthology that compiles and compares their two generational cultures. The book is broken up into chapters devoted to: Music, Fashion, TV, Sex and Dating, Movies, Technology, and Books and Magazines. Whatever it is that hits your nostalgic funny bone, it's represented here in this hilarious and surprisingly moving essay collection. Read on for a few excerpts from both sides.
X vs Y: Which Is Which?
"Ask Google which birth years define Gen X or Gen Y, and you'll come up with a lot of different answers. In our conversations, we've tended to treat Gen X as folks born in the mid-sixties to late seventies and Millennials/Gen Yers as people born around the early eighties to the late nineties. In speaking with friends of both generations, we found a distinct gray area where people born between 1979 and 1984 or so felt either that they were members of neither generation or that they were in a position to choose. Most in that position chose to identify with Gen X, because when given the choice between Doc Martens and foam footwear, the choice seems obvious."
(Y) Nickelodeon Nation and the World of Weirdos:
"At the risk of sounding like a broken record (which I hear is like a giant CD skipping), I find myself coming back to the idea of nostalgia and how Gen Y latches on to our past in a way that's becoming increasingly intense. A common conversation we're having is about the window of time it takes for us to label an item from our history as a 'classic,' which seems to be getting smaller and smaller. Not long ago, my friends were Instagramming a revival event featuring the cast of The Adventures of Pete & Pete, and if you feel like watching vintage Nickelodeon, you can now find a TeenNick block of programming called 'The '90s Are All That' featuring a bunch of shows from ye olde days. This stuff now makes us feel old, but in a good way.
We don't like to exclude things that keep us tied to our histories, so we'll just as easily pay tribute to the corny programs we watched—Full House, The Fresh Prince of Bel-Air, Saved by the Bell, Blossom, Boy Meets World, Step by Step, to name a few. But I think the real reason we cherish Gen Y TV is that we are truly proud of how different some of it was and how we witnessed major shifts and evolutions in style. It's maybe the one advantage we have over Gen X that we can rub in their faces. Na-na-na-na-naaaa."
(X) X, Lies, and Videotape:
"My earliest memory is of the evening my mother and father told me they were splitting up. There were no blow-ups or noisy crises; they just invited me into their room and told me. And then my mother picked up her already-packed suitcase and walked out the door.
Um, really? In retrospect, it's hard to believe the term 'WTF' did not spring into existence at that exact moment. But I wasn't actually alone: It's a familiar vignette for many of my generation. In her smart and wrenching memoir of divorce (both her parents' and her own), In Spite of Everything, Susan Gregory Thomas calls it the Important Family Meeting: the announcement that inflicted (or began to inflict) the wound that would emotionally hobble many a Gen Xer well into adulthood. For me, the bomb dropped when I was six and, like any really good bomb, it blew history away. To this day I can't remember a single thing from before that moment."
About the Authors:
Former DailyCandy editor in chief and current director of Web programming at Participant Media, Eve Epstein (Team X) has worked as a writer, editor, and branding expert for fifteen years. Her articles have appeared in Vanity Fair, Allure, and Glamour. Leonora Epstein (Team Y) is an editor at BuzzFeed.com. She has blogged for Cosmopolitan.com, TheFrisky.com, and Elle.com. They both live in Los Angeles. Check out https://www.xvsybook.com/.
---
For more information, please contact
Justin Levine
email: justin@powerhousearena.com
powerHouse Arena, 37 Main Street, Brooklyn, NY 11201
tel: 212-604-9074 x109
RSVP
Bookings are closed for this event.