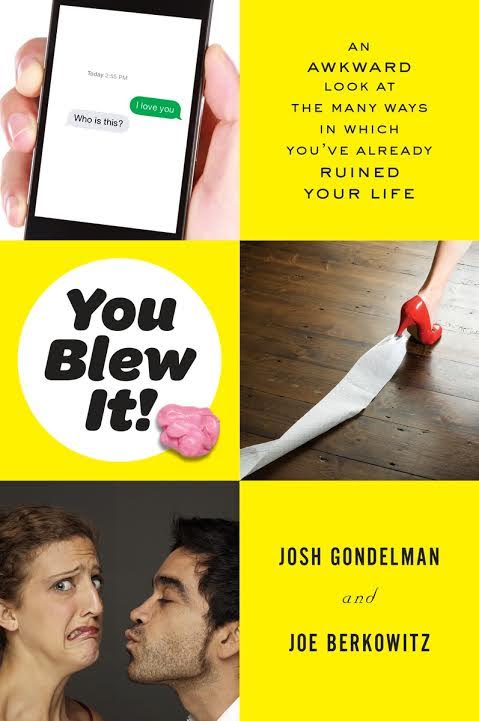 Tuesday Oct 13, 2015
7:00 pm - 9:00 pm
THE POWERHOUSE ARENA [Dumbo]
37 Main Street
Brooklyn, NY 11201
For more information, please call 718.666.3049
RSVP appreciated (but Not Required): RSVP@powerHouseArena.com
-or-
Please fill out the "Bookings" form at the bottom of this page .
---
You Blew It! hilariously examines social, cultural and work-related faux pas, and how we are doomed to repeat these missteps.
About You Blew It!:
It's already too late. From getting uncontrollably drunk at a dinner party to leaving passive-aggressive Post-its on your roommate's belongings to flubbing the follow-up of a first date – there will always be ways to embarrass yourself over and over again.
This book is sure to crack you up with sharp insight into our everyday faults or, at the very least, make you want to hide from shame.
You Blew It! breaks down the code violations of proper etiquette and modern culture such as:
How to Make Plans

: Picking a time is crucial because everybody knows that "Let's meet up sometime" is code for "See you never."

Dealing With Parents on Facebook

: "The only upside to having your parents on social media is that they will usually feel up-to-date on your life and will have fewer questions when they see you in person or talk to you on the phone."

How to Greet Acquaintances

: How much pressure do you apply during a handshake? To Fist Bump or not to Fist Bump? Is hugging appropriate?

Dos and Don'ts of Office Parties

: No, you cannot skip it. Yes, you can drink, but only "the amount you'd consume on a first date."

How to Approach Online Dating

: "A dating profile is your chance to emphasize the best qualities of the person you pretend to be, in order to entice people who have no idea what they really want."
…Plus many more amusements on how to get things wrong!
Simply knowing about all the embarrassing things you might do won't stop you from doing them, but You Blew It! is a smart, wry and hysterical way of continuously reminding you that everyone else is blowing it, too.
About the Authors:
Josh Gondelman is an Emmy nominated writer, comedian and co-creator of the "Modern Seinfeld" Twitter account.  He currently writes for HBO's Last Week Tonight with John Oliver.
---
Joe Berkowitz is an editor and staff writer at Fast Company, covering entertainment and pop culture.  His work has been featured in The Atlantic, GQ, Cosmopolitan and Huffington Post.
RSVP
Bookings are closed for this event.