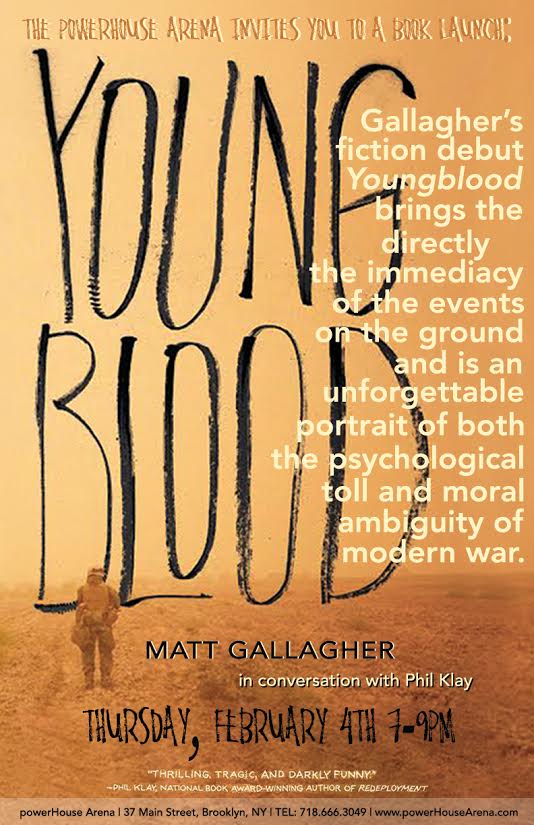 Thursday Feb 04, 2016
7:00 pm - 9:00 pm
THE POWERHOUSE ARENA [Dumbo]
37 Main Street
Brooklyn, NY 11201
For more information, please call 718.666.3049
RSVP appreciated (but Not Required): RSVP@powerHouseArena.com
-or-
Please fill out the "Bookings" form at the bottom of this page .
---
Gallagher's fiction debut brings the reader directly into the immediacy of the events on the ground and is an unforgettable portrait of both the psychological toll and moral ambiguity of modern war.
About Youngblood:
"Youngblood is not only a 'war novel,' it is a rich, fully formed, and beautifully executed novel-novel, way beyond the chicken coops of genre, a novel about the human heart in contest with itself, a novel about memory and longing and grief and hope and guilt and late-night ironies that raise a chuckle to the lips of the dead…" —Tim O'Brien, award-winning author of The Things They Carried
"Thrilling, tragic, and darkly funny, Matt Gallagher's Youngblood is a brilliant portrait of command in the modern, morally bruising battlefield." —Phil Klay, National Book Award-Winning author of Redeployment
In his widely acclaimed memoir, Kaboom: Embracing the Suck in a Savage Little War, Matt Gallagher brought home his experiences as a U.S. soldier in Iraq with "a vivid and introspective chronicle….[whose] aim is simple: to explain what it is like to wage an unconventional war" (The New Republic). Praising the book in the Wall Street Journal, Bing West said: "Without a trace of sentimentality, Mr. Gallagher draws the reader into the everyday complexities of leading soldiers from every strata of American society.
Gallagher now makes his fiction debut with Youngblood, a harrowing, unapologetic and candid depiction of a band of brothers in Iraq just as the U.S. military begins to withdraw its troops from the still turbulent, factionalized nation.  The platoon is led by Jack Porter, a newly-minted lieutenant who is quickly learning that his training only goes so far in the field. A meditative and probing young man, Porter cares deeply about his soldiers and struggles to reconcile the noble mission he signed on for with the murkier day-to-day realities of Ashuriyah's sweltering desert landscape.
But the delicate balance Porter has worked hard to establish is upturned when a new sergeant, Daniel Chambers, is assigned to the platoon.  A hardened veteran who proudly sports tattoos representing his kills, Chambers goads Porter, whom he regards as soft.  Porter views his new charge as a loose cannon whose bellicose posturing could wreak havoc on the unit.
Chambers' presence has also resurrected the unresolved case of a former soldier and alleged buddy, a staff sergeant named Elijah Rios whose brutal murder several years back was never fully explained.  Sensing unsavory involvement on the part of Chambers, Porter becomes obsessed with the mysterious case, hoping that what he finds out will help him get rid of the poisonous influence once and for all.  As he digs further into the past, Porter begins unspooling the strands of a doomed Romeo and Juliet-like story of love between Rios and Rana, a local sheik's daughter. Porter learns Rana's whereabouts, inserting himself into her life in pursuit of answers, and allowing his own fate to become entwined with hers. Before long, Rana becomes the only mission that Porter can understand. His desperate attempt to secure a better future for her and her children will pit Porter against his commanders, putting his own future and the future of his soldiers in grave peril.
With this novel – unsettling in its honesty and unsparing in its depiction of the complexities of war – Matt Gallagher joins the great tradition of veterans marshaling their talent and hard-won insight to offer a civilian population the unvarnished truth of battle. Youngblood is the only Iraq novel set entirely during the war's contradictory, tentative and unresolved final chapter, and it is this unique focus, along with a thrilling narrative arc, that truly distinguishes Gallagher's novel from those of his contemporaries.
About the Author and Moderator:
Matt Gallagher is a former US Army captain and the author of the acclaimed Iraq War memoir Kaboom, based on the popular and controversial blog he kept while he was deployed. He holds an MFA in fiction from Columbia and has written for the New York Times, The Atlantic, The Daily Beast, and Boston Review, among others. He lives with his wife in Brooklyn.
Phil Klay is a writer and former United States Marine officer.  He is also the recipient of the National Book Award for Fiction in 2014 for his first book-length publication, a collection of short stories, Redeployment.
RSVP
Bookings are closed for this event.