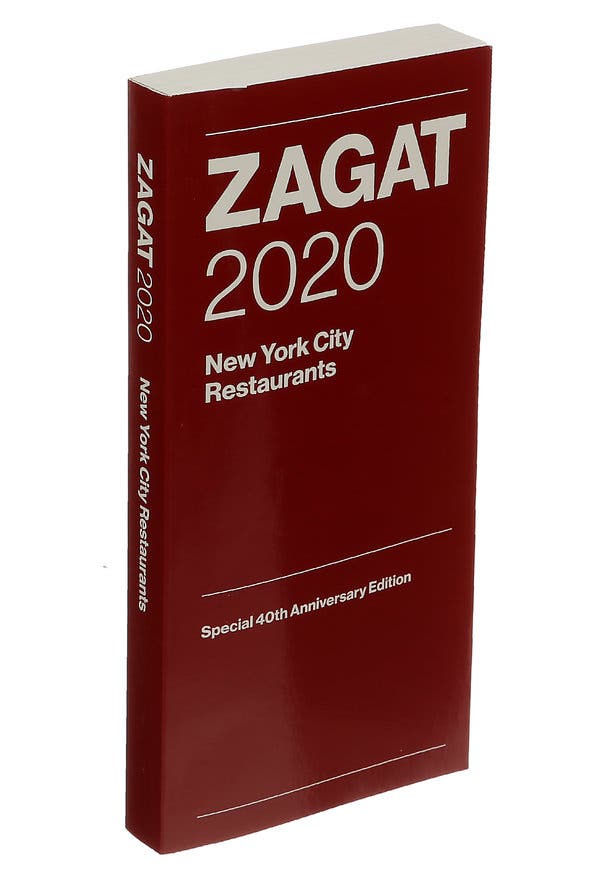 Wednesday Dec 11, 2019
7:00 pm - 9:00 pm
POWERHOUSE @ the Archway
28 Adams Street (Corner of Adams & Water Street @ the Archway)
Brooklyn , NY 11201
RSVP encouraged & appreciated.
Please fill out the form at the bottom of this page if you plan on attending. Facebook event found here.
PLEASE NOTE: Submitting an RSVP for this event DOES NOT guarantee entrance. This is a free-access event — entrance will be on a first-come, first-served basis.
---
About the Book.
The Zagat 2020 New York City Restaurants Guide is driven by more than 200,000 ratings and reviews from New York City restaurant goers who participated in a web-based survey launched by the brand in April 2019.
This year's book features a return to Zagat's classic style, featuring the brand's original bold, white logo, burgundy coloring, and 30-point rating system. Each review in the book is created specifically from commentary shared by participants in this year's survey. The book features more than 350 pages of New York City restaurant intel and was edited by Nell Potter, John Rambow, and Hillary Reinsberg, with coordination support by Katie Cohen.
The 2020 book marks the first time that the legendary restaurant review platform has printed its iconic paperback guide since 2016, and the first time it's been printed by restaurant discovery platform The Infatuation, which acquired the brand from Google in 2018.
This Zagat 2020 New York City Restaurants Guide By The Numbers
More than 1,400 New York City restaurants reviewed.
The reviews represent 105 neighborhoods across New York City's five boroughs.
The reviews were compiled based on more than 200,000 ratings and reviews.
More than 190 restaurant rating indexes (best by cuisine, location, and special features).
The book covers 57 different cuisines.
"From the moment we acquired Zagat we knew we wanted to bring the book back to print. The brand's 40th anniversary seemed like a perfect opportunity to celebrate Zagat's rich history, while also looking forward to the future," said Chris Stang, co-founder, The Infatuation, and chief executive officer, Zagat. "This is the first of many exciting moments related to the relaunch of Zagat coming over the next year and into the company's bright future."
About The Infatuation 
Founded in 2009 in New York City by longtime music industry executives Chris Stang and Andrew Steinthal, The Infatuation has developed into one of the most innovative restaurant discovery platforms in the world. The company now covers more than three dozen global cities with a new unique approach to creating and delivering restaurant reviews and guides via its prolific web and social media presence, useful mobile apps, large and influential email newsletter, and its popular SMS-based recommendation platform, Text Rex. The company also hosts and produces more than 50 community events annually, including its large-scale food festival, EEEEEATSCON. In March of 2018, The Infatuation acquired legendary restaurant review brand, Zagat.
About Chris Stang.
Chris Stang – Zagat CEO/Co-Founder & CEO of The Infatuation. Since its inception in 2009, Stang has been the architect of The Infatuation's editorial voice, creative vision, and marketing strategy. Today his role still encompasses all of those things, but also includes pushing the company forward into new arenas, including the creation and launch of Text Rex, EEEEEATSCON, The Infatuation's food festival, and the company's recent acquisition of Zagat. As CEO of Zagat, Stang worked closely on the brand's return to print with the release of a special 40th anniversary NYC edition of the guide for 2020. Heading into the new year, Stang is overseeing the storied brand's next chapter with a full digital re-launch. He was nominated for a James Beard Award in 2015 for Underfinger, a review of a restaurant that doesn't exist, and he still writes from time to time about real restaurants. Prior to taking on The Infatuation full time, Stang was the VP of Marketing at Atlantic Records, working closely with many of the label's biggest acts including Coldplay, Bruno Mars, Skrillex, Gnarls Barkley, and Panic! At The Disco.
About Missy Robbins.
Missy Robbins, Co-Founder Grovehouse, Chef-Owner of Lilia and Misi. Celebrated chef, restaurateur and cookbook author Missy Robbins is recognized for the exemplary Italian cuisine on display at her two Williamsburg restaurants – Lilia and Misi – both of which have received three stars from The New York Times. Since opening Lilia in 2016, Robbins has become known for her passionate cooking and warm hospitality. As a result, both Misi and Lilia have quickly become distinguished restaurants within the Williamsburg community which Robbins now calls home. In 2018, she was recognized nationally by the James Beard Foundation as Best Chef New York City, for which she was named a finalist in the year prior. Following the success of her first cookbook, Breakfast, Lunch, Dinner…Life! Recipes and Adventures from My Home Kitchen, Robbins is currently working on a pasta-focused cookbook to be released in 2021.
Prior to opening her own restaurants, Robbins spent five years as the executive chef of Michelin starred restaurant, A Voce, where she focused on developing her personal style of cooking. Before that, she honed her craft for five years in Chicago as the executive chef of Spiaggia and Café Spiaggia, which completely immersed her in cuisine and culture of fine dining Italian restaurants. Early in her career, Robbins spent many years training under critically acclaimed chefs in New York City, but her love of Italian culture began when she embarked on an excursion to Northern Italy. She worked in several kitchens, from family-run rustic trattorias to Michelin-rated restaurants, and grew intimate with the country's products and cooking. Robbins quickly developed a long-lasting admiration for the simplicity, regional inspiration and innate focus on quality ingredients that characterize Italian food. She continues to highlight these characteristics at both Misi and Lilia today.
RSVP
Bookings are closed for this event.