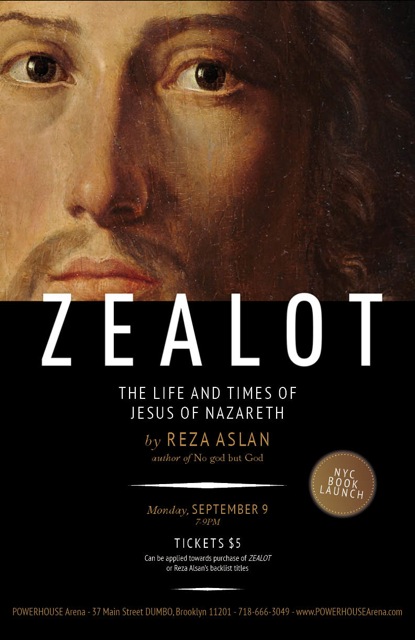 Monday Sep 09, 2013
7:00 pm - 9:00 pm
THE POWERHOUSE ARENA [Dumbo]
37 Main Street
Brooklyn, NY 11201
For more information, please call 718.666.3049
Tickets: $5 (can be applied towards purchase of Zealot or Aslan's backlist titles)
Available for purchase here. Tickets are no longer available for purchase online. A limited number will be available at the door.
Doors will open at 6:00pm and seating will be available on a first-come, first-serve basis – a receipt or photo ID is required for entry. Copies of Zealot and Reza Aslan's backlist will be available for purchase; the ticket value of $5 can be applied as credit towards book purchases.
---
The acclaimed religious scholar balances the Jesus of the Gospels against the historical sources and challenges the conventional portraits of Jesus of Nazareth. Tickets are $5 and can be applied as credit towards the purchase of Zealot or any of Aslan's backlist titles.
About ZEALOT:
In ZEALOT: The Life and Times of Jesus of Nazareth, internationally acclaimed writer and scholar of religions Reza Aslan sifts through centuries of mythmaking and sheds new light on one of history's most enigmatic characters by examining Jesus through the lens of the tumultuous era in which he lived: first-century Palestine, an age awash in apocalyptic fervor. Scores of Jewish prophets, preachers, and would-be messiahs wandered through the Holy Land, bearing messages from God. This was the age of zealotry—a fervent nationalism that made resistance to the Roman occupation a sacred duty incumbent on all Jews.
Balancing the Jesus of the Gospels against the historical sources, Aslan describes a man full of conviction and passion, yet rife with contradiction:  a man of peace who exhorted his followers to arm themselves with swords; an exorcist and faith healer who urged his disciples to keep his identity a secret; and ultimately the seditious "King of the Jews" whose promise of liberation from Rome went unfulfilled in his brief lifetime. Aslan explores the reasons why the early Christian church preferred to promulgate an image of Jesus as a peaceful spiritual teacher rather than a politically conscious revolutionary. And he grapples with the riddle of how Jesus understood himself, the mystery that is at the heart of all subsequent claims about his divinity.
Zealot yields a fresh perspective on one of the greatest stories ever told even as it affirms the radical and transformative nature of Jesus of Nazareth's life and mission. The result is a thought-provoking, elegantly written biography with the pulse of a fast-paced novel.
About the Author:
Reza Aslan is an internationally acclaimed writer and scholar of religions. His first book, No god but God: The Origins, Evolution, and Future of Islam, has been translated into thirteen languages and named by Blackwell as one of the hundred most important books of the last decade. He is also the author of How to Win a Cosmic War: God, Globalization, and the End of the War on Terror (published in paperback as Beyond Fundamentalism), as well as the editor of Tablet & Pen: Literary Landscapes from the Modern Middle East. Born in Iran, he lives in New York and Los Angeles with his wife and two sons.
---
For more information, please contact
Justin Levine
email: justin@powerhousearena.com
powerHouse Arena, 37 Main Street, Brooklyn, NY 11201
tel: 212-604-9074 x109