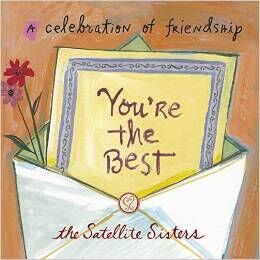 Friday Oct 30, 2015
7:00 pm - 9:00 pm
THE POWERHOUSE ARENA [Dumbo]
37 Main Street
Brooklyn, NY 11201
For more information, please call 718.666.3049
RSVP appreciated (but Not Required): RSVP@powerHouseArena.com
-or-
Please fill out the "Bookings" form at the bottom of this page .
---
You're the Best is the perfect thank-you note to our female friends and the ideal reminder that it's our friends who get us up, get us going, get us through and, most importantly, make us laugh.
About You're the Best:
For the past 15 years, the Satellite Sisters – Julie, Liz, Sheila, Monica and Lian Dolan – have entertained us with headlines of the day and career and family life anecdotes. We've laughed, cried, and learned that nothing is more powerful than a sense of connection and the notion that going through life with other people is the better way to go.
In their new book, You're the Best, the Satellite Sisters have turned their focus on one of the most important relationships in our lives – our friends, our Satellite Sisters, the women (and men) we call when the best thing in your life happens, or the worst.   
With their trademark empathy, intelligence, and humor, You're the Best is a collection of essays and writings about Life, Love, Family, Play, and Change. Spanning ages 15 to 60, its contributors include both the Satellite Sisters and the Next Generation (nieces, daughters, daughters-in-law), covering how friendships influence choices, relationships, careers, adventures, and inevitable changes.
About the Authors:
The Satellite Sisters—Julie, Liz, Sheila, Monica, and Lian Dolan—are five real sisters who believe that a sense of connection is what gives meaning to our lives.  The Dolans created the Satellite Sisters first as a radio show and website in 2000 and then became podcast pioneers with a devoted national fan base; they are also authors of Satellite Sisters' UnCommon Senses, and sister Lian Dolan has written two best-selling novels, Elizabeth the First Wife and Helen of Pasadena.
Together they have won 13 Gracie Allen Awards for excellence in women's media, including Talk Show of the Year, have appeared on
CBS Sunday Morning, and wrote a regular column in O Magazine.
RSVP
Bookings are closed for this event.