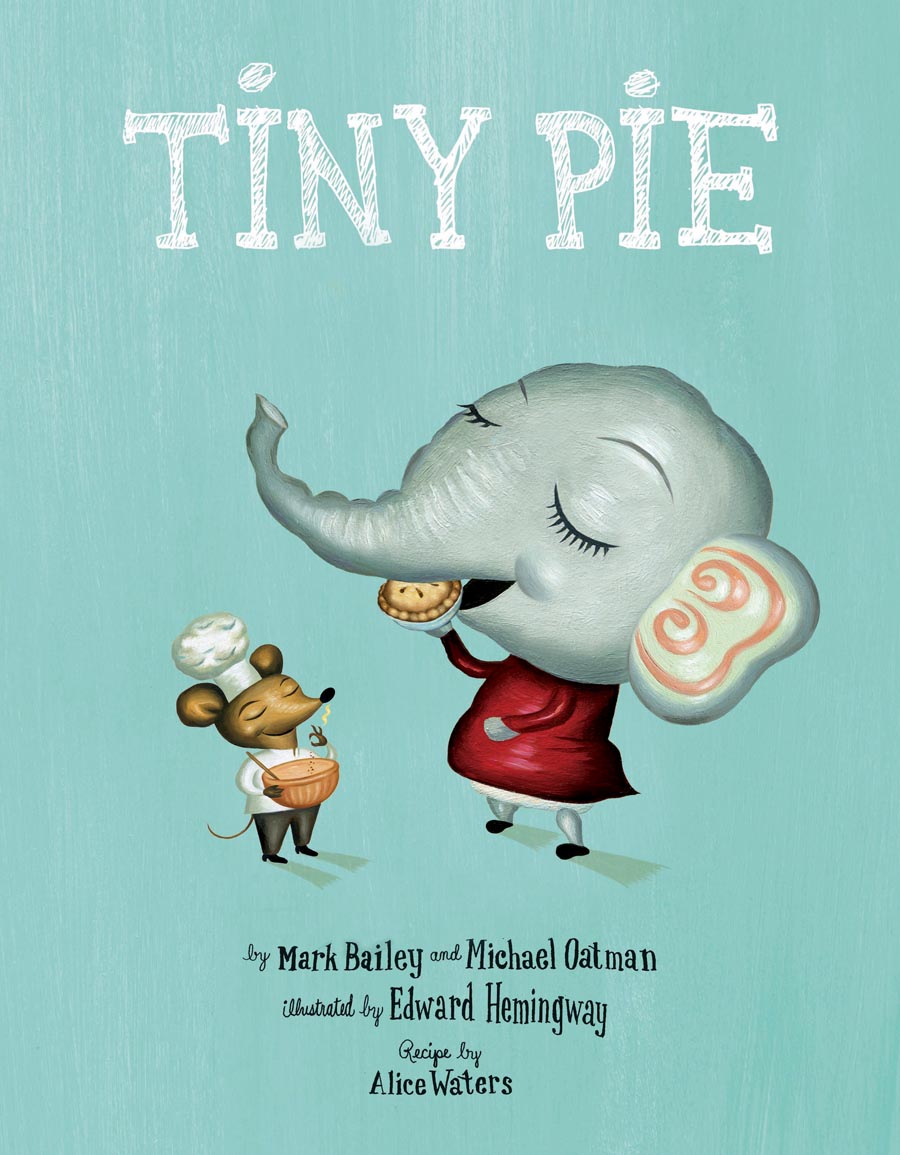 Thursday Sep 26, 2013
7:00 pm - 9:00 pm
THE POWERHOUSE ARENA [Dumbo]
37 Main Street
Brooklyn, NY 11201
For more information, please call 718.666.3049
RSVP appreciated: RSVP@powerHouseArena.com
-or-
Please fill out the "Bookings" form at the bottom of this page.
Drinks will be served.
---
About TINY PIE:
When we're little, it always feels like grown-ups are having all the fun.
In Mark Bailey and Michael Oatman's new picture book TINY PIE, with whimsical illustrations by Edward Hemingway, little Ellie the elephant knows all about that feeling. The only kid at her parents' "grown-up" party, she feels unwanted and is told to keep out of the way. But worst of all, she's hungry and can't reach the food because let's face it – everything's made for grown-ups. Or is it?
To her astonishment, Ellie discovers a cooking show put on by mice in the hole of her kitchen wall, and learns that "if you're big enough to eat dessert, then you can make it too!"
TINY PIE introduces kids to the five senses while playing with the notion of size, as Ellie watches the tiny mouse make a warm, fragrant, yummy, tiny pie. It's a story that will make children feel great about being a kid and what they can achieve! Sure they're tiny compared to "grown-ups," but that doesn't matter because guess what – you don't have to be big to have fun! Parties (and party food!) are for everyone and even the tiniest of the bunch can bake pie—all that's needed are good friends and family to help.
About the Authors & Illustrator:
Mark Bailey is an author and Emmy-nominated screenwriter. His previous books include American Hollow and Hemingway & Bailey's Bartending Guide to Great American Writers. This is Bailey's first book for children. He lives in Los Angeles with his wife and three children.
Michael Oatman is a collage and installation artist living in Troy, NY, where he is a professor of architecture at Rensselaer Polytechnic Institute. His artwork has been exhibited widely in the U.S. and abroad. This is Oatman's first book for children and young elephants.
Edward Hemingway is a writer and illustrator with a lifelong love of elephants. His previous children's books include Bump in the Night and Bad Apple: A Tale of Friendship, which was selected for the Society of Illustrators Original Art Show, 2012. He lives in Brooklyn, New York.
---
For more information, please contact
Justin Levine
email: justin@powerhousearena.com
powerHouse Arena, 37 Main Street, Brooklyn, NY 11201
tel: 212-604-9074 x109
RSVP
Bookings are closed for this event.