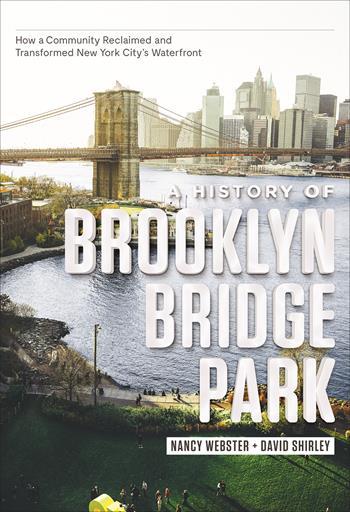 Monday Oct 24, 2016
7:00 pm - 9:00 pm
POWERHOUSE @ the Archway
28 Adams Street (Corner of Adams & Water Street @ the Archway)
Brooklyn , NY 11201
For more information, please call 718.666.3049
RSVP appreciated: RSVP@powerHouseArena.com
-or-
Please fill out the "Bookings" form at the bottom of this page.
---
 Nancy Webster of the Brooklyn Bridge Conservancy discusses her recently published book A History of Brooklyn Bridge Park: How a Community Reclaimed and Transformed New York City's Waterfront. Co-author David Shirley and New York Daily News senior writer Sarah Goodyear will join in conversation.
About the book:
By the 1970s, the Brooklyn piers had become a wasteland on the New York City waterfront. Today, they have been transformed into a stunning park that is enjoyed by countless Brooklynites and visitors from across New York City and around the world. A History of Brooklyn Bridge Park recounts the grassroots, multivoiced, and contentious effort, beginning in the 1980s, to transform Brooklyn's defunct piers into a beautiful, urban oasis. The movement to resist commercial development on the piers reveals how concerned citizens came together to shape the future of their community.
After winning a number of battles, park advocates, stakeholders, and government officials collaborated to create a thoroughly unique city park that takes advantage of the water and the 'Manhattan skyline, combining an innovative design with vibrant cultural programming. From start to finish, this history emphasizes the contributions, collaborations, and spirited disagreements that made the planning and construction of Brooklyn Bridge Park a model of natural urban development and public–private partnership. The book includes interviews with Brooklyn residents, politicians, activists, urban planners, landscape architects, and other key participants in the fight for the park. The story of Brooklyn Bridge Park also speaks to larger issues confronting all cities, including the development of postindustrial spaces and the ways to balance public and private interests without sacrificing creative vision or sustainable goals.
About the Authors:
Nancy Webster is the executive director of the Brooklyn Bridge Park Conservancy.
David Shirley is a journalist whose work has appeared in Oxford American, the Brooklyn Rail, Chicago Review, Spin, Rolling Stone, and USA Today
Sarah Goodyear, a senior writer with the New York Daily News, native New Yorker and longtime Brooklyn resident who has written extensively about cities and the way people live in them.
RSVP
Bookings are closed for this event.