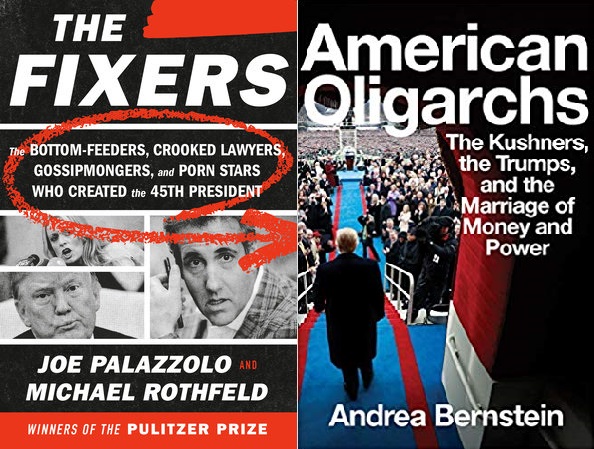 Thursday Feb 27, 2020
7:00 pm - 9:00 pm
POWERHOUSE @ the Archway
28 Adams Street (Corner of Adams & Water Street @ the Archway)
Brooklyn , NY 11201
RSVP encouraged & appreciated.
Please fill out the form at the bottom of this page if you plan on attending. Facebook event found here.
PLEASE NOTE: Submitting an RSVP for this event DOES NOT guarantee entrance. This is a free-access event — entrance will be on a first-come, first-served basis.
---
About the Event.
Join authors Andrea Bernstein, Joe Palazzolo and Michael Rothfeld as they discuss their books about Donald Trump's dark universe, and share valuable insights that they've accumulated through their celebrated research and journalism.
The Fixers:
THE FIXERS is the shocking, definitive account of the lawyers and media tycoons who enabled the rise of Donald Trump, featuring new revelations from a Pulitzer Prize-winning Wall Street Journal team.
With his blunt-force fame and the myths he's propagated about himself, Donald Trump has always moved in a world of gossip barons, crooked lawyers, and porn stars. But when he became the Republican nominee for the presidency in 2016, all of these characters crawled out from the underbelly of Trump's stardom and stumbled onto the global stage with him.
In The Fixers, Joe Palazzolo and Michael Rothfeld have produced a deeply reported and exquisitely drawn portrait of that world, full of secret phone calls, hidden texts, and desperate deals, unearthing the practice of "catch and kill" by which Trump surrogates paid hush money to cover up his affairs, and detailing Trump's historic relationship with his fixers—from his early, influential relationship with Roy Cohn to his reliance on Michael Cohen, National Enquirer publisher David Pecker, and former New York mayor Rudy Giuliani. It traces the arc of their interactions from the 1970s through the 2016 campaign and beyond. It is a distinctly American saga that navigates the worlds of reality TV, cash-for-trash tabloids, single-shingle law shops, celebrity bashes, high-end real estate, pornography, and politics. The characters and settings of this book are part of a vulgar circus that crisscrosses the country, from New York to L.A. to D.C.
Terrifying, darkly comic, and compulsively readable, The Fixers is an epic political adventure in which greed, corruption, lust, and ambition collide, and that leads, ultimately, to the White House.
American Oligarchs:
In AMERICAN OLIGARCHS: The Kushners, the Trumps, and the Marriage of Money and Power, award-winning investigative journalist Andrea Bernstein tells the story of the Trump and Kushner families like never before. Their journey to the White House is a story of survival and loss, crime and betrayal, that stretches from the Gilded Age, through Nazi-occupied Poland and across the American Century, to our present moment. In building and maintaining their dynastic wealth, these families came to embody the rising nationalism and inequality that has pushed the United States to the brink of oligarchy.
Building on her landmark reporting for the acclaimed podcast Trump, Inc. and The New Yorker, Bernstein's painstaking detective work brings to light new information about the families' arrival as immigrants to America, their paths to success, and the business and personal lives of the president and his closest family members.
Bernstein traces how the two families harnessed New York and New Jersey machine politics to gain valuable tax breaks and grew rich on federal programs that bolstered the middle class. She shows how the Trump Organization, denied credit by American banks, turned to shady international capital. She reveals astonishing new details about Charles Kushner's attempts to ensnare his brother-in-law with a prostitute and explores how Jared Kushner and his father used a venerable New York newspaper to bolster their business empire.
Drawing on more than two hundred interviews and more than one hundred thousand pages of documents, many previously unseen or long forgotten, Bernstein shows how the Trumps and the Kushners repeatedly broke rules and then leveraged secrecy, intimidation, and prosecutorial and judicial power to avoid legal consequences.
The result is a compelling narrative that details how the Trump and Kushner dynasties encouraged and profited from a system of corruption, dark money, and influence trading, and that reveals the historical turning points and decisions—on taxation, regulation, white-collar crime, and campaign finance laws—that have brought us to where we are today.
About The Authors.

Andrea Bernstein is the Peabody Award–winning cohost of the acclaimed WNYC/ProPublica podcast Trump, Inc., which won the prestigious 2019 Alfred I. duPont–Columbia University award. In addition to broadcast appearances on outlets including PBS NewsHour, CNN, and Fresh Air, her work has appeared in The New Yorker, the New York Times, the Washington Post, New York, and on NPR.
Joe Palazzolo and Michael Rothfeld led a team at The Wall Street Journal that won the 2019 Pulitzer Prize for National Reporting for a series of stories that revealed the hush-money payments to Stormy Daniels and Karen McDougal, and President Trump's direct participation in both.
Palazzolo has been a reporter for the Journal since 2010. He has covered federal law enforcement, criminal justice issues, corporate corruption, and state and federal courts. He lives in Brooklyn with his wife, Tara Kelly.

Rothfeld is an investigative reporter on the Metro desk of The New York Times. He previously reported for the Journal, the Los Angeles Times, Newsday, and The Philadelphia Inquirer. He lives in Brooklyn with his daughters, Annabel and Georgia.
RSVP
Bookings are closed for this event.