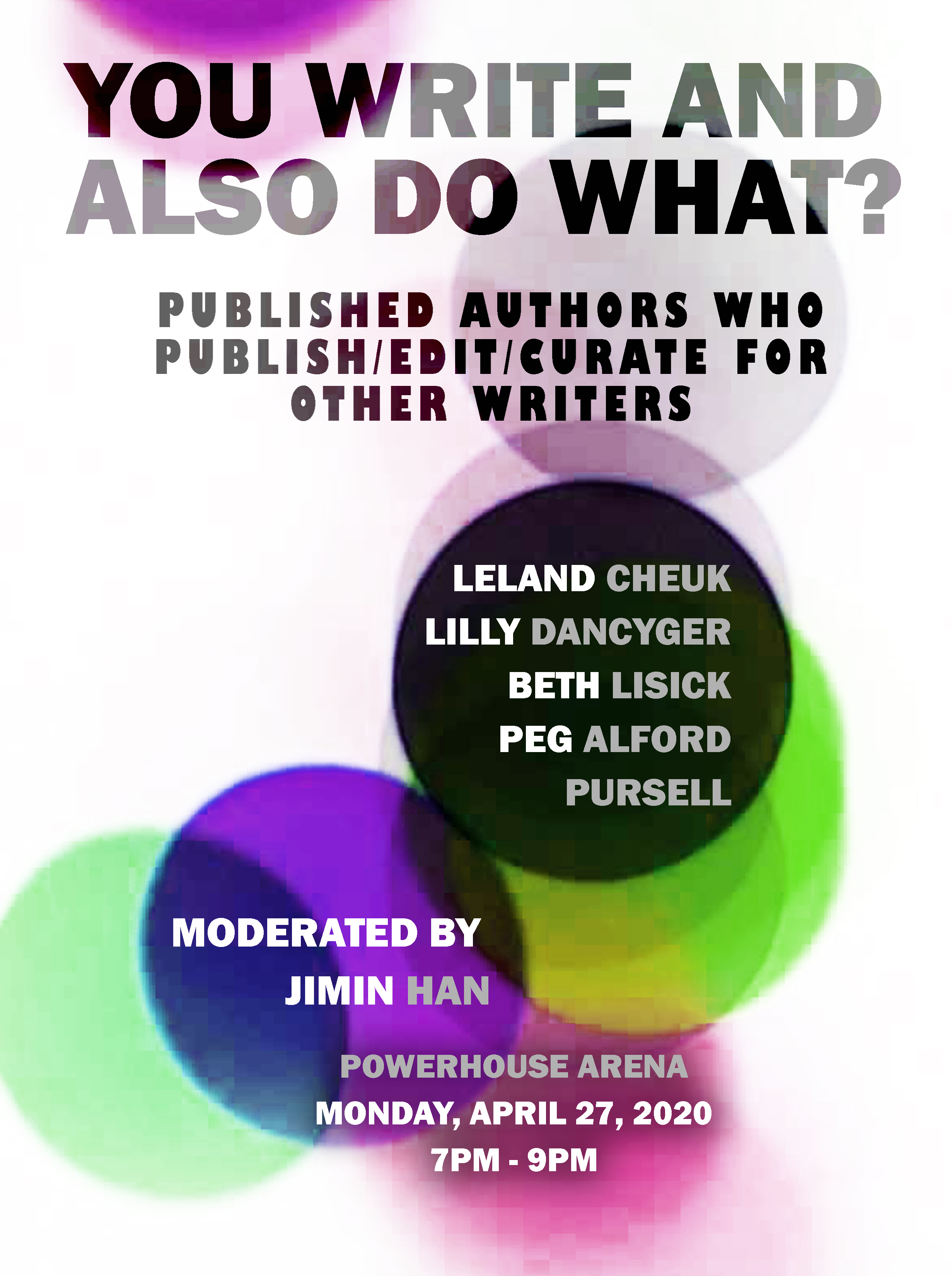 Monday Apr 27, 2020
7:00 pm - 9:00 pm
POWERHOUSE @ the Archway
28 Adams Street (Corner of Adams & Water Street @ the Archway)
Brooklyn , NY 11201
RSVP encouraged & appreciated.
Please fill out the form at the bottom of this page if you plan on attending. Facebook event found here.
THIS EVENT HAS BEEN POSTPONED. STAY TUNED FOR UPDATES!
PLEASE NOTE: Submitting an RSVP for this event DOES NOT guarantee entrance. This is a free-access event — entrance will be on a first-come, first-served basis.
---
About the Event.
Leland Cheuk, author of No Good Very Bad Asian (C&R Press) and founder of 7.13 Books, Peg Alford Pursell, author of A Girl Goes into the Forest (Dzanc Books) and founder of WTAW Press and WTAW Reading Series, Lilly Dancyger, editor of Burn it Down: Women Writing About Anger (Seal Press), editor at Barrelhouse Books, columnist at Catapult and founder of Memoir Monday Reading Series, and Beth Lisick, author of Edie on the Green Screen (7.13 Books) and co-founder of Porchlight Storytelling Series talk with Jimin Han, author of A Small Revolution (Little A Books) about their books and their work as publishers, editors, and curators. How do they balance their creative life with supporting other writers? How does their writing influence the projects they champion? Their perspective on current trends in publishing? Their advice for writers? What's the future hold?
No Good Very Bad Asian:
Meet Sirius Lee, a fictive famous Chinese American comedian. He's a no good, very bad Asian. He's not good at math (or any other subject, really). He has no interest in finding a 'good Chinese girlfriend.' And he refuses to put any effort into becoming the CEO/Lawyer/Doctor his parents so desperately want him to be. All he wants to do is making people laugh. A cross between Paul Beatty's The Sellout and Jade Chang's The Wangs Vs. The World, NO GOOD VERY BAD ASIAN follows Sirius from his poor upbringing in the immigrant enclaves of Los Angeles to the loftiest heights of stardom as he struggles with substance abuse and persistent racism despite his fame. Ultimately, when he becomes a father himself, he must come to terms with who he is, where he came from, and the legacy he'll leave behind.
"Leland Cheuk has a varied palette of talents. Most striking is his novel comic sense and timing, abilities that routinely produce surprisingly humorous results. You can tell as you read this that Cheuk has done his research, going so far as to spend years doing standup. His imagination is strong but precise, blending figment and reality to produce his tale of the entirely fictitious Sirius Lee." – The Brooklyn Rail
A Girl Goes into the Forest:
Following her acclaimed debut, Show Her a Flower, A Bird, A Shadow, award-winning author Peg Alford Pursell explores and illuminates love and loss in 78 hybrid stories and fables. A Girl Goes into the Forest immerses readers in the complex desires, contradictions, and sorrows of daughters, wives, and husbands, artists, siblings, and mothers. In forests literal and metaphorical, the characters try, fail, and try again to see the world, to hear each other, and to speak the truth of their longings. Powerful, lyrical, and precise, Pursell's stories call up a world at once mysterious and recognizable.
"Precise, delicate, yet bloody-minded in their refusal to look away from the most painful moments of our tender lives…" – Kirkus Reviews
Burn It Down: Women Writing About Anger:
In this ferocious collection of essays, twenty-two writers explore how anger has shaped their lives: author of the New York Times bestseller The Empathy Exams Leslie Jamison confesses that she used to insist she wasn't angry — until she learned that she was; Melissa Febos, author of the Lambda Literary Award­-winning memoir Abandon Me, writes about how she discovered that anger can be an instrument of power; editor-in-chief of Bitch Media Evette Dionne dismantles the "angry Black woman" stereotype; and more. Broad-ranging and cathartic, Burn It Down is essential reading for any woman who has scorched with rage — and is ready to claim her right to express it.
"Burn It Down legit changed my brain. I found myself thinking about anger in general and women's anger in particular in a whole new way, and seeing how reigning in and policing our anger has been sustaining patriarchal structures for centuries." – The Rumpus "What to Read When the Patriarchy's Got You Down" list
Edie on the Green Screen:
In late 90's San Francisco, Edie Wunderlich was the It girl, on the covers of the city's alt-weeklies, repping the freak party scene on the eve of the first dot-com boom. Fast forward twenty years, and Edie hasn't changed, but San Francisco has. Still, a bartender in the Mission, Edie now serves a seemingly never-ending stream of tech bros while the punk rock parties of the millennium's end are long gone. When her mother dies, leaving her Silicon Valley home to Edie, she finds herself mourning her loss in the heart of the Bay Area's teach monoculture, and embarks on the alast-ditch quest to hold on to her rebel heart.
"Beth Lisick's Edie On the Green Screen really hit my sweet spot: a darkly funny, honest, touching look at what it means to be an adult in the world today – and what happens when you can't quite figure it out. I inhaled this book."—Jami Attenberg, author of All This Could Be Yours
About the Authors.
A MacDowell Colony and Hawthornden Castle Fellow, Leland Cheuk is the author of three books, most recently, No Good Very Bad Asian. His work has appeared in Salon, San Francisco Chronicle, Catapult, Joyland Magazine, Literary Hub, and elsewhere. He is the founder of the indie press 7.13 Books, lives in Brooklyn.
Peg Alford Pursell is the author of A GIRL GOES INTO THE FOREST, (Dzanc Books, July 2019), currently short-listed for the Northern California Booksellers Award 2020, and of SHOW HER A FLOWER, A BIRD, A SHADOW, the 2017 Indies Book of the Year for Literary Fiction. Her work has been published in many journals and anthologies, including Permafrost, Joyland, and the Los Angeles Review. Most recently, her microfiction, flash fiction, and hybrid prose have been nominated for the Best American Short Story 2020 anthology, Best Microfiction 2020 anthology, Best of the Net 2020, and the Pushcart Prize 2020. She is the founder and director of WTAW Press, a nonprofit publisher of literary books, and a member of the San Francisco Writers Grotto.
Lilly Dancyger is a contributing editor at Catapult, and assistant editor at Barrelhouse Books. She's the editor of Burn it Down, a critically acclaimed anthology of essays on women's anger from Seal Press; and the author of Negative Space, a reported and illustrated memoir selected by Carmen Maria Machado as a winner of the 2019 Santa Fe Writers Project Literary Awards, forthcoming in 2021. Lilly is the founder and host of Memoir Monday, a weekly newsletter and quarterly reading series. Her writing has been published by Longreads, The Washington Post, Glamour, Playboy, Rolling Stone, and more. She lives in New York City, and she spends way too much time on twitter (where you can find her at @lillydancyger).
Beth Lisick is a writer and actor from the San Francisco Bay Area, currently living in Brooklyn. She is the author of five previous books, including the New York Times bestseller Everybody Into the Pool, and co-founder of the Porchlight Storytelling Series. Beth has also worked as a baker, a promotional banana mascot, a background extra for TV and film, and an aide to people with developmental disabilities and a dementia. This is her first novel.
Jimin Han's writing can be found at Catapult, the Rumpus, Korean American Story, Platypus Press and elsewhere. Her first novel, A Small Revolution (Little A Books), was among Entropy's Best Fiction of 2017, Pleiades Editors' Choice 2017, Redbook Magazine's 20 Books By Women You Must Read This Spring, Buzzfeed's 6 Binge-worthy Literary Books of May, CNN's Summer Beach Reads, and Electric Literature's list of Ten Galvanizing Books About Political Protest. She teaches at The Writing Institute at Sarah Lawrence College and Pace University.
RSVP
Bookings are closed for this event.