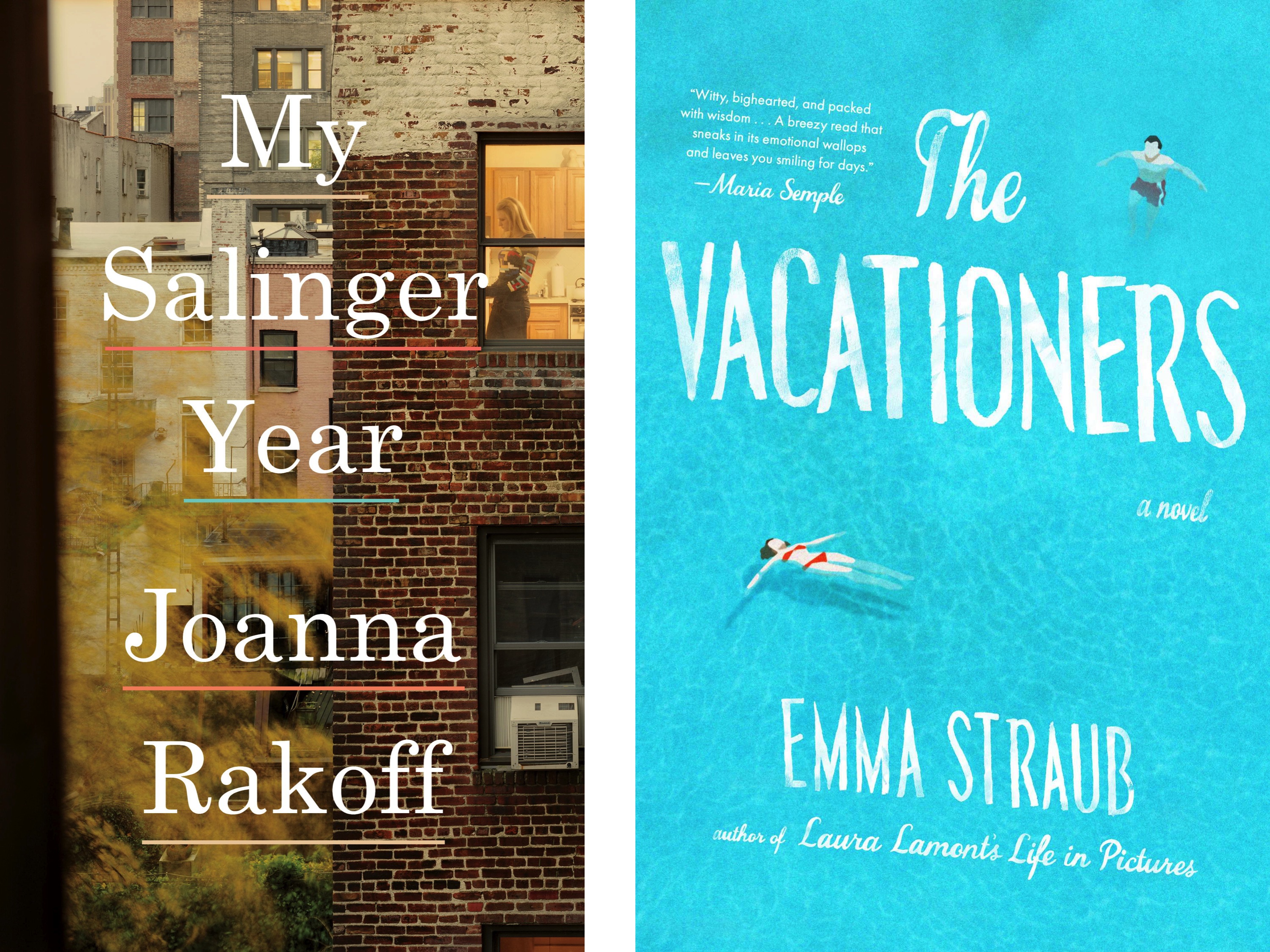 Monday Jul 21, 2014
7:00 pm - 8:00 pm
THE POWERHOUSE ARENA [Dumbo]
37 Main Street
Brooklyn, NY 11201
For more information, please call 718.666.3049
RSVP appreciated: RSVP@powerHouseArena.com
-or-
Please fill out the "Bookings" form at the bottom of this page.
Please note this is an off-site event.
Location: Brooklyn Bridge Park, Pier 1
---
Joanna Rakoff and Emma Straub read from their latest books (My Salinger Year and The Vacationers, respectively) against the backdrop of the Manhattan skyline as part of this Borough-wide literary festival.
About My Salinger Year:
At twenty-three, after leaving graduate school to pursue her dreams of becoming a poet, Joanna Rakoff moves to New York City and takes a job as assistant to the storied literary agent for J. D. Salinger. She spends her days in a plush, wood-paneled office, where Dictaphones and typewriters still reign and old-time agents doze at their desks after martini lunches. At night she goes home to the tiny, threadbare Williamsburg apartment she shares with her socialist boyfriend. Precariously balanced between glamour and poverty, surrounded by titanic personalities, and struggling to trust her own artistic instinct, Rakoff is tasked with answering Salinger's voluminous fan mail. But as she reads the candid, heart-wrenching letters from his readers around the world, she finds herself unable to type out the agency's decades-old form response. Instead, drawn inexorably into the emotional world of Salinger's devotees, she abandons the template and begins writing back. Over the course of the year, she finds her own voice by acting as Salinger's, on her own dangerous and liberating terms.
Rakoff paints a vibrant portrait of a bright, hungry young woman navigating a heady and longed-for world, trying to square romantic aspirations with burgeoning self-awareness, the idea of a life with life itself. Charming and deeply moving, filled with electrifying glimpses of an American literary icon, My Salinger Year is the coming-of-age story of a talented writer. Above all, it is a testament to the universal power of books to shape our lives and awaken our true selves.
About The Vacationers:
For the Posts, a two-week trip to the Balearic island of Mallorca with their extended family and friends is a celebration: Franny and Jim are observing their thirty-fifth wedding anniversary, and their daughter, Sylvia, has graduated from high school. The sunlit island, its mountains and beaches, its tapas and tennis courts, also promise an escape from the tensions simmering at home in Manhattan. But all does not go according to plan: over the course of the vacation, secrets come to light, old and new humiliations are experienced, childhood rivalries resurface, and ancient wounds are exacerbated.
This is a story of the sides of ourselves that we choose to show and those we try to conceal, of the ways we tear each other down and build each other up again, and the bonds that ultimately hold us together. With wry humor and tremendous heart, Emma Straub delivers a richly satisfying story of a family in the midst of a maelstrom of change, emerging irrevocably altered yet whole.
About Books Beneath the Bridge:
The Brooklyn Bridge Park Conservancy's outdoor literature series, Books Beneath the Bridge, will begin on Monday July 8 at 7 pm and run for six consecutive Mondays at Pier 1's Granite Prospect. Each week will be curated by a local, independent bookstore and will include a reading, Q&A session, and book signing with the authors.
The series is a partnership between the Brooklyn Bridge Park Conservancy and local bookstores in Red Hook, Fort Greene, DUMBO, Greenpoint, Park Slope, and Cobble Hill.
About the Authors:
Joanna Rakoff's novel A Fortunate Age won the Goldberg Prize for Jewish Fiction by Emerging Writers and the Elle Readers' Prize, and was a New York Times Editors' Choice and a San Francisco Chronicle best seller. She has written for The New York Times, the Los Angeles Times, Vogue, and other publications. She lives in Cambridge, Massachusetts.
Emma Straub is from New York City. She is the author of Laura Lamont's Life in Pictures and Other People We Married, and her fiction and nonfiction have been published in Vogue, Tin House, The New York Times, and the The Paris Review Daily. She is a staff writer for Rookie. Straub lives with her husband and son in Brooklyn.
---
For more information, please contact
Hal Hlavinka
email: hal@powerhousearena.com
powerHouse Arena, 37 Main Street, Brooklyn, NY 11201
tel: 212-604-9074 x109
RSVP
Bookings are closed for this event.