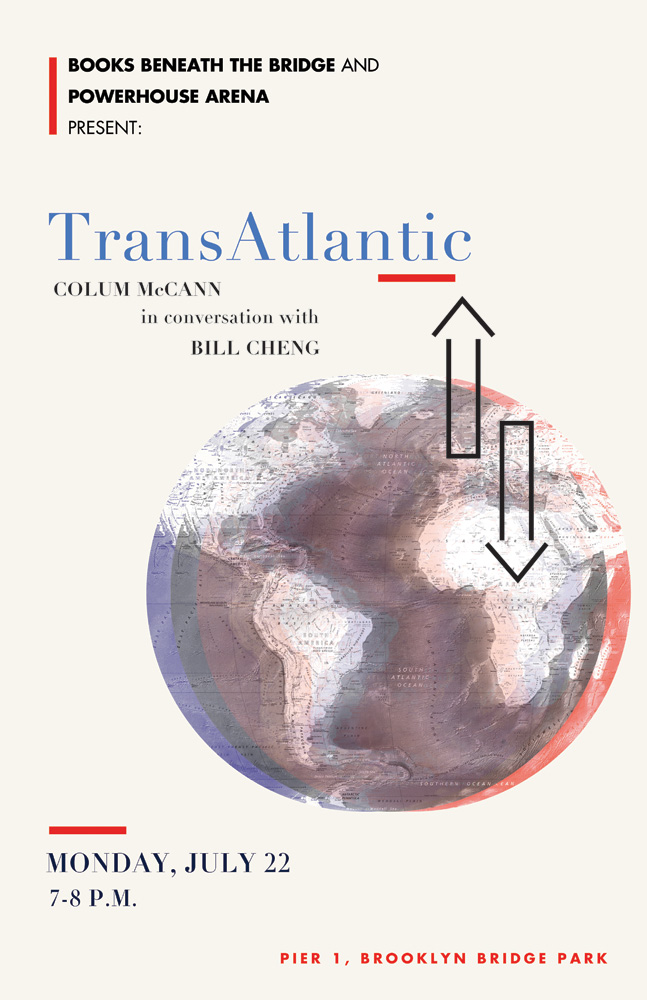 Monday Jul 22, 2013
7:00 pm - 8:00 pm
For more information, please call 718.666.3049
RSVP appreciated: RSVP@powerHouseArena.com
-or-
Please fill out the "Bookings" form at the bottom of this page.
---
Please note this is an off-site event.
Location: Pier 1, Brooklyn Bridge Park
Colum McCann reads from his highly anticipated new novel against the backdrop of the Manhattan skyline as part of this Borough-wide literary festival. Novelist Bill Cheng joins him in conversation.
About TransAtlantic:
Newfoundland, 1919. Two aviators—Jack Alcock and Arthur Brown—set course for Ireland as they attempt the first nonstop flight across the Atlantic Ocean, placing their trust in a modified bomber to heal the wounds of the Great War.
Dublin, 1845 and '46. On an international lecture tour in support of his subversive autobiography, Frederick Douglass finds the Irish people sympathetic to the abolitionist cause—despite the fact that, as famine ravages the countryside, the poor suffer from hardships that are astonishing even to an American slave.
New York, 1998. Leaving behind a young wife and newborn child, Senator George Mitchell departs for Belfast, where it has fallen to him, the son of an Irish-American father and a Lebanese mother, to shepherd Northern Ireland's notoriously bitter and volatile peace talks to an uncertain conclusion.
Colum McCann's TRANSATLANTIC unites this seemingly disparate cast of characters with an incredible act of storytelling. These three iconic crossings are connected by a series of remarkable women whose personal stories are caught up in the swells of history. Beginning with Irish housemaid Lily Duggan, who crosses paths with Frederick Douglass, the novel follows her daughter and granddaughter, Emily and Lottie, and culminates in the present-day story of Hannah Carson, in whom all the hopes and failures of previous generations live. From the loughs of Ireland to the flatlands of Missouri and the windswept coast of Newfoundland, their journeys mirror the progress and shape of history. They each learn that even the most unassuming moments of grace have a way of rippling through time, space, and memory.
Beginning in the year of the Irish famine and ending in 2011 when President Obama lands on Irish shores, truth meets the imagination, and fact meets fiction, in this exciting, sophisticated work from an incomparable writer. TRANSATLANTIC is a profound meditation on identity and history in a wide world that continues to grow somehow smaller and more wondrous.
About Books Beneath the Bridge:
The Brooklyn Bridge Park Conservancy's outdoor literature series, Books Beneath the Bridge, will begin on Monday July 8 at 7 pm and run for six consecutive Mondays at Pier 1's Granite Prospect. Each week will be curated by a local, independent bookstore and will include a reading, Q&A session, and book signing with the authors.
The series is a partnership between the Brooklyn Bridge Park Conservancy and local bookstores in Red Hook, Fort Greene, DUMBO, Greenpoint, Park Slope, and Cobble Hill.
About the Author:
Colum McCann is the internationally bestselling author of the novels Let the Great World Spin, Zoli, Dancer, This Side of Brightness, and Songdogs, as well as two critically acclaimed story collections. His fiction has been published in thirty-five languages. He has received many honors, including the National Book Award, the International IMPAC Dublin Literary Award, a Chevalier des Arts et Lettres from the French government, and the Ireland Fund of Monaco Literary Award in Memory of Princess Grace. He has been named one of Esquire's "Best & Brightest," and his short film Everything in This Country Must was nominated for an Oscar in 2005. A contributor to the New Yorker, New York Times Magazine, Atlantic Monthly, and Paris Review, he teaches in the Hunter College MFA Creative Writing Program. He lives in New York City with his wife and their three children.
Bill Cheng received a BA in creative writing from Baruch College and is a graduate of Hunter College's MFA program. Born and raised in Queens, New York, he currently lives in Brooklyn with his wife. Southern Cross the Dog is his first novel.
---
For more information, please contact
Justin Levine
email: justin@powerhousearena.com
powerHouse Arena, 37 Main Street, Brooklyn, NY 11201
tel: 212-604-9074 x109
RSVP
Bookings are closed for this event.