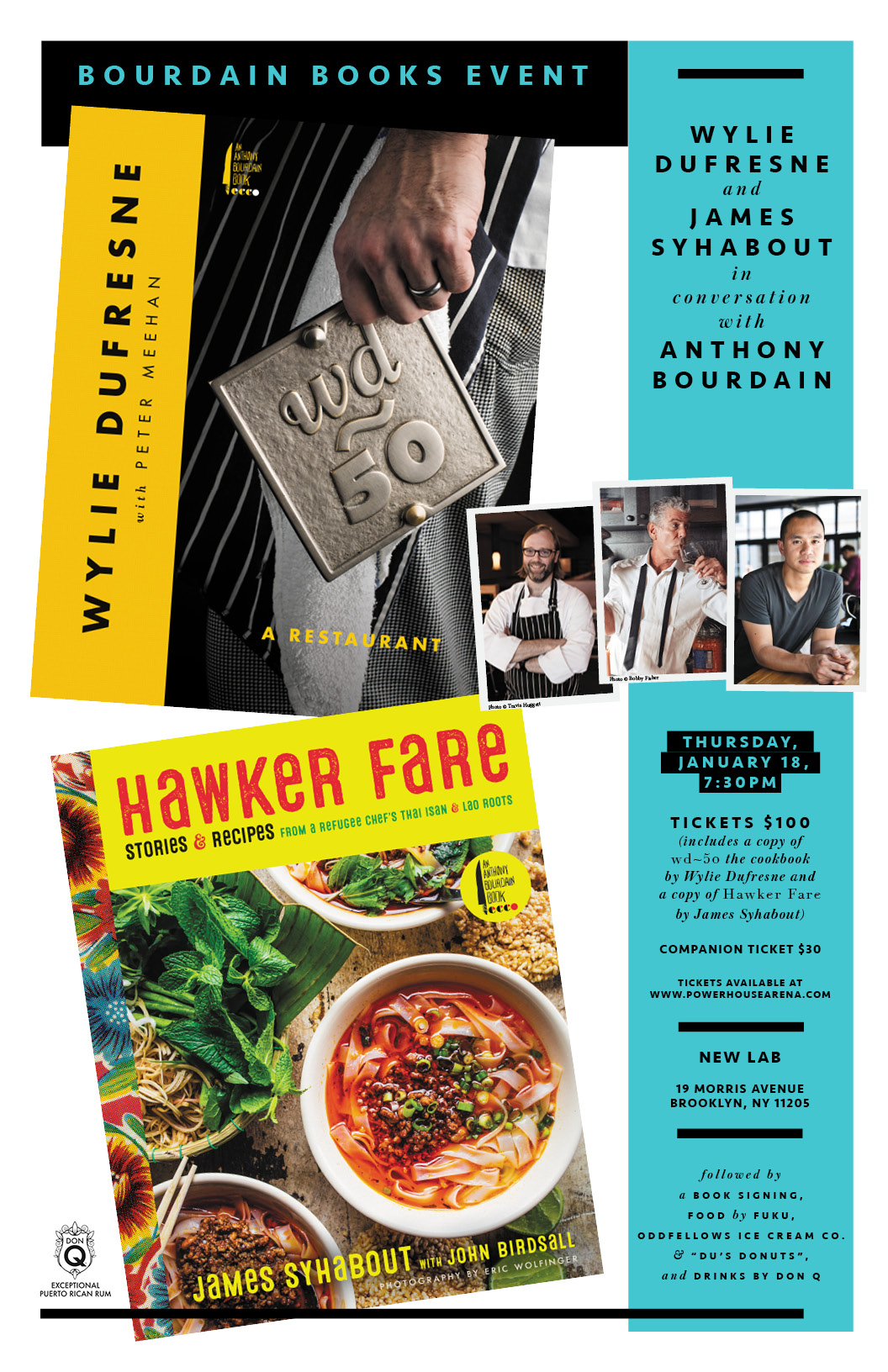 Thursday Jan 18, 2018
7:30 pm - 10:00 pm
New Lab
19 Morris Av. Bldg. 128
Brooklyn, NY 11205
NYC Book Launch Party for wd~50: The Cookbook by Wylie Dufresne & Hawker Fare by James Syhabout— in conversation with Anthony Bourdain!
​Followed by a book signing, drinks by Don Q, and food by Fuku, OddFellows Ice Cream Co. & Du's Donuts.
Each $100 ticket comes with one copy of wd~50: The Cookbook ($75 value) and Hawker Fare ($40 value), to be collected at the event. Click here to purchase.
For parties of 2, we are offering $130 tickets that include two entries and one copy of wd~50: The Cookbook ($75 value) and Hawker Fare ($40 value). Click here to purchase.
---
About wd~50: The Cookbook:
When it opened in 2003, wd~50 was New York's most innovative and cutting edge fine dining restaurant. Called "a landmark for modernist cooking and one of the most influential restaurants in the world" by the New York Times, it was known for innovative dishes like aerated foie gras puffs and fried mayonnaise. Wd~50's mastermind Wylie Dufresne ushered in a new generation of experimental and free spirited chefs with his own wildly unique approach to cooking, influenced by molecular gastronomy, cubist art, and the humblest of American classics like bagels and lox.
Now, Dufresne has teamed up with Peter Meehan to bring us wd~50: The Cookbook (An Anthony Bourdain Book/Ecco), a cookbook that doubles as a behind-the-scenes director's cut of the story of a singular, pioneering restaurant. wd~50 is a glimpse into a particular moment in New York City food culture, a time encapsulated by Dufresne's enormously influential work at this iconic American institution. New York Times restaurant critic Pete Wells wrote on the occasion of its closing in 2014 that, "In the future we're going to realize wd~50 was the CBGB of this era, with way nicer bathrooms." With never-before-seen photos of the iconic wd~50 kitchen and the last days of the restaurant in service, this book will be a collectible piece of culinary memorabilia as well as an inside look into some of wd~50's most notorious creations.
About the Authors:
Wylie Dufresne was the chef at the celebrated 71 Clinton Fresh Food, and then at his own groundbreaking restaurant, wd~50, earning countless accolades including a James Beard Award for Best Chef, New York, and a Michelin star, until its closing. He was recently inducted into the James Beard Foundation's distinguished list of "Who's Who of Food & Beverage in America." Dufresne has appeared on multiple Bravo and Food Network series and has been parodied on both Saturday Night Live and The Simpsons.
Peter Meehan co-founded and edited Lucky Peach, a celebrated if doomed food magazine that lived until it was six. He has written books with chefs and by himself and gotten paid to write about eating things for magazines and newspapers including the New York Times.
---
About Hawker Fare:
James Syhabout's hugely popular Hawker Fare restaurant in San Francisco is the product of his unique family history and diverse career experience. Born into two distinct but related Asian cultures—from his mother's ancestral village in Isan, Thailand's northeast region, and his father's home in Pakse, Laos—he and his family landed in Oakland in 1981, in a community of other refugees from the Vietnam War. Syhabout at first turned away from the food of his heritage to work in Europe and become a classically trained chef. After the success of Commis, his fine dining restaurant and the only Michelin-starred eatery in Oakland, Syhabout realized something was missing—and that something was Hawker Fare, and cooking the food of his childhood.
Now, HAWKER FARE: Stories & Recipes from a Refugee Chef's Isan Thai & Lao Roots (An Anthony Bourdain Book/Ecco) immortalizes these widely beloved dishes, which are inspired by the open-air "hawker" markets of Thailand and Laos as well as the fine-dining sensibilities of James's career beginnings. Featuring a preface by Anthony Bourdain and a forward by Roy Choi, each of the book's chapters opens with stories from Syhabout's roving career, starting with his mother's work as a line cook in Oakland, and moving into the turning point of his culinary life, including his travels as an adult in his parents' homelands. From building a pantry with sauces and oils, to making staples like sticky rice and padaek, to Syhabout's recipe for instant ramen noodles with poached egg, HAWKER FARE explores the many dimensions of this singular chef's cooking and ethos on ingredients, family, and eating well. This cookbook offers a new definition of what it means to be making food in America, in the full and vibrant colors of Thailand, Laos, and California.
About the Authors:
James Syhabout was born in Oakland. He graduated from the California Culinary Academy in 1999 and headed to Manresa and the Fat Duck before working as commis at El Bulli, chef de partie at Alkimia, and chef de partie at Daniel Patterson's Coi. In 2009 in Oakland he opened Commis, which holds two Michelin stars, and its casual sister restaurant Hawker Fare in Oakland and San Francisco in 2011 and 2015 respectively. He's also co-owner of Old Kan Beer and Co. in Oakland.
John Birdsall is a food writer and ex–restaurant cook who lives in Oakland. He's received two James Beard Awards for food and culture writing, and is currently working on a new biography of James Beard.
---
About the Moderator:
Anthony Bourdain is the author of the New York Times bestsellers Appetites, Kitchen Confidential and Medium Raw; A Cook's Tour; the collection The Nasty Bits; the novels Bone in the Throat and Gone Bamboo; and the biographyTyphoid Mary: An Urban Historical. He has written for the New York Times and The New Yorker, among many other publications. He is the host of the Emmy and Peabody Award–winning docuseries Anthony Bourdain: Parts Unknown on CNN, and the publisher of an eponymous imprint for Ecco. He lives in New York City.