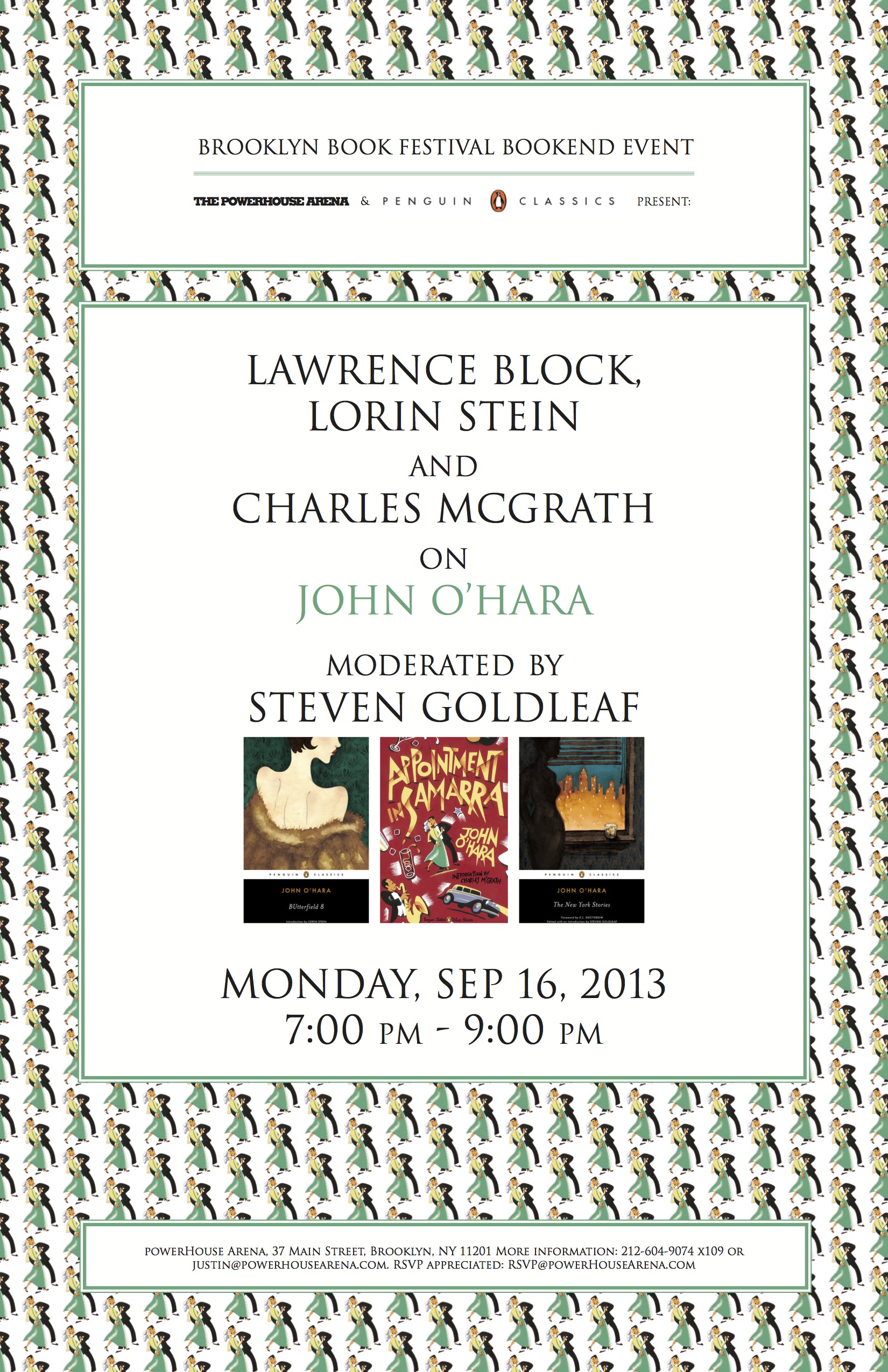 Monday Sep 16, 2013
7:00 pm - 9:00 pm
THE POWERHOUSE ARENA [Dumbo]
37 Main Street
Brooklyn, NY 11201
For more information, please call 718.666.3049
RSVP appreciated: RSVP@powerHouseArena.com
-or-
Please fill out the "Bookings" form at the bottom of this page.
Drinks will be served.
---
The latest installment of our Penguin Classics series stars bestselling mystery writer Lawrence Block, The Paris Review editor Lorin Stein, and The New York Times writer-at-large Charles McGrath. They'll discuss John O'Hara, who's had more stories published in The New Yorker than anyone in the history of the magazine.
About powerHouse Arena + Penguin Classics present:
These events are a response to anyone who asks whether classics are still being read, and what purpose they serve in contemporary culture. Panels composed of the best of the present–leading contemporary writers, critics, artists, and industry insiders–will lead conversations about the best of the past. The powerHouse Arena is a longtime curator of engaging literary programming that celebrates the community books inspire off the page. In an age when many argue that print is increasingly losing relevance, powerHouse Arena + Penguin Classics present an enthusiastic counterattack.
About the Author and Contributors:
JOHN O'HARA (1905-1970) received instant acclaim for his first novel, Appointment in Samarra, and quickly came to be regarded as one of the most prominent writers in America. He won the National Book Award for his novel Ten North Frederick and had more stories published in The New Yorker than anyone in the history of the magazine. His fourteen novels include A Rage to Live, Pal Joey, BUtterfield 8, and From the Terrace, and his more than four hundred short stories have been collected in twelve volumes.
LAWRENCE BLOCK has been writing award-winning mystery and suspense fiction for half a century.  His most recent novels are HIT ME, featuring Keller, and A DROP OF THE HARD STUFF, featuring Matthew Scudder, who will be played by Liam Neeson in the forthcoming film, A WALK AMONG THE TOMBSTONES.  Several of his books have been filmed, although not terribly well.  He's well known for his books for writers, including the classic TELLING LIES FOR FUN & PROFIT, and THE LIAR'S BIBLE.  In addition to prose works, he has written episodic television (TILT!) and the Wong Kar-wai film, MY BLUEBERRY NIGHTS.
LORIN STEIN is an American critic, editor, and translator. He is the editor of The Paris Review.
CHARLES MCGRATH is the former editor of The New York Times Book Review and former deputy editor of The New Yorker. He is currently a writer a large for The New York Times.
STEVEN GOLDLEAF is a professor of English literature at Pace University and the author of John O'Hara: A Study of Short Fiction. He lives in New York City.
---
For more information, please contact
Justin Levine
email: justin@powerhousearena.com
powerHouse Arena, 37 Main Street, Brooklyn, NY 11201
tel: 212-604-9074 x109
RSVP
Bookings are closed for this event.