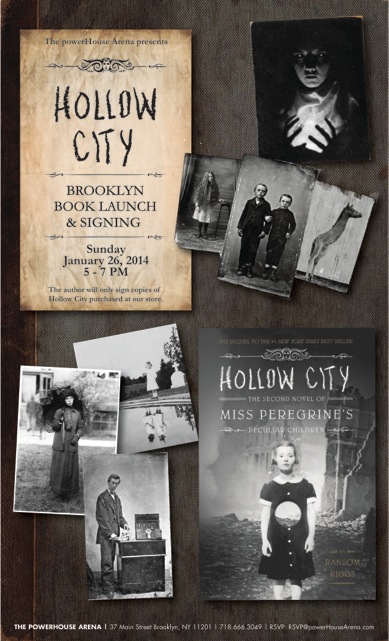 Sunday Jan 26, 2014
5:00 pm - 7:00 pm
THE POWERHOUSE ARENA [Dumbo]
37 Main Street
Brooklyn, NY 11201
For more information, please call 718.666.3049
RSVP appreciated: RSVP@powerHouseArena.com
-or-
Please fill out the "Bookings" form at the bottom of this page.
The author will only sign copies of Hollow City purchased at The POWERHOUSE Arena.
---
About Hollow City:
Miss Peregrine's Home for Peculiar Children was the surprise best seller of 2011—an unprecedented mix of YA fantasy and vintage photography that enthralled readers and critics alike. Publishers Weekly called it "an enjoyable, eccentric read, distinguished by well-developed characters, a believable Welsh setting, and some very creepy monsters."
This second novel begins in 1940, immediately after the first book ended. Having escaped Miss Peregrine's island by the skin of their teeth, Jacob and his new friends must journey to London, the peculiar capital of the world. Along the way, they encounter new allies, a menagerie of peculiar animals, and other unexpected surprises.
Complete with dozens of newly discovered (and thoroughly mesmerizing) vintage photographs, this new adventure will delight readers of all ages.
About the Author:
Ransom Riggs grew up in Florida but now makes his home in the land of peculiar children—Los Angeles. He was raised on a steady diet of ghost stories and British comedy, which probably explains the novels he writes. There's a nonzero chance he's in your house right now, watching you from underneath the bed. (Go ahead and check. We'll wait.) If not, you can always find him on Twitter @ransomriggs.com.
---
For more information, please contact
Justin Levine
email: justin@powerhousearena.com
powerHouse Arena, 37 Main Street, Brooklyn, NY 11201
tel: 212-604-9074 x109
RSVP
Bookings are closed for this event.