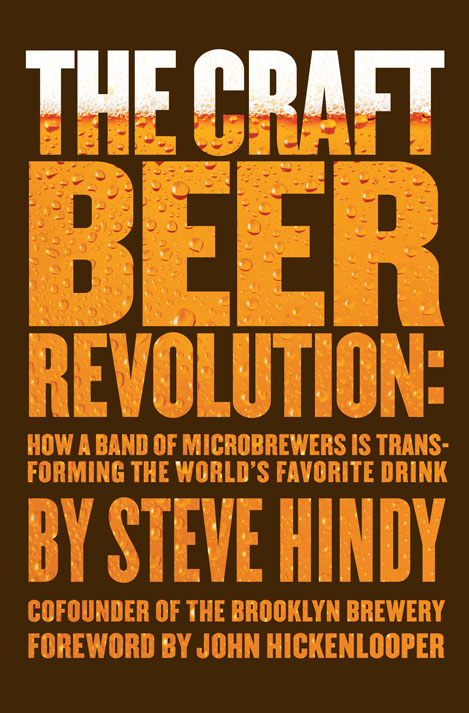 Saturday Apr 26, 2014
6:00 pm - 8:00 pm
THE POWERHOUSE ARENA [Dumbo]
37 Main Street
Brooklyn, NY 11201
For more information, please call 718.666.3049
RSVP appreciated: RSVP@powerHouseArena.com
-or-
Please fill out the "Bookings" form at the bottom of this page.
Drinks will be served.
---
The co-founder of Brooklyn Brewery tells the story of how a band of microbrewers became one of America's great entrepreneurial triumphs. Bronx Brewery's Chris Gallant joins Steve Hindy in conversation. Those that purchase a copy of the book will be able to enter a raffle: prizes include a gift certificate for 10 tokens at Brooklyn Brewery and a special Brooklyn Brewery Big Bottle!
About The Craft Beer Revolution:
Over a span of just a few decades, the craft brewing industry has exploded — from a handful of home brewers and beer enthusiasts to a true entrepreneurial force, serving 10% of the $100 billion American beer market.  These trailblazers have upended the beer world, inspiring an army of passionate advocates and connoisseurs.  For Steve Hindy, co-founder and president of Brooklyn Brewery, the goal of this groundswell is to take beer back to its artisanal roots, and prove that the most durable craft brews can stand up against giants like Anheuser-Busch, InBev and MillerCoors, both in market share and customer loyalty.  In THE CRAFT BEER REVOLUTION:  How a Band of Microbrewers Are Transforming the World's Favorite Drink, Hindy tells the full story of how these craft brewers joined forces to forever change the way the world buys, enjoys, and appreciates beer.
As one of the founding players in the movement, Hindy brings a true insider's account of the personalities, battles and alliances that colored the early days of craft beer.  He begins with the true pioneers,  such as Fritz Maytag, who started it all in 1965 when he bought the failing Anchor Brewing Co. in San Francisco, and Ken Grossman, an acolyte of Maytag's who went on to found  Sierra Nevada.  He goes on to trace the crucial work of the lobbyists, distributors, retailers, writers and educators who bet their businesses and livelihoods on their belief in craft beer, and cemented its place in mainstream culture.
Hindy also details a crucial turning point in the industry, when a new generation of brewers, led by  Jim Koch and Samuel Adams, finally turned their passion for beer into profit.  He describes the dizzying proliferation of microbreweries and brewpubs that sprung up between 1984 and 1994, and profiles several that are still flourishing today, such as Wynkoop Brewing Co., North Coast Brewing Co, Goose Island, Great Lakes Brewing Co. and Rogue Ales.
Finally, he gives the reader a peek at the rough-and-tumble politics of the craft beer industry, and the legislative battles that small brewers waged in the '90's to push back against the three tier system, which prevented brewers from owning distributor or retail licenses and put craft breweries at the mercy of distributors who typically ignored them.  The story of how these smaller brewers persevered to gain recognition at the federal level, and among organizations such as The Beer Institute and the National Beer Wholesalers Association, will give hope to any upstart looking to make his voice heard.
Featuring fan favorites such as Deschutes Brewery, New Belgium, Dogfish Head, Harpoon and many others, THE CRAFT BEER REVOLUTION is an inspiring and entertaining look at how America's beloved craft brewers fought against incredible odds to become a collective business success story for the ages.
About the Author & Moderator:
Steve Hindy is the author of Beer School and co-founder, chairman and president of Brooklyn Brewery, one of America's top 20 breweries. A former journalist, he became interested in home brewing while serving as a Beirut-based Middle East Correspondent for the Associated Press. He and Brooklyn Brewery have been featured in The New York Times, the New York Post, Crain's New York Business, New York magazine, CNN, The Huffington Post, and countless beer blogs and specialty publications. Hindy is a member of the Board of Directors of the Beer Institute and the Brewers Association. He lives in Brooklyn, NY.
Chris Gallant is the General Manager and Co-Founder of The Bronx Brewery, a small craft brewery in the South Bronx's Port Morris neighborhood. Gallant got his start in the beer world, bouncing around Latin American and the Caribbean on various projects for Heineken International. Prior to that, he oversaw a number of New York-based engagements with Bain & Company, a management consultancy, helping food and beverage companies tackle a wide range of strategic and tactical challenges. He has been featured in a number of publications including the New York Daily News, Crain's New York, NBC, and Fox News. Gallant is an executive committee member of the New York City Brewers Guild. He lives in New York City.
---
For more information, please contact
Justin Levine
email: justin@powerhousearena.com
powerHouse Arena, 37 Main Street, Brooklyn, NY 11201
tel: 212-604-9074 x109
RSVP
Bookings are closed for this event.