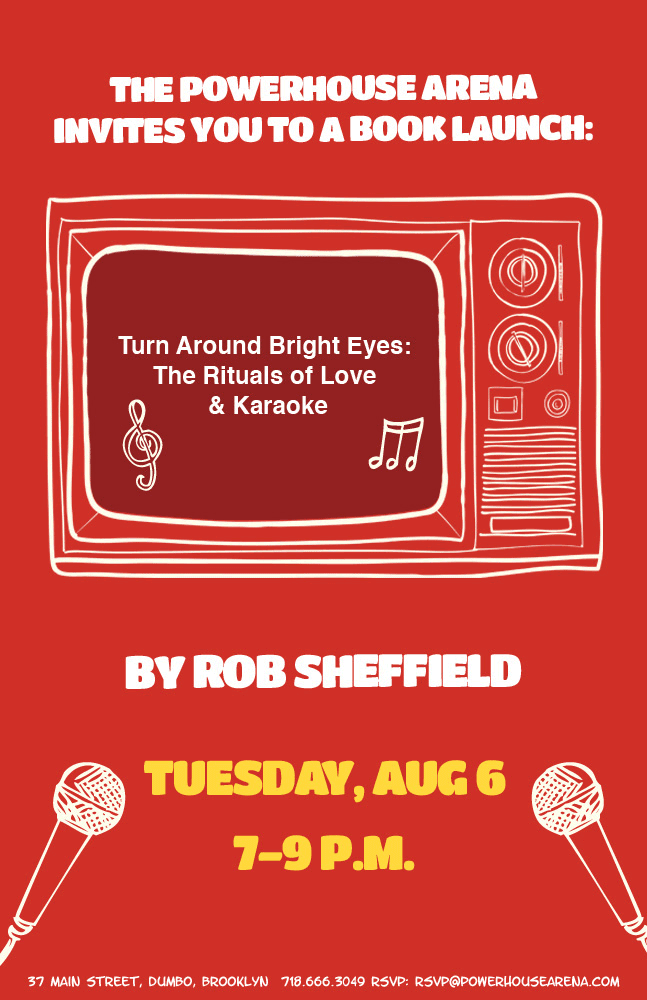 Tuesday Aug 06, 2013
7:00 pm - 9:00 pm
THE POWERHOUSE ARENA [Dumbo]
37 Main Street
Brooklyn, NY 11201
For more information, please call 718.666.3049
RSVP appreciated: RSVP@powerHouseArena.com
-or-
Please fill out the "Bookings" form at the bottom of this page.
Drinks will be served.
---
In the inspiring follow-up to Love Is a Mix Tape, music-obsessed Rolling Stone columnist Rob Sheffield reveals how discovering karaoke helped him move on and start over after the loss of his wife. Join us as we belt out our favorite hits with our very own karaoke session!
About TURN AROUND BRIGHT EYES:

In 2007, when Rolling Stone columnist Rob Sheffield burst onto the bestseller list with Love is a Mix Tape, a debut memoir about the courtship, marriage, and sudden loss of his wife to a pulmonary embolism, reviewers raved about his humorous and heartbreaking story, and music geeks delighted in his elegy to the pop-culture blessed Nineties.
But what happened to the tall, geeky, music-obsessed young widower – the man USA Today dubbed a "living pop-culture encyclopedia"?
Picking up where Love Is a Mix Tape left off, Sheffield returns with a look at the difference between young love and mature love, the joy that comes in the comfort zone of adulthood, and the idea that happiness after great loss is possible, if you fight for it. Set to a karaoke soundtrack, Sheffield shares his happy second act in TURN AROUND BRIGHT EYES: The Rituals of Love and Karaoke.
After losing his wife, Sheffield relocates to New York and holes up in an apartment in downtown Manhattan – into what he dubs "a dead white box in the sky." A short while later, September 11th hits, and his new home is shrouded in a new kind of grief.
Rob throws himself into work, and loses himself in music. And then on a night out with friends, he discovers karaoke. One night of song kicks open a few doors for him, emotionally, and from that moment, Sheffield was hooked. As he discovers the sublime ridiculousness of karaoke – despite the fact that he can't carry a tune – Rob finds that by pretending to be someone else for the span of a three minute pop song, he can find his own voice again.
Including a brief timeline of karaoke – its origins in Japan (where the word karaoke means "empty orchestra") and the moment when the Hollywood karaoke scene cements itself in film, TURN AROUND BRIGHT EYES is more than just Sheffield's story – it's the story of how karaoke has something for all of us, and why its transformative powers hold promise for even the most quiet among us. "A night of karaoke is just like Ovid's Metamorphoses, except with twice as much Stevie Nicks and 70 percent more Lionel Ritchie," Sheffield writes.
His karaoke obsession takes him to some strange places, from singing a Frank Sinatra song in a senior-citizen community in Florida, attempting a Merle Haggard classic at a cowboy saloon in the Mojave desert, or clearing the room at an after-hours dive in Chinatown. But he finds the music leads him to the most surprising place of all—a new life and a new love. Along the way, Sheffield shares some surprising "facts" about karaoke – including why rock stars love it, and the reason that Sheffield himself always includes a question for artists about karaoke in his Rolling Stone interviews.
TURN AROUND BRIGHT EYES is a story about finding the courage to start over, move on, and rock the mike. It's about falling in love and navigating your way through adult romance. It's about how you can learn the weirdest things about yourself just by butchering a Hall & Oates song at 2 A.M. under fluorescent lights in a room full of strangers. It's about how songs get tangled up in our deepest emotions, evoking memories of the past while inspiring hope for the future. But most of all, it's a book about all the strange ways music brings people together.
About the Author:
Rob Sheffield is a columnist for Rolling Stone, where he has been writing about music, TV, and pop culture since 1997. He is the author of two national bestsellers Love Is a Mix Tape: Love and Loss, One Song at a Time and Talking to Girls About Duran Duran: One Young Man's Quest for True Love and a Cooler Haircut. He also appears regularly on VH1. He lives with his wife in Brooklyn.
---
For more information, please contact
Justin Levine
email: justin@powerhousearena.com
powerHouse Arena, 37 Main Street, Brooklyn, NY 11201
tel: 212-604-9074 x109
RSVP
Bookings are closed for this event.