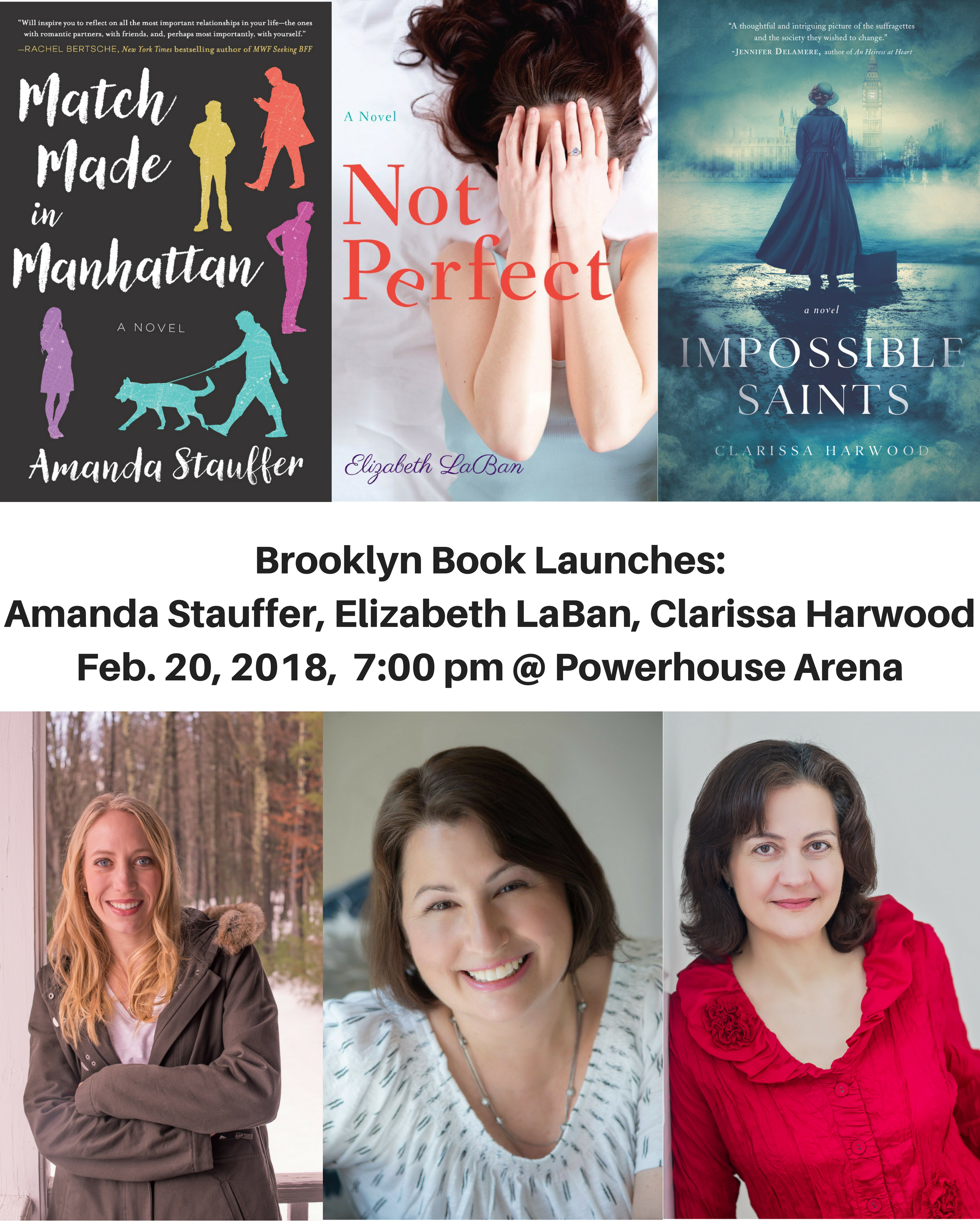 Tuesday Feb 20, 2018
7:00 pm - 9:00 pm
POWERHOUSE @ the Archway
28 Adams Street (Corner of Adams & Water Street @ the Archway)
Brooklyn , NY 11201
RSVP appreciated:
Please fill out the "Bookings" form at the bottom of this page.
-or-
Send the name of the event and number of attendees to our RSVP email.
PLEASE NOTE: Submitting an RSVP for this event DOES NOT guarantee entrance. This is a free-access event — entrance will be on a first-come, first-served basis.
---
Join authors Clarissa Harwood, Elizabeth LaBan & Amanda Stauffer at POWERHOUSE for the launch of their newest novels, IMPOSSIBLE SAINTS, MATCH MADE IN MANHATTAN, and NOT PERFECT. Featuring a talk, Q&A, and book signing with the authors.
---
About Impossible Saints.
Set in England in 1907, Clarissa Harwood's Impossible Saints is a novel that burns as brightly as the suffrage movement it depicts, with the emotional resonance of Tracy Chevalier and Jennifer Robson.
Escaping the constraints of life as a village schoolmistress, Lilia Brooke bursts into London and into Paul Harris's orderly life, shattering his belief that women are gentle creatures who need protection. Lilia wants to change women's lives by advocating for the vote, free unions, and contraception. Paul, an Anglican priest, has a big ambition of his own: to become the youngest dean of St. John's Cathedral. Lilia doesn't believe in God, but she's attracted to Paul's intellect, ethics, and dazzling smile.
As Lilia finds her calling in the militant Women's Social and Political Union, Paul is increasingly driven to rise in the church. They can't deny their attraction, but they know they don't belong in each other's worlds. Lilia would rather destroy property and serve time in prison than see her spirit destroyed and imprisoned by marriage to a clergyman, while Paul wants nothing more than to settle down and keep Lilia out of harm's way. Paul and Lilia must reach their breaking points before they can decide whether their love is worth fighting for.
Clarissa Harwood holds a PhD in English Literature with a specialization in Nineteenth-Century British Literature. In addition to being a proud member of the Historical Novel Society, Clarissa is a part-time university instructor and full-time grammar nerd who loves to explain the difference between restrictive and nonrestrictive clauses. She lives in London, Ontario.
---
About Match Made in Manhattan:

After two intense, dead-end relationships, serial monogamist Alison finds herself confused, lonely, and drastically out of touch with the world of modern dating. Refusing to wallow, she signs up for a popular dating app and resolves to remain open-minded and optimistic as she explores the New York City singles' scene. With the click of a button, her adventures begin: On one date, she's dumped before the first kiss; on another, she dons full HAZMAT gear; she meets a tattooed folk singer turned investment banker, an undercover agent who tracks illegal exotic animals, and dozens of other colorful, captivating personalities.
Giving them each her signature "pants speech"—her pants aren't coming off unless she has a real connection with someone—she desperately wants to push past the awkward small-talk phase to find true love, but finding "the one" is starting to feel impossible. That is, until she meets Luke, who is sophisticated, funny, and not to mention, hot. Alison finds herself falling for Luke harder than any guy she's dated and finally letting her walls down, but will he stick around or move on to his next match?
Match Made in Manhattan is a fast-paced, contemporary story about the struggles of dating in the digital age. Replete with online profiles, witty dialogue, and a super-supportive group of female friends, this all-too-real and relatable debut novel will have readers laughing, crying, and rooting for Alison all the way to the end.
Amanda Stauffer is a thirty-something graduate of Yale University and Columbia University who works as an architectural conservator, restoring historic landmarks across the country. When she grew frustrated with New York City's dating scene in her twenties, Amanda headed to www.match.com. Even though no successful relationships came out of it, her experiences provided her with a lifetime of warm and fuzzy memories, a few friends, and an abundance of material should she ever decide to pursue a career in comedy. An erstwhile expat who has lived in Bangalore, Sicily, and Paris, Amanda currently lives in Manhattan, where she is busy writing her second book.
---
About Not Perfect.

Tabitha Brewer wakes up one morning to find her husband gone, leaving her no way to support herself and their two children, never mind their upscale Philadelphia lifestyle. She'd confess her situation to her friends—if it wasn't for those dreadful words of warning in his goodbye note: "I'll tell them what you did."
Instead, she does her best to keep up appearances, even as months pass and she can barely put food on the table—much less replace a light bulb. While she looks for a job, she lives in fear that someone will see her stuffing toilet paper into her handbag or pinching basil from a neighbor's window box.
Soon, blindsided by catastrophe, surprised by romance, and stunned by the kindness of a stranger, Tabitha realizes she can't keep her secrets forever. Sooner or later, someone is bound to figure out that her life is far from perfect.
Elizabeth LaBan is the author of The Tragedy Paper, which has been translated into eleven languages; The Grandparents Handbook, which has been translated into seven languages;The Restaurant Critic's Wife; and Pretty Little World. She lives in Philadelphia with her restaurant-critic husband and two children.
RSVP
Bookings are closed for this event.