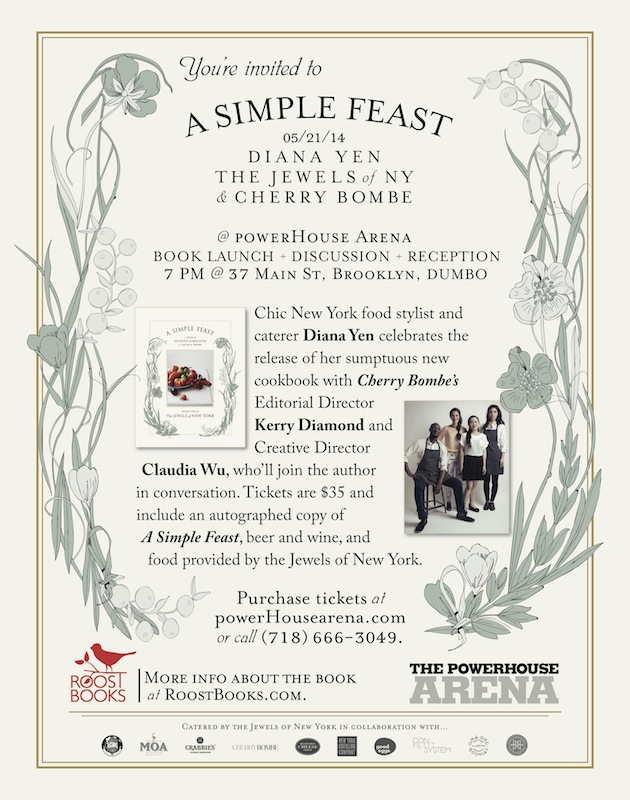 Wednesday May 21, 2014
7:00 pm - 9:00 pm
THE POWERHOUSE ARENA [Dumbo]
37 Main Street
Brooklyn, NY 11201
For more information, please call 718.666.3049
Tickets: $35 (include an autographed copy of A Simple Feast, beer and wine, and food provided by the Jewels of New York)
Tickets available for purchase here. Online ticket sales are closed, but we will sell a limited number at the door.
Doors will open at 6:30pm and seating will be available on a first-come, first-serve basis – a receipt or photo ID is required for entry.
---
Chic New York food stylist and caterer Diana Yen celebrates the release of her sumptuous new cookbook A Simple Feast with Cherry Bombe's Editorial Director Kerry Diamond and Creative Director Claudia Wu, who'll join the author in conversation. Tickets are $35 and include an autographed copy of A SIMPLE FEAST, beer and wine, and food provided by the Jewels of New York in collaboration with: Good Eggs, Bedford Cheese Shop, One Girl Cookies, New York Distilling Company, Alphabet City Brewing Co., Breckenridge Brewery, MOA Beer, and Crabbie's. Decorations by CONFETTISYSTEM.
About A SIMPLE FEAST:
A beautiful cookbook destined to become an heirloom, A Simple Feast presents a year of life in food. Each chapter presents a story—apple picking, snow day, tea party, date night, rooftop barbeque, etc.—and recipes inspired by the whimsy that lies therein. The food here is simple and elegant, taking cues from the bounty of local markets and farms, embodying modern American cooking. This is a playful journey guided by the ever stylish Jewels of New York, who lead the reader through the seasons and the culinary adventures each has to offer.
About the Author/Creative Studio:
Founded in 2009 and led by DIANA YEN, The Jewels of New York is a multidisciplinary creative studio that combines the love of cooking with the beauty of everyday things. The studio aims to uncover the hidden treasures New York has to offer and share them with others through seasonally based cooking. Diana strives to bring the same sense of warmth found in good home cooking to her clients through catering and food consultation services. Diana's projects with leading lifestyle magazines (Food and Wine, Better Homes and Gardens, and Kinfolk, to name a few) and design-savvy clients (Martha Stewart, West Elm, and Design*Sponge among them) focus on the simplicity and elegance of everyday meals. With a background in home and lifestyle design, Diana brings a sense of beauty and community to the table.
---
For more information, please contact
Justin Levine
email: justin@powerhousearena.com
powerHouse Arena, 37 Main Street, Brooklyn, NY 11201
tel: 212-604-9074 x109