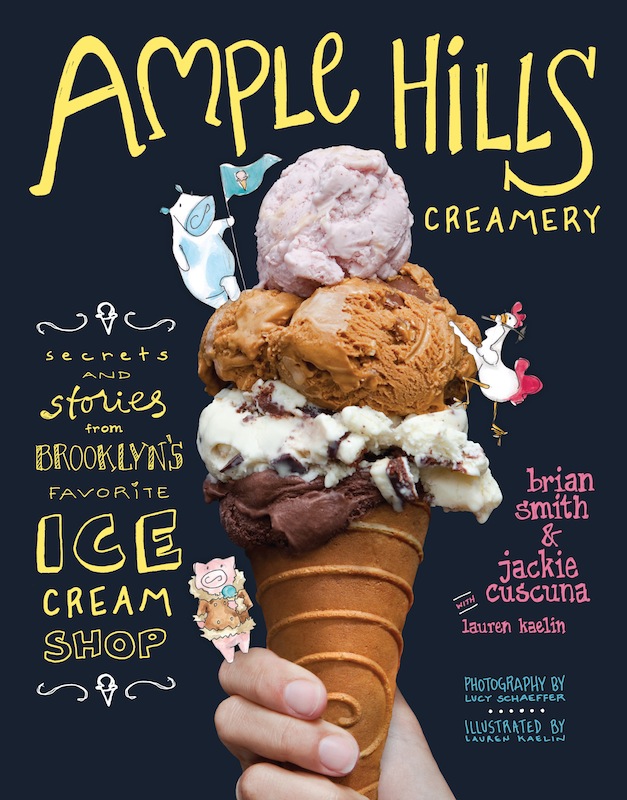 Wednesday Apr 16, 2014
7:00 pm - 9:00 pm
THE POWERHOUSE ARENA [Dumbo]
37 Main Street
Brooklyn, NY 11201
For more information, please call 718.666.3049
RSVP appreciated: RSVP@powerHouseArena.com
-or-
Please fill out the "Bookings" form at the bottom of this page.
---
The popular ice cream destination in Prospect Heights shares recipes for their most sought-after flavors, including Salted Crack Caramel and "the Munchies."
About Ample Hills Creamery:
Ample Hills Creamery is an ice cream destination that attracts thousands of customers each day from near and far to Prospect Heights, Brooklyn. Ample Hills first became known as the ice cream shop so popular they sold out of all their ice cream just four days after opening. Three years later, lines continue to wind around the block, spurred on by the chance to try their unforgettable handcrafted flavors such as Ooey Gooey Butter Cake, The Munchies, and Salted Crack Caramel, which New York Magazine called "the crackiest crack food in town."
Now you can skip the line and make their famous ice cream at home with Ample Hills Creamery: Secrets and Stories from Brooklyn's Favorite Ice Cream Shop. In this vibrantly illustrated step-by-step guide, owners Brian Smith and Jackie Cuscuna, with co-author and illustrator Lauren Kaelin, share Ample Hills' story, process—all ice cream is made from scratch on the premises—and most importantly, sought-after recipes. It features flavors ranging from the classic to the outrageously creative, with easy, fun, and kid-friendly recipes that focus on local, organic, and all-natural ingredients.
Organized by mood, the book has the perfect recipes for when you are feeling blissful (Sweet As Honey), nutty (The Peanut Butter Munchies), sluggish (Cookie Au Lait), tipsy (Stout And Pretzels), heartbroken (Chocolate Three Ways), and much more. For kids and kids-at-heart, stories, activities, and hand-drawn characters appear throughout each chapter, offering games, helpful tips, and inspiration for creating new flavors. This one-of-a-kind cookbook is a wacky and whimsical celebration of all things ice cream
In addition to the new book, Ample Hills is opening its highly anticipated second location in Brooklyn in May. The 3,600-square-foot, two-story ice cream paradise in Gowanus will house a manufacturing facility that will quadruple their production capacity. With their first cookbook and new store, Ample Hills Creamery is primed to take over the world of ice cream.
About the Authors:
Brian Smith and Jackie Cuscuna are the owners of Ample Hills Creamery. Brian is a recovering screenwriter and Jackie is an alternative high school teacher. They live in Brooklyn with their two children, Nonna Kai and Kaleo.
Lauren Kaelin, coauthor and illustrator, is the director of marketing at Ample Hills, the author of When Parents Text, and the creator of the popular blog Benjameme.net. She lives in Brooklyn with her girlfriend and their tortoise.
---
For more information, please contact
Justin Levine
email: justin@powerhousearena.com
powerHouse Arena, 37 Main Street, Brooklyn, NY 11201
tel: 212-604-9074 x109
RSVP
Bookings are closed for this event.